BRADSHAW FOUNDATION - 25 YEARS IN PICTURES
Follow @BradshawFND on Twitter
Warning: include(twitter_hashtags.php) [function.include]: failed to open stream: No such file or directory in /home/bradshaw/public_html/common_elements/addthis_dark.php on line 13

Warning: include() [function.include]: Failed opening 'twitter_hashtags.php' for inclusion (include_path='.:/usr/lib/php:/usr/local/lib/php') in /home/bradshaw/public_html/common_elements/addthis_dark.php on line 13
>Tweet
To celebrate the 25th anniversary of the Bradshaw Foundation we will be presenting a retrospective in pictures, a selection of chosen rock art images from the Bradshaw Foundation's archives. Members of the Advisory Panel, colleagues, collaborators and Friends of the Foundation will be invited to select one image which they consider to be their favourite and most important, together with a short explanation.
Follow @BradshawFND
Tweet
FIGHTING CATS IN LIBYA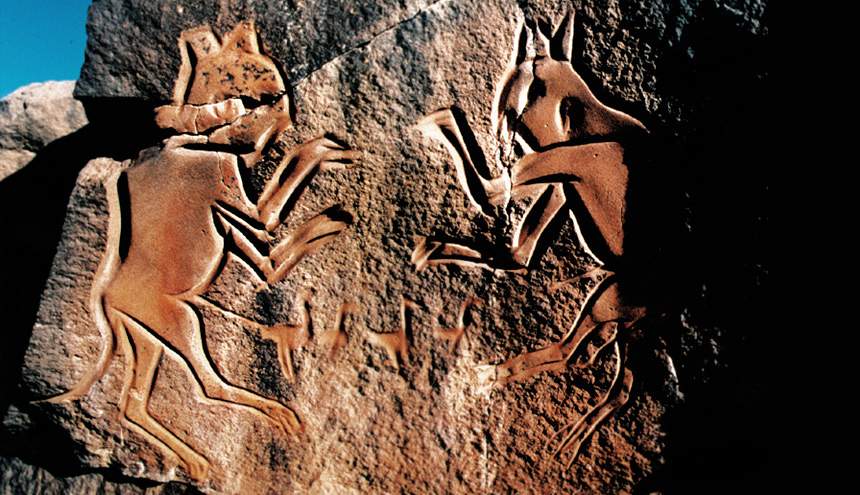 Selected by Ben Dickins
Bradshaw Foundation - Director of Art and Design
"
To select one image from the thousands of rock art images I have seen over 25 years with the Bradshaw Foundation is not an easy task. The
cave paintings of Chauvet Cave
are an undoubted highlight, as are the
two life-size giraffe carved in stone
, found in the Sahara Desert, Niger. However it is another petroglyph from the
Africa Rock Art Archive
that I have chosen, one that has stayed with me since my earliest days with the Bradshaw Foundation. Found in the Messak Settafet of Libya, the 'Fighting Cats' petroglyph is a striking depiction of two long-tailed figures confronting each other on their hindquarters as if fighting. They stand on an outcrop looking down over Wadi Mathendous, in a position of power and respect.
"
COMMENTS