BRADSHAW FOUNDATION - 25 YEARS IN PICTURES
Follow @BradshawFND on Twitter
Warning: include(twitter_hashtags.php) [function.include]: failed to open stream: No such file or directory in /home/bradshaw/public_html/common_elements/addthis_dark.php on line 13

Warning: include() [function.include]: Failed opening 'twitter_hashtags.php' for inclusion (include_path='.:/usr/lib/php:/usr/local/lib/php') in /home/bradshaw/public_html/common_elements/addthis_dark.php on line 13
>Tweet
To celebrate the 25th anniversary of the Bradshaw Foundation we will be presenting a retrospective in pictures, a selection of chosen rock art images from the Bradshaw Foundation's archives. Members of the Advisory Panel, colleagues, collaborators and Friends of the Foundation will be invited to select one image which they consider to be their favourite and most important, together with a short explanation.
Follow @BradshawFND
Tweet
MASK PETROGLYPH OF VALLEGRANDE IN BOLIVIA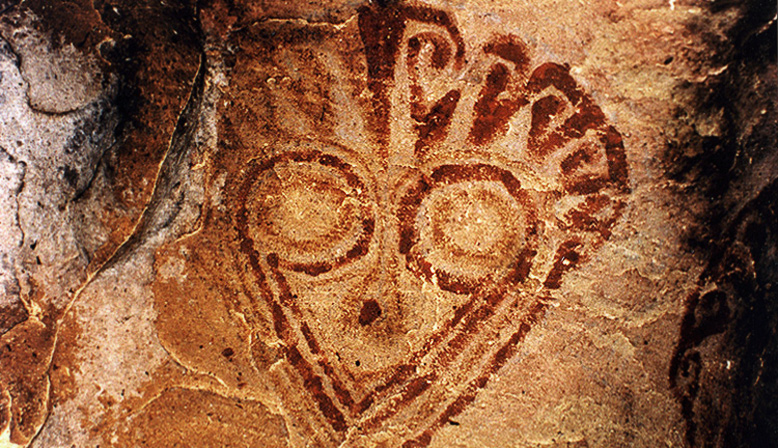 Selected by Michael McGuire
Bradshaw Foundation - Trustee
"
I have chosen these cave paintings, which researchers refer to as mask-like designs, from Bolivia. They are located in a small cave in Vallegrande, in the west of the Department of Santa Cruz. The concept of a mask is both ancient and universal, be it for protection, disguise, performance or entertainment, and this prehistoric depiction, clearly a commonly used motif given its repetitive use, is bold yet simple; bold and striking in its execution and display, but expressing a simplicity that can only have arisen through artistic refinement. One can only wonder at the purpose of this iconic image, perhaps ceremonial, perhaps practical, definitely arresting.
"
COMMENTS