CONCLUSION

Page 10/10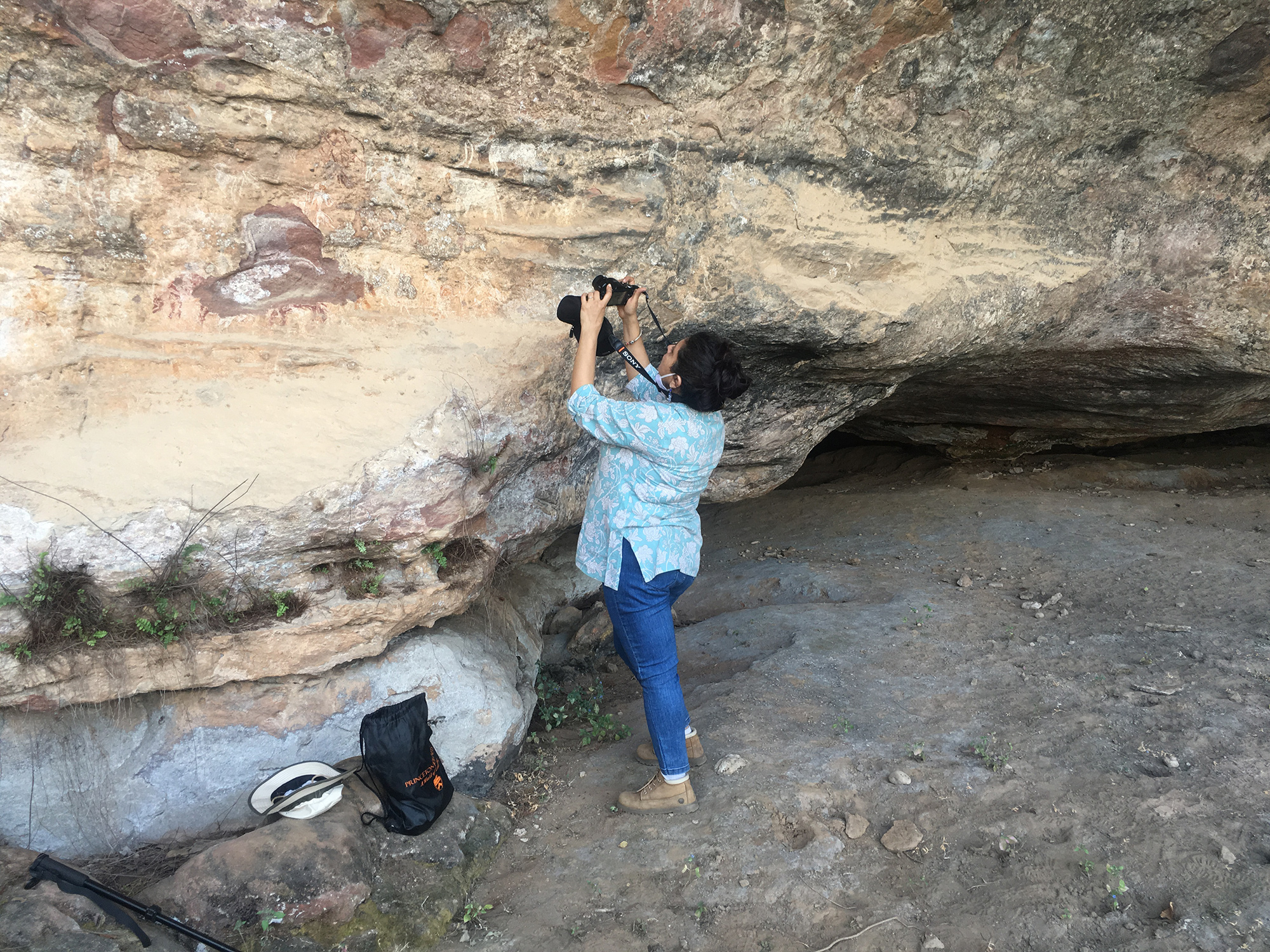 Pachmarhi is a small township on a plateau located in the folds of the Satpura ranges in Central India. It is 210 kms from Bhopal and 52 kms from Pipariya. Pipariya is the nearest railway station on the Bombay-Howrah mainline via Jabalpur. The hills of Pachmarhi have a complex of rock shelters, very difficult to count. More than 55 shelters have been surveyed here and there still be many more to discover. The reason as to why most of India's rock art is in Central India is geological. The Satpura and Vindhayan ranges consist of soft sand stone, which over millions of years, has weathered into hills containing overhanging rocks and cliffs and caves of many shapes and sizes. From early prehistoric times till a few centuries ago these provided shelters for humankind. The archaeological excavations particularly at Jambu Dweap in the past have proved that the early Stone Age man occupied these shelters. Numerous microliths have been found at the shelters in the Bari Aam area. Most interesting findings for me was a pendant made of the tooth of an herbivorous animal probably a monkey, and yellow ochre coloured nodules at the shelter in Bori area.
The location of Pachmarhi from the ecological point of view is such that it meets the basic needs of human beings to survive - food, (in the form of animals and vegetables) water and shelters. The aboriginals exploited the edible flowers, fruits, tubers, honey and animals available for food. The natural sources of water are numerous and perennial too. The hills have the shelters, large enough to accommodate 200 to 300 people and provide protection against wind, sun and rain. It is therefore obvious that prehistoric man occupied these shelters for nearly 10,000 years! Many of these shelters contain large numbers of paintings in varying states of preservation. They are placed at varying angles on the rock faces, often overlapping other paintings and varying sizes, from a few centimeters to several meters.
Indian rock paintings, mainly concentrated in Central India, have only recently received the attention they deserve. The majority of these paintings are in Madhaya Pradesh. Pachmarhi and the surrounding Mahadeo hills make a rich center of the paintings. It is interesting to note that the rock surface was not prepared in any way before painting, and often uneven surfaces and corners were chosen for painting, while broad and even surfaces, where you may expect existence of paintings, are left unpainted. The painted shelters are often located at considerable heights and access to them is very difficult. There are many shelters which cannot be used for dwelling but are painted rather better than those more suitable for dwelling purposes. Some of the shelters have numerous figures, painted with several superimpositions of figures, whilst some shelters contain a very few figures. The majority of the paintings are red and white, showing up admirably on the rock surface. A few paintings are also in yellow colour. Infact, paintings are executed in fourteen different shades, of these three main colours - Red, White and Yellow. These colours are obtained by grinding pieces of rock found locally and mixing the powder with water or some other binder. Nodules of hematite (geru) were used for red, and limestone or Caroline for white. It is believed that fluffed out sticks were used as brushes and porcupine quills for doing the fine work. Some cupmarks and cupules have been found in the Astachal and Ghurmar shelters.
The styles of paintings range from naturalistic to very symbolic or abstract. Three main styles of execution are recorded. The oldest drawings are more naturalistic or realistic and elegant and the later ones are more representational. Drawings are outlined, monochromic, bichrome and without light and shades. Nearly all drawings of animals are shown in profile and in motion. Outlines of animal forms are generally realistic and the bodies are decorated with geometric patterns.
Horns and legs are drawn in a slight three-quarters posture. There are a few figures in an x-ray style, showing the fetus within the womb. Inner details of the body are usually omitted. In rare cases, human figures, eyes, nostrils, ear, mouth and other facial details are shown. No figures are shown with shadows on the ground. There is neither background with human and animal figures nor perspective and foreshortening. Animals in herds are drawn in horizontal rows, which are one above the other. The paintings of the Pachmarhi area may be classified broadly in three groups. Firstly, depicting scenes of hunters and food gatherers, secondly pottery makers and cultivators, and thirdly fighters and horse riders with metallic weapons. First is considered prehistoric while the second protohistoric and the last historic period. The most common subjects of prehistoric paintings are animals - bison, boar, elephant, sambhar, gaur & antilopes. Besides, there are rabbit, fish, lizard, scorpion and small creatures. The drawings of animals are very naturalistically executed and show the animals in various postures and moods - standing, walking, running, leaping, looking back etc. Hunting scenes are also very common. Usually, the hunters are shown in small groups. They were shown with sticks, bows and arrows, stone tipped spears and traps. They face large animals like bison. Human figures are shown with different activities such as ritual dancing. A very interesting painting of ritualistic dancing 8 meters long can be found at Mount Rosa shelter, which is the most beautiful drawing of the mesolithic period in this area. At the same shelter, in one instance, a woman is extracting milk from both breasts. It may be a representation of the mother Goddess. Mesolithic people were decorating their bodies with ornaments. They wore necklaces, bracelets, bangles, pendants, elbow bands, knee bands and anklets. Men wore long loose hair and women braids. They used sticks, slings, spears, bows and arrows, traps for hunting. Their arrows and spears were barbed with microliths. These people used many kinds of masks, headdress and animal hides. The masks were different in shape and were used for hunting and dancing. Headdresses were crowned with feathers, antlers and horns.
Drawings of the protohistoric period show a gradual development like pottery making, building of hutments and means of transport (cart, chariot), agricultural implements, and other man-made utensils are depicted. The execution of figures is more representational. Drawings of the historic period show a society of fighters and riders, soldiers armed with swords and shields. It is very clear but these paintings do not depict the life of the cave dwellers. In other cases this period encompasses varied subjects such as honey collection, fishing, and domestic chores. Musical scenes are depicted with different instruments - harp, drum, pipe and cymbal. In one instance a very unique and interesting depiction of Head Hunters has been seen. This kind of depiction is only found at Pachmarhi in India. These figures are holding severed human heads. The figures and severed heads are highly decorated with ornaments like earrings, necklaces, crowns, topknots, and wearing loincloths. All the figures have sharp features and are proportionately made. The figures are holding severed heads in the right hand and sword in left hand. Another interesting painting of the Bori area shows a very clear face with both eyes face in front posture. It is a very unusual depiction, which is found only in this area. The subject matter of Pachmarhi area also includes a large number of different symbols and signs, mythical creatures, trees, bushes, decorative designs and inscriptions. There are also the scenes of collecting honey with the help of pets and music too. In another painting the fishing activity is shown with the small conical net, which is called Kumna by the present tribal of Pachmarhi.
The descendants of the original hunters and gatherers and artists of this region are the Korku and Gond tribes who still uphold some of the traditions of their ancestors. In the rock paintings, their ancestors are depicted dancing in pairs or in a row and playing musical instruments. They hunted animals and collected honey from hives of wild bees. Their mode of dress was quite simple. The women used to carry food and water and looked after the children. The forebears of the present day tribal people had a variety of ways to express the magic of their beliefs, rituals and taboos. The tribes living in these hills make memorials made of wood. Carved teakwood boards placed under a sacred Mango tree honor the dead. The subject of the carvings are totally unrelated to the life of the deceased but the style and subject - horse rider, sun, moon, tree and hut - is similar to the late period paintings depicted by their predecessors in the past on the mural of the rock shelter. They also decorate the walls of their wattle hut and this activity seems to have its roots in the cave dwelling traditions of their ancestors. Man and horses of geometric construction are randomly spaced across the walls; such paintings are done during the rainy season or on festive occasions bearing close resemblance to those found in the painted shelters.
| | |
| --- | --- |
| | THE NEED FOR CONSERVATION |
All Images Subject to Copyright: Meenakshi Dubey- Pathak
Like us on Facebook & Follow us on Twitter to receive news & updates
:
→
India Rock Art Archive
→
The Rock Art of Central India
→
Bradshaw Foundation