INDIAN ROCK ART : PACHMARHI THEMES

Page 5/10
The subject matter in rock art can be very varied. The main subject everywhere is the animal or scenes of hunting them, which is the most common subject of rock paintings belonging to the Mesolithic and later periods. The subject matter of rock paintings also helps in studying many facets of human life. "The depictions of the species of animals, human and the food gatherers tell us much about the ecosystem in which they lived. The depiction of weapons, tools and other implements reveal their technical abilities. The illustration of his myths and beliefs bring back to our consciousness the essential aspects of out intellectual roots and displays the existential relationship between man, nature and the supernatural" (Anati-1980-20).
In the Indian rock paintings the presentation of man and animals is of almost the same standard although stylistically there are many differences (Mathpal 1980- 93). The artist did not represent everything he saw or knew. Besides animals and their hunters, there are other subjects depicted in rock art via social and cultural activities, ritual performances, domestic life and different images of women, such as mother with a child. In the early period human figures are rarely painted and the depiction is only symbolic and stick-shaped. Many human figures are conical animalized (Gordon 1960- 512), grotesque (Breuil and Lantier 1965- 187) and disproportionate (Bernguer 1973:40?45). In the rock paintings of Pachmarhi Hills prehistoric artists had depicted many cultural dimensions of their life and surroundings. Artists of early and later periods were greatly interested in the depiction of ritual dance and music. In the later period different types of musical instruments, battle scenes, soldiers, horse riders, symbols, patterns etc depicted them. The subject matter of the rock painting of Pachmarhi has been divided into the following categories: -
(
a
) Human forms. (
b
) Animal forms. (
c
) Scenes. (
d
) Material culture. (
e
) Mythology. (
f
) Nature. (
g
) Inscriptions.
HUMAN FORMS
Human beings are painted lesser realistically than the animals. There are total 2449 human forms belonging to all the periods in Pachmarhi. These forms have been divided into the following 30 sub-groups according to the subject matter: -
(
a
) Man. (
b
) Women. (
c
) Boy. (
d
) Girl. (
e
) Infant. (
f
) Hunter. (
g
) Fighter. (
h
) Rider. (
i
) Attendant. (
j
) Dancer. (
k
) Drummer. (
l
) Pipe Player. (
m
) Harp Player. (
n
) Cymbal Player. (
o
) Man with Mask. (
p
) Man with Kanvar. (
q
) Man with animal hide. (
r
) Women with sickle. (
s
) Man with axe or (Tree cutter). (
t
) Honey Collector. (
u
) Ritual performer. (
v
) Head Hunter. (
w
) Leader. (
x
) Mother Goddess. (
y
) Copulation. (
z
) Man in Hut. (
aa
) Anthropomorphic. (
ab
) Women engaged in domestic chores. (
ac
) Pregnant Women. (
ae
) Fragmented Figures.
ANIMAL FORMS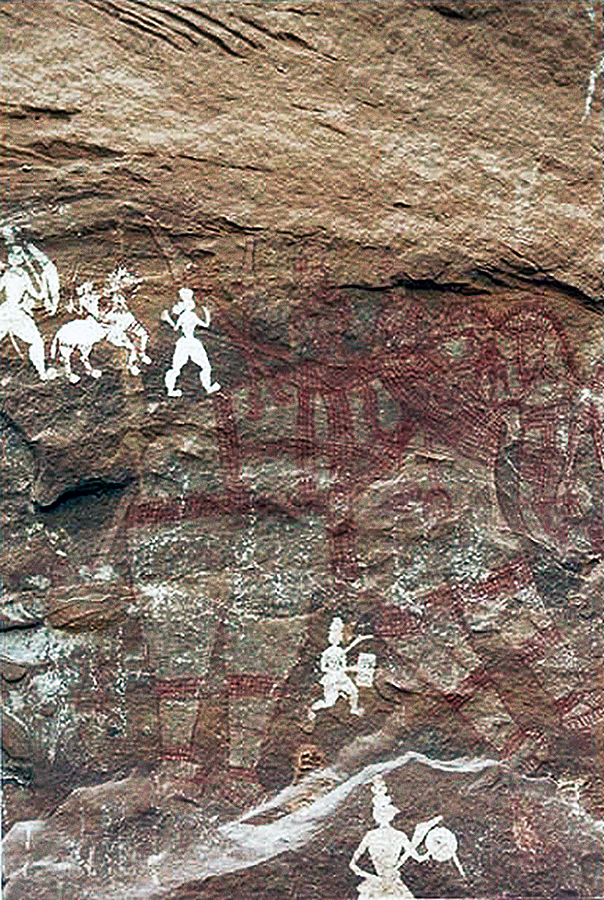 Normally animal forms part of a hunting scene. A good number of the large or medium size animal's figures have been painted naturalistically. The common most details are their horns, snout and ears. The animal drawings of early period are very natural and more realistic than those belonging to the later period. In the earliest period the animals were depicted in considerable size, beautifully decorated with abstract and geometric patterns. There are nearly 1008 images of animals belonging to 25 different species. These species comprise Tiger, Leopard, Elephant, Wild buffalos, Bison, Oxen, Cow, Nilgai, Sambhar, Swamp deer, Wild boar, hyena, wolf Dog, Monkey, Horse, Pangolin, crocodile and probably a giraffe like long necked animal. Drawing of Porcupine, Rabbit and small creatures like Lizard, Scorpion and Fish are also found. Drawings of birds such as jungle fowl, peafowl and some ostrich like unidentified birds are also recorded. Some depiction of insects like centipedes and honeybees has also been found.
• BIRDS
Total 37 drawings of a limited variety of birds have been found in various shelters in Pachmarhi Probably birds did not form major part of food but only an object of entertainment and curiosity in their surroundings and thus did not receive much significance in the lives of pre-historic men.
• MISCELLANEOUS
Different types of fish, turtles, scorpions, lizards, insects like centipede and honey bees have been depicted in different shelters.
All Images Subject to Copyright: Meenakshi Dubey- Pathak
Like us on Facebook & Follow us on Twitter to receive news & updates
:
→
India Rock Art Archive
→
The Rock Art of Central India
→
Bradshaw Foundation