INDIAN ROCK ART : PACHMARHI THEMES

Page 6/10
SCENES
Prehistoric artists have drawn all aspects of their life independently and complete in it. The artists depicted various compositions on the rock surface. Such compositions usually comprise scenes of hunting, food gathering, fighting, dancing, and music, social and daily chores.
MATERIAL CULTURE - HEAD HUNTING SCENES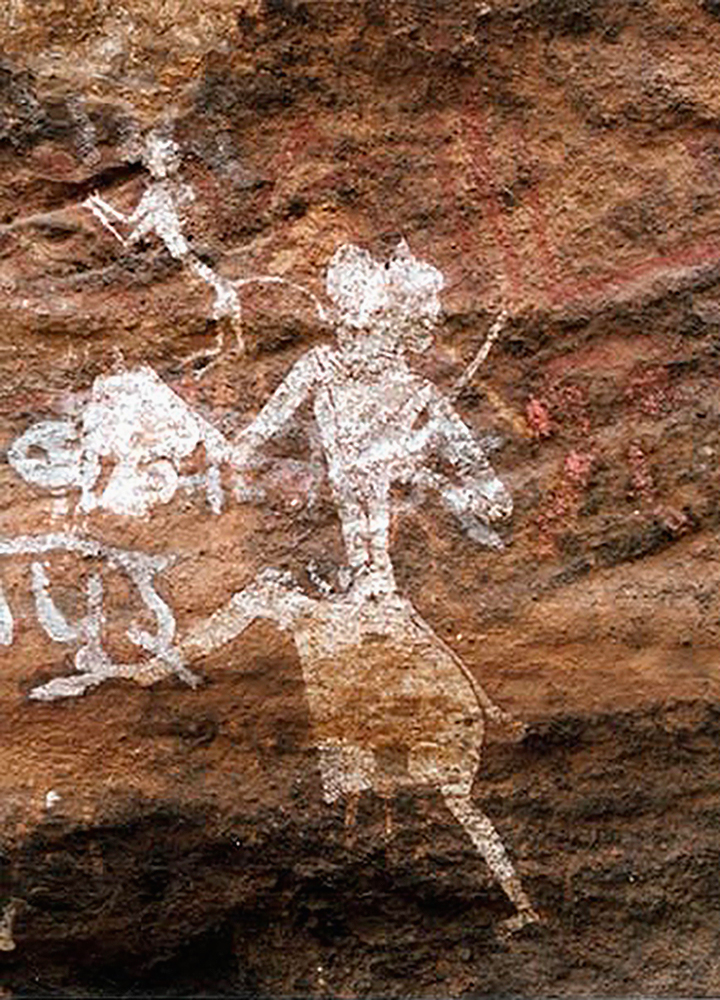 The subject of head hunting in the history of rock art is very uncommon. At present, in Indian rock painting its only the rock art of Pachmarhi which contain this unique depiction of head hunting. Peru in South America is the only other so far known place where scenes of head hunting are found (Bednarick 1989:73).
There are a total of seven depictions of headhunters, which have been first recorded by me. Executed in bichrome colour, these depictions belong to the historic period. The acts in these scenes depict the brutality prevalent in the society of the Stone Age man. The head hunting scene is very prominent in Lanji Hill shelter wherein a human figure is holding a human head in his right hand and shown running, yet looking back over his shoulder, perhaps anticipating a chase or ensuring himself of breaking contact with his enemy. A giant and robust figure measuring 3 ft in length and 2.5 ft in width executed in light red colour has been depicted which makes everyone curious . A headhunter with identical description as stated above, has been recorded at Swem Aam shelter.
In yet another depiction at Nagdwari shelter a headhunter decorated in red lines, perhaps his tattoo marks, has been shown carrying a well-dressed severed head . At Rajat Prapat shelter four human figures have been depicted as headhunters running in the same direction but at different distances. Drawn rhythmically and full of action, this scene is eye catching and gives an insight into the historic life.
Indian history is replete with the instances of human sacrifice prevalent amongst the tribes in the country, particularly, by Gond and Korku tribes. The tradition of human sacrifice was alive in Mahadeo Hill. "In the days that are forgotten, human victims hurled themselves over the rock as sacrifice to the goddess Kali and Kal Bhairav, the consort and son of Shiva, the destroyer". Capt J Forsyth has mentioned about an eyewitness account of an incident of human sacrifice at Mahadeo Hills in his famous book "The Highlands of Central India" (Forsyth J 1889:180-184).
MYTHOLOGICAL SCENES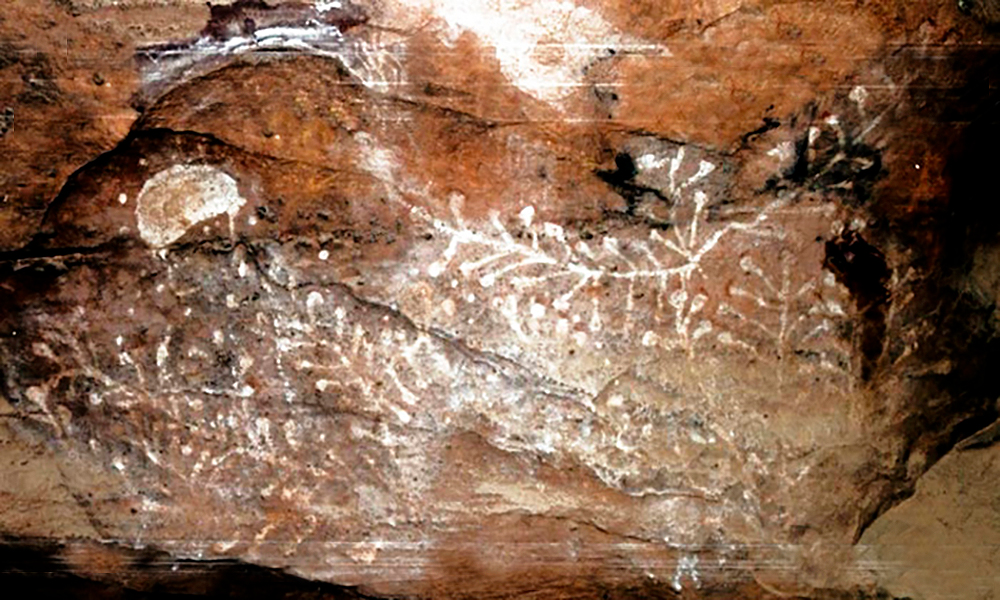 The rock art suggestive of mythological origin is that of tree worship, cross worship, symbols of mother Goddess and demons. Gordon has commented that only a few Indian rock art paintings have a religious significance (Gordon 1958:109). "Symbols and so called signs found in rock paintings in different parts of the world are difficult to decipher. It is a code we have been unable to crack", says Benerguer referring to European Ice Age symbols (Benerguer 1973:73). The paintings of Pachmarhi, which are likely to be related to mythology, have been grouped as follows:
1
. Mother Goddess
2
. Tree Worship
3
. Symbol
4
. Cross Worship
5
. Swastika
6
. Labyrinth (chakra)
7
. Geometrical figures
8
. Superhuman or deity worship
9
. Demons
10
. Mythical Animals
INSCRIPTIONS
Writing of inscriptions on the walls of the caves and shelters is associated with Hermits and Monks living in isolation in early historic times. It was common practice in many hills and forest area inhabited by Hermits. These inscriptions do help us place paintings of historic period to certain chronological order. Two inscriptions both in Nagri script in Pachmarhi have been recorded. One is in Dorothy Deep and the other is in Mahadeo shelter. The inscriptions in Mahadeo are too faded to be translated but the inscriptions at Dorothy Deep are by far the most legible. It consists of two lines written in cremish white colour. The first line is obviously meant to be same as commencement of much longer second like. It would appear to be from Nagri of probably 11th to 12th centuries. The translation, which does not make any sense, is as follows: "Lenamasiya a vri vri Dha Dha Ve She Jai Jai".
All Images Subject to Copyright: Meenakshi Dubey- Pathak
Like us on Facebook & Follow us on Twitter to receive news & updates
:
→
India Rock Art Archive
→
The Rock Art of Central India
→
Bradshaw Foundation