BRADSHAW FOUNDATION - LATEST NEWS
First Sculpture Workshop?
29 Aug 2014
An online article in Turkey's Daily News from the Anadolu Agency - Gobeklitepe: The world's oldest sculpture workshop - reports that Gobekli Tepe is now seen as one of the world's oldest sculpture workshop.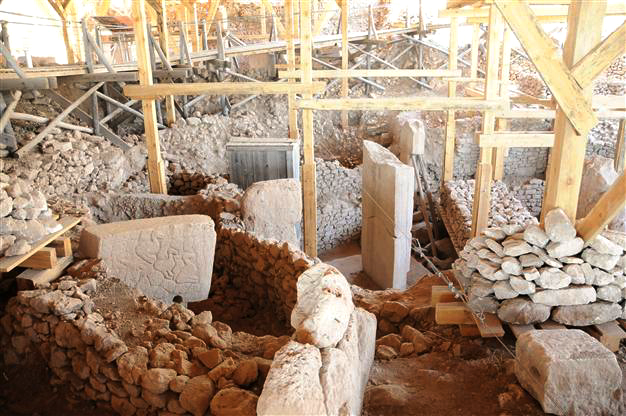 Twenty years have passed since excavations began in Gobekli Tepe, the archaeological site at the top of a mountain ridge in the Southeastern Anatolia Region of Turkey. The tell has a height of 15m. and is about 300m. in diameter. It has been excavated by a German archaeological team under the direction of Klaus Schmidt from 1996 until his untimely death this year.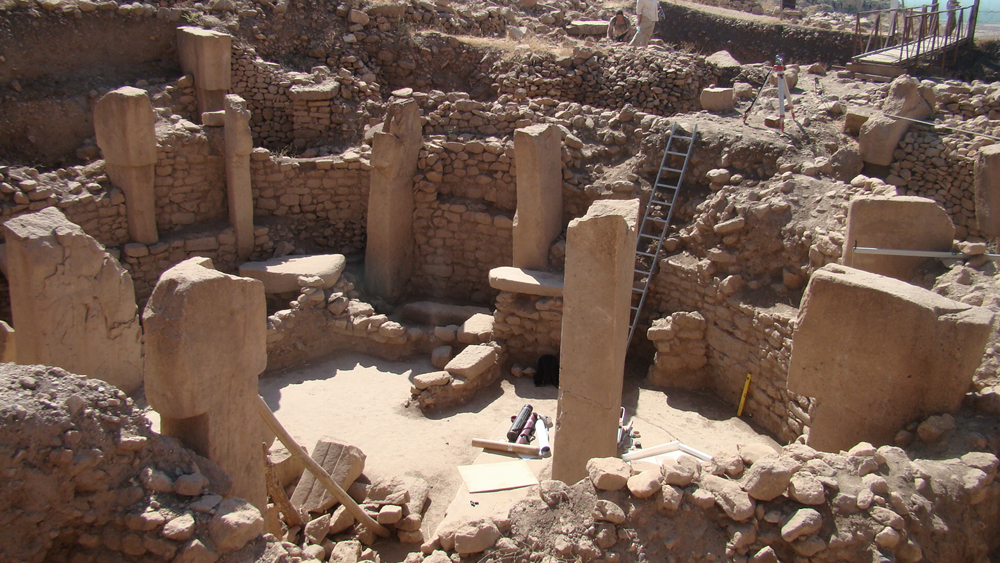 The tell includes two phases of ritual use dating back to the 10th to the 8th millennium BCE. During the first phase (Pre-Pottery Neolithic A (PPNA), circles of massive T-shaped stone pillars were erected. More than 200 pillars in about 20 circles are currently known through geophysical surveys. Each pillar has a height of up to 6m. and a weight of up to 20 tons. They are fitted into sockets that were hewn out of the bedrock. In the second phase (Pre-pottery Neolithic B (PPNB), the erected pillars are smaller and stood in rectangular rooms with floors of polished lime. The site was abandoned after the PPNB-period. The function of the structures is not yet clear, but Klaus Schmidt believed that they are early Neolithic sanctuaries.
The archaeological work is proceeding, and the importance of the sculptures is being reappraised, due to their sophistication and expertise. Associate Professor Cihat Kurkcuoglu, from the nearby Harran University's (HRU) Arts and History Department, reports that the excavations have revealed human sculptures from the Neolithic age. Kurkcuoglu believes the art of sculpture and stone relief date back to 12,000 years ago, representing some of the oldest monumental sculptures in the world, and perhaps the birthplace of three dimensional art.
Editor's Note: I believe the birthplace of three dimensional art was in fact throughout Europe with the 'portable' works of Ice Age art during the Upper Palaeolithic era. However, Gobekli Tepe is of course important for such monumental sculpture.
http://www.bradshawfoundation.com/sculpture/ice_age_art.php
COMMENTS