BRADSHAW FOUNDATION - LATEST NEWS
Prehistoric standing stone discovered in Switzerland
26 Oct 2017
An article on independent.co.uk by Caroline Mortimer - Prehistoric standing stone discovered by archaeologists in Switzerland - reports on the discovery of a menhir believed to be between 4,000 and 5,000 years old.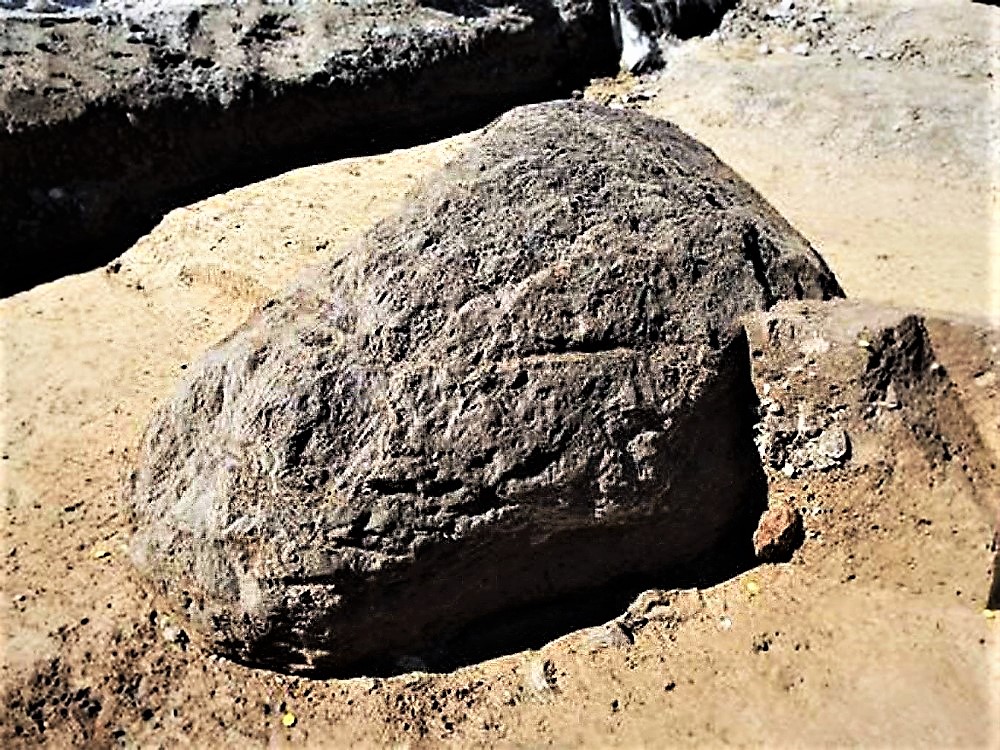 The stone is believed to have once stood vertically because of markings found on the ground nearby. Image: Service archéologique du canton de Berne, Yann Mamin.
Archaeologists in Switzerland have found a large standing stone, thought to be a menhir. They believe it indicates an area of worship during the early Bronze Age.
The stone was discovered during an excavation of a Bronze Age settlement in the village of Breitnacher, south of the capital, Bern.
Prehistoric standing stone discovered in #Switzerlandhttps://t.co/W5pEMCganG #archaeology #megalith pic.twitter.com/M4Wx1g28hC

— Bradshaw Foundation (@BradshawFND) October 26, 2017
Image: Service archéologique du canton de Berne.
The oval-shaped sandstone measures roughly 2 metres tall by 1.3 metres wide, and weighs two to three tonnes. Marks on the ground suggest it once stood vertically and could have been a monolith or part of a series of standing stones like Stonehenge.
Article continues below
The excavation site uncovered the remains of a Bronze Age city that is believed to be around 3,500 years old as part of a preliminary archaeological survey before the building of a new housing complex.
The researchers raised the possibility that it was originally located elsewhere but then moved due its proximity to the remains of Bronze Age homes. Indeed, it may have been the reason the settlement was built there. The menhir is one of only 15 found in Switzerland to date.
The Canton of Bern Archaeology Department, which is leading the excavation, stated that of the 15 isolated menhirs discovered in Switzerland, they are usually simple blocks from 1 to 4 metres high. Therefore the recent discovery is significant. Researchers are now examining the site for any other stones with similar surrounding markings.
COMMENTS