BRADSHAW FOUNDATION - LATEST NEWS
Siberian jaw may reveal genetic secrets
21 Jun 2014
An article in The Siberian Times, June 2014, discusses the discovery of a jaw of an early human who feasted on woolly mammoth.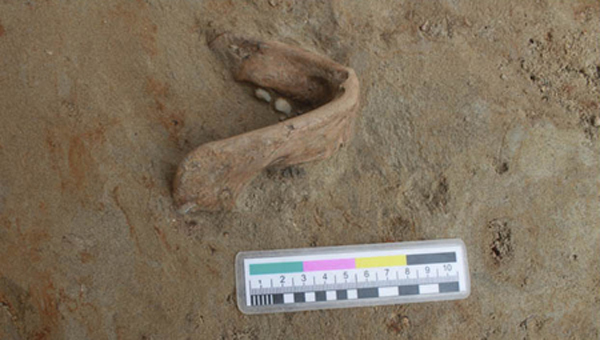 Embedded in a hillside where it has lain for around 14,000 years, the perfectly preserved adult jaw from Afontova Mountains on the outskirts of Krasnoyarsk was found alongside the bones of animals and ancient tools.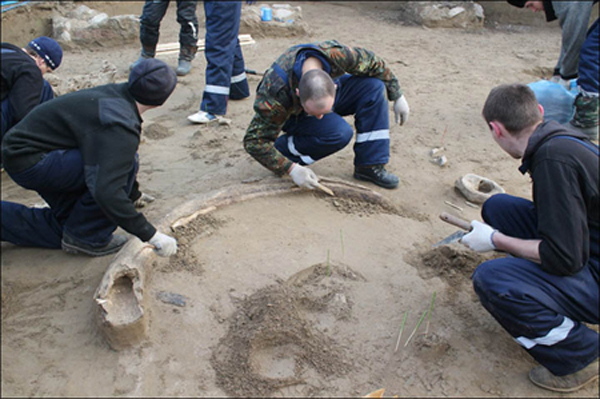 It is hoped that DNA analysis, at the Max Plank laboratory in Germany, will shed light on the age, gender, race (Caucasian or Mongoloid or a mix), and even possible diseases from ancient times.
Scientists will examine the jaw, which includes teeth, to indicate diet - that mammoth meat was part of the diet. However, because the human remains do not lie in a grave but alongside the remnants of animals that were butchered, some scientists, such as Ivan Stasyuk, are arguing that this human was slaughtered, and eaten, as well. This is yet to be proven and will be further investigated at the Novosibirsk laboratory.
The DNS analysis will contribute to a further understanding of the early colonisation of Siberia by prehistoric humans, and the connections of Siberian inhabitants to other regions.
This area of modern Krasnoyarsk would have been like Arctic tundra, populated by animals, which would have been hunted. Fauna remains include mammoth, reindeer, sheep, horse, aurochs, bison, ibex, antelope, red deer, hares, arctic foxes and wolves. The site itself, a prehistoric campsite, has been researched since the late 19th century, providing a lot of material, including thousands of complete stone and bone tools - for butchering animal carcasses and for dissecting meat - as well as a set of stone beads and some pieces of art including a triangular plate made of mammoth tusk with plotted points. It was possibly a pendant.
COMMENTS