BRADSHAW FOUNDATION - LATEST NEWS
Meenakshi Dubey-Pathak receives Award
18 Sep 2014
The Bradshaw Foundation would like to congratulate Meenakshi Dubey-Pathak, freelance artist and archaeological rock art researcher in India, on receiving the prestigious award of 'Chevalier des Arts et Lettres' - Knight in the National Order of Arts and Letters - from the French Ministry of Culture and Communication.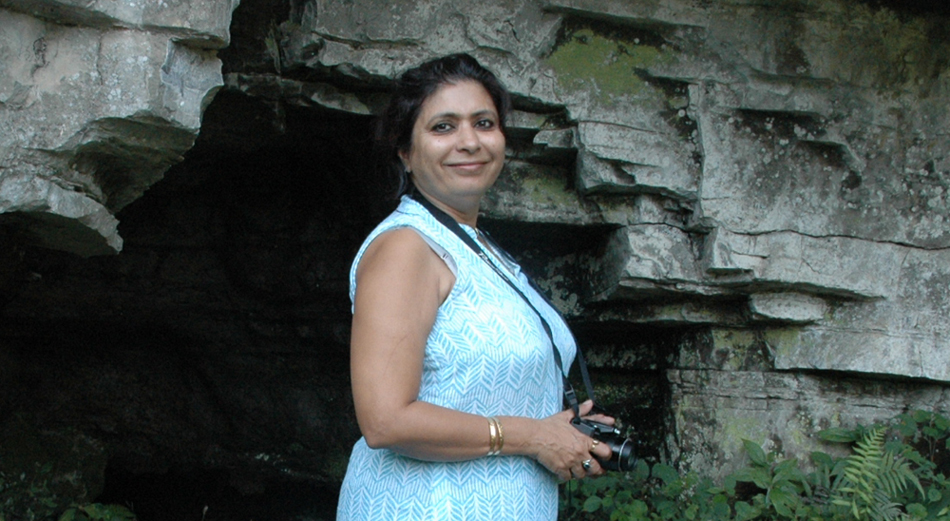 In a recent letter from Francois Richier, Ambassador of France, New Delhi, Meenakshi Dubey-Pathak was informed of this honour:
'I have the great pleasure of informing you that you have been bestowed with the Chevalier des Arts et Lettres by the Minister of Culture and Communication Mrs Aurelie Filippetti. The distinction is in recognition of your special contribution to promote Rock Art in India and around the world. Your Indo-French collaboration with Jean Clottes to disclose Rock Art in Madhya Pradesh is a wonderful tribute to the development of relations between France and India in the field of Archaeology'.
Meenakshi Dubey-Pathak has also recently returned from China, where she participated in the international seminar on the 'Rock art sites of the Zuojianng Huashan Rock Art Cultural landscape World Heritage Tentative List'. A new section for the rock art of Huashan, in collaboration with State Administration of Cultural Heritage, Peoples Republic of China will be presented shortly.
Whilst in China, she also participated in the 2014 IFRAO Congress, where she and Dr. Jean Clottes presented a paper entitled 'Rock Art and Tribal Art in Central India', to herald the new publication.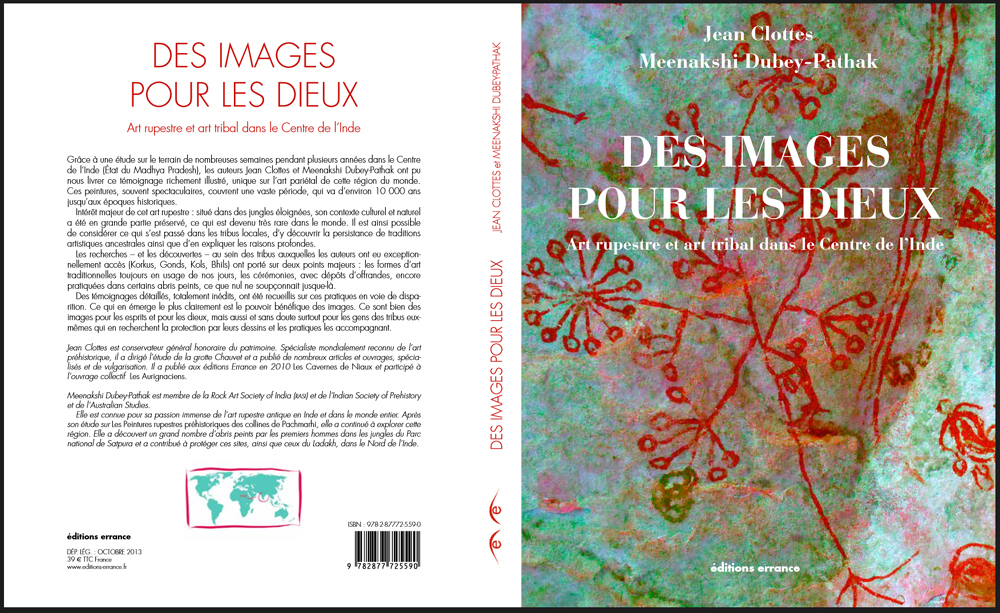 'IMAGES FOR THE GODS: Rock Art and Tribal Art in Central India' - publication preview:
India, and particularly Central India, is one of the rare places in the world where one can find an extensive spectacular rock art still regularly visited for traditional ceremonies as well as several forms of tribal art with striking similarities to the rock art in their imagery and functions.
All sorts of complex ceremonies may be enacted. At their basis is manta, an exchange between the supplicants and the gods to whom they make offerings or promises of gifts when the wish is granted. Direct contact with the gods is thus an essential aspect of the art. The power of the image is at the basis of it all.
Other meanings and aspects of image making, in rock art as well as in tribal art, are the importance and power of various animals (tigers, peacocks), as well as their value as status symbols (horses, elephants), or the role of trees, of the sun and the moon, and of geometric signs that accompany all main events in people's lives. Red dots and handprints are thus ubiquitous in their protective function.
Rock art worship is one of the numerous religions of India and the most ancient, perhaps at the origin of some beliefs and rituals in other more widespread creeds.
Meenakshi Dubey-Pathak's previous publication 'Rock Art of Pachmarhi Biosphere: Mesolithic to Historic Times' is also available.
http://www.bradshawfoundation.com/books/pachmarhi.php
COMMENTS