BRADSHAW FOUNDATION - LATEST NEWS
Petition to save the rock art of the Latmos Mountains, Turkey
29 Jul 2014
'Save the Latmos' - Petitioning Republic of Turkey Ministry of Forestry and Water Affairs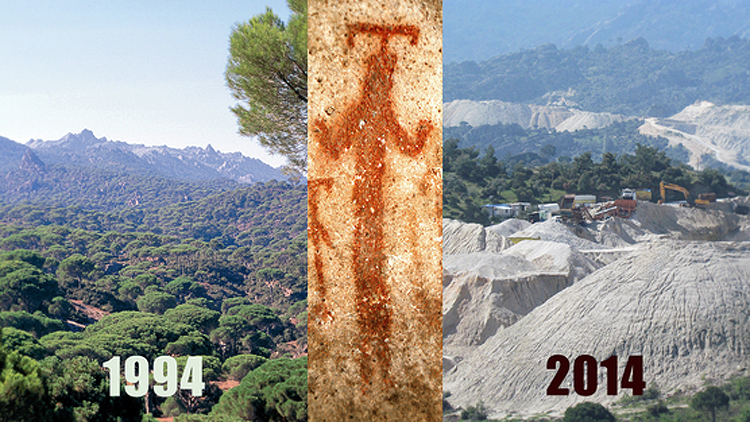 As Editor of the Bradshaw Foundation, I urge you to sign the petition below to help save the rock art of the Latmos Mountains, and for it to be discussed in the Turkish Parliament. But we don't have much time, and we need many signatures. Spread the word.
Peter L. Robinson, Bradshaw Foundation
Why?
Discovered in 1994 by the Berlin archaeologist Dr. Anneliese Peschlow-Bindokat, these rock paintings, dating to the 6th and 5th millennia B.C., belong to the recent extraordinary discoveries in prehistoric archaeology in Anatolia. The painted images focus on family scenes and reflects the changes that occurred in society with the onset of the Neolithic. The themes and message conveyed by this imagery are unparalleled in the Mediterranean sphere and the Near East. The rock art is stylistically and thematically unique; it is a new culture. It is the 'Latmos Culture'.
In prehistory the Latmos, or Beşparmak Dağları, was revered as a sacred mountain in Anatolia.Upon its peak the Old Anatolian weather god and a local mountain deity were worshipped. The mountain peak was the centre of weather and fertility rituals. This cultic tradition continued into Ottoman times.
Moreover, according to the WWF the Beşparmak ecosystem contains rare plants. The area is officially recognised in Turkey. Among the endangered wildlife of the mountains special mention should be made of the wild cat (Caracal caracal), one of the five species of wild cats native in Turkey, and the white-tailed sea eagle (Haliaeetus albicilla). The Association pour le Rayonnement de l'Art Pariétal Européen (ARAPE) has emphasised the exceptional abundance of nature and archaeological monuments in the region.
The Threat?
Feldspar mining. Mining for feldspar has existed in the area for decades but now it is dramatically increasing. At the projected rate of mining, the Latmos Culture is in jeopardy.
To sign the petition click here:
http://www.change.org/en-GB/petitions/republic-of-turkey-ministry-of-forestry-and-water-affairs-save-mount-latmos?lang=en-GB
To visit the Latmos rock art website of Dr. Anneliese Peschlow-Bindokat click here:
COMMENTS