BRADSHAW FOUNDATION - LATEST NEWS
Unidentified Human Species
02 Feb 2015
An article by Melissa Hogenboom from the BBC - Is this a new species of human? - reports on interesting fossils discovered in China that cannot be easily placed in any known hominin species, such as Neanderthals and modern humans.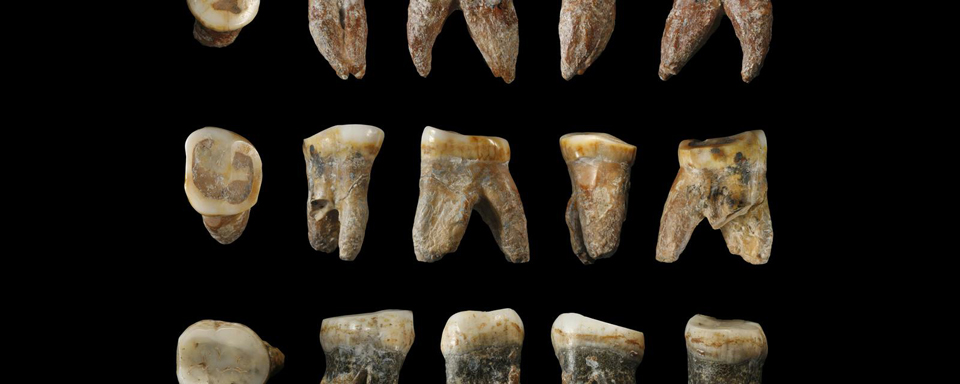 (Credit: Martinon-Torres)
The fossils, discovered in a cave at the Xujiayao site in 1976, point to a human species in northern China between 60,000 and 120,000 years ago. This may be a new species or it may be a result of interbreeding between two of the known species.
Whilst modern humans existed in Africa, three other human species existed on Earth; Neanderthals in Europe, Denisovans in Asia, and possibly Homo floresiensis in Indonesia. There may have been a fourth group in Eurasia that interbred with the Denisovans.
The fossils consist of skull fragments, and nine teeth from four individuals, now featured in the American Journal of Physical Anthropology:
Hominin teeth from the early Late Pleistocene site of Xujiayao, Northern China
Song Xing et al
Vol 156 Issue 2
ABSTRACT
It is generally accepted that from the late Middle to the early Late Pleistocene (c. 340-90 ka BP), Neanderthals were occupying Europe and Western Asia, whereas anatomically modern humans were present in the African continent. In contrast, the paucity of hominin fossil evidence from East Asia from this period impedes a complete evolutionary picture of the genus Homo, as well as assessment of the possible contribution of or interaction with Asian hominins in the evolution of Homo sapiens and Homo neanderthalensis. Here we present a comparative study of a hominin dental sample recovered from the Xujiayao site, in Northern China, attributed to the early Late Pleistocene (MIS 5 to 4). Our dental study reveals a mosaic of primitive and derived dental features for the Xujiayao hominins that can be summarized as follows: i) they are different from archaic and recent modern humans, ii) they present some features that are common but not exclusive to the Neanderthal lineage, and iii) they retain some primitive conformations classically found in East Asian Early and Middle Pleistocene hominins despite their young geological age. Thus, our study evinces the existence in China of a population of unclear taxonomic status with regard to other contemporary populations such as H. sapiens and H. neanderthalensis. The morphological and metric studies of the Xujiayao teeth expand the variability known for early Late Pleistocene hominin fossils and suggest the possibility that a primitive hominin lineage may have survived late into the Late Pleistocene in China. Am J Phys Anthropol 156:224 240, 2015. 2014 Wiley Periodicals, Inc.
Maria Martinon-Torres, one of the authors, of the National Research Centre on Human Evolution in Burgos, Spain and her colleagues carried out a comprehensive analysis of the characteristics and features of the teeth.
'It was clear that the teeth did not resemble those of modern humans, H. sapiens. Instead, they have several primitive features, some of which look like the older species H. erectus, while some look more like Neanderthals.'
However, she refers to this situation as an unknown group rather than a new species; the fossils 'have a mixture of something very primitive, which is currently unknown. We cannot go further to say it's a new species because we need to compare it to other things.' The clue may lie with the Denisovans, about whom we still know very little.
Scientists are divided on this, some believing that the fossils are from a previously unrecognized species. Clearly, more bones and DNA evidence will clarify the situation; given the geographical size of Asia, there was probably more than one species of early human.
Visit the ORIGINS section:
http://www.bradshawfoundation.com/origins/index.php
COMMENTS