BRADSHAW FOUNDATION - LATEST NEWS
Talking Stone Rock Art of the Cosos
10 Apr 2014
NEW DOCUMENTARY FILM ON THE ROCK ART OF NORTH AMERICA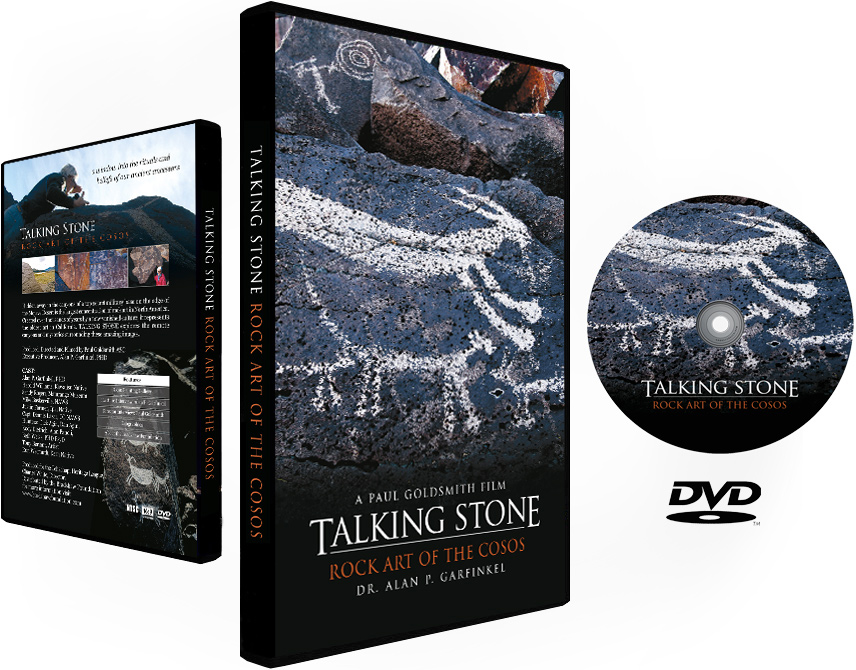 Hidden away in the canyons of a top secret military base on the edge of the Mojave Desert is the largest concentration of rock art in North America. Created over thousands of years by a now vanished culture, it represents the oldest art in California. TALKING STONE explores the remote canyons and mysteries surrounding these amazing images.

The leading expert on the rock art of the Cosos, Dr. Alan P. Garfinkel, has teamed up with the accomplished film maker Paul Goldsmith ASC, to explore and explain this ancient and elegant rock art. Some 35,000 petroglyphs have been formally recorded, but estimates suggest an excess of over 100,000. The Coso petroglyphs, consisting of rock carvings depicting animals, abstract symbols and anthropomorphic figures, is located both throughout the higher elevation uplands and the broad volcanic lowland drainages to the south. It is typically found on large outcrops of basalt that form extensive escarpments. These outcrops have developed a dark brown patina - or desert 'varnish' - that when pecked or scratched reveal the lighter heart rock beneath.

Why was this area, now known as the Coso Range, adorned with such a concentration of strikingly beautiful and highly consistent rock engravings, predominantly those of bighorn sheep? TALKING STONE examines the salient theories associated with this particular rock art, bringing to light the importance of the powerful bighorn sheep, and the animal ceremonialism that existed in this region for the many generations of the Coso people.
DVD
Talking Stone - Rock Art of the Cosos is available on DVD from the Bradshaw Foundation iShop in both NTSC and PAL formats. Included on the DVD are the Documentary Film (53 minutes), An iLecture interview with Dr Alan P. Garfinkel, An interview with director Paul Goldsmith, Coso Rock Art Photograph Gallery, Feature on the Bradshaw Foundation and filmmaker biographies.
TALKING STONE
Produced, Directed and Filmed by Paul Goldsmith
Executive Producer, Alan P. Garfinkel, PHD
Distribution: Bradshaw Foundation

FEATURES
Talking Stone Film (Running Time 53 Minutes)
Coso Rock Art Gallery
iLecture interview with Dr Alan P. Garfinkel
Interview with Director Paul Goldsmith
Feature on the Bradshaw Foundation
Filmmaker Biographies

FORMATS
DVD NTSC
DVD PAL
CAST
Alan P. Garfinkel, PHD. Harold Williams, Kawaiisu Native. Sandy Rogers, Maturango Museum. Mike Baskerville, NAWS. Justin Farmer, Ipai Native. Capt. Dennis Lazar, CO NAWS. Hunters: Dick Agin, Dan Agin, Kody Dietrich, Alan Panoli. Beth Weiss, PHD PsyD, Tony Berlant, Artist, Ron Wermuth, Kern Native.
DOWNLOAD
Talking Stone - Rock Art of the Cosos is available for download from the Bradshaw Foundation iShop. The documentary film can be downloaded in either standard definition or high definition and is delivered instantly to your computer, allowing you to watch Talking Stone on your iPad/iPod or other portable device.
COMMENTS