BRADSHAW FOUNDATION - LATEST NEWS
Evolution of complex human culture
05 Apr 2016
An article on phys.org - Population size fails to explain evolution of complex culture - reports that despite the growing consensus among archaeologists and anthropologists that the size of a population determines its ability to develop as well as to maintain complex culture, this view is severely compromised by a paper published this week in the Proceedings of the National Academy of Sciences (PNAS).
Lion Man #sculpture may represent the dawn of #human behavioural modernity https://t.co/zWCOJPTd1T #Origins #art pic.twitter.com/ae3sB8I7jk

— Bradshaw Foundation (@BradshawFND) April 5, 2016
The Lion Man sculpture from the Stadel Cave, Germany, carved out of mammoth ivory, is now believed to be 40,000 years old based on carbon dating material from the same layer in which the sculpture was found. It is from the Aurignacian culture. It was carved using a flint knives, burins and scrapers. Some argue that this sculpture, and others like it, represents the dawn of human behavioural modernity.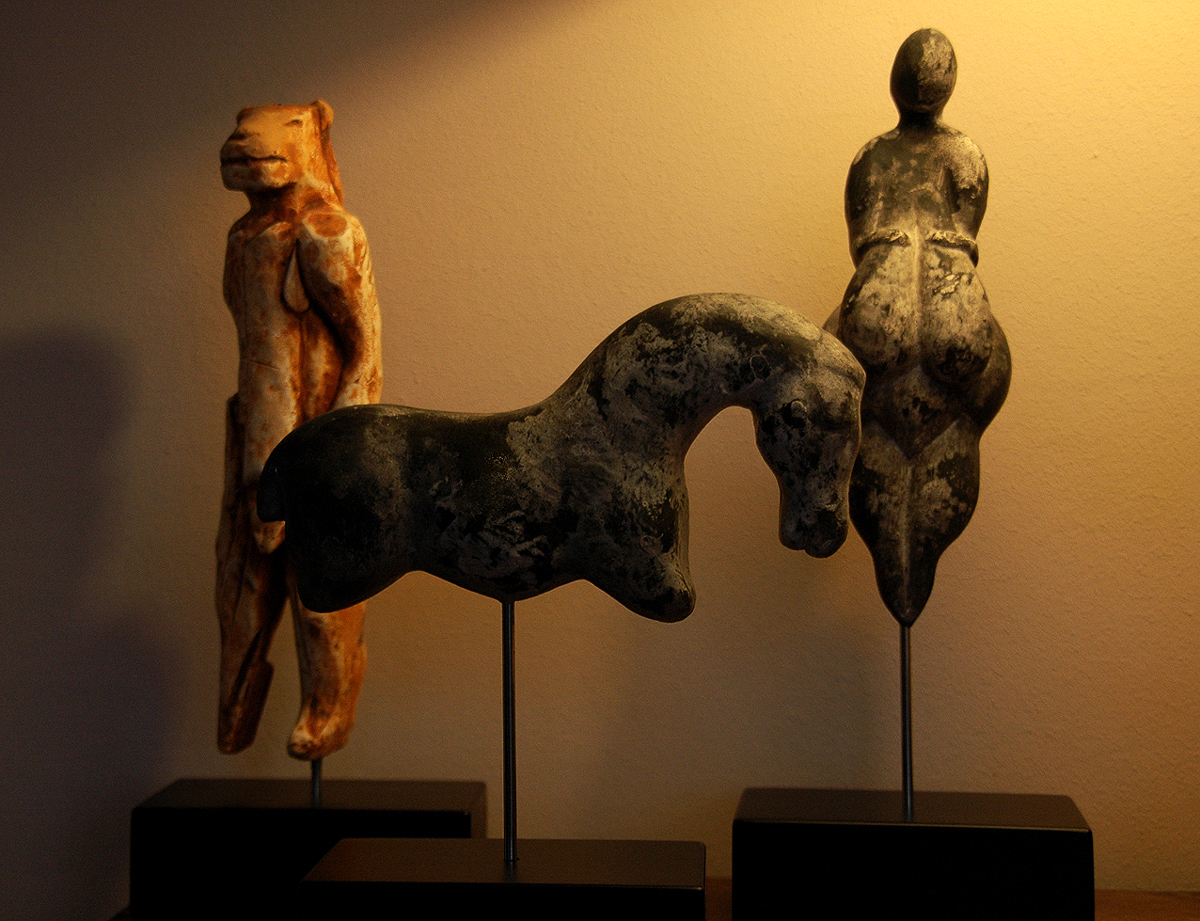 Ice Age sculptures (left to right): Lion Man, Vogelherd Horse & Lespugue figurine.
Archaeologists observe a fairly sudden appearance of behavioural modernity, such as complex technologies, abstract and realistic art and musical instruments, some 40,000 years ago, in the Later Stone Age. For decades archeologists and antropologists have searched for a scientific explanation for these and other 'cultural revolutions'. In so doing, it may find the origin of human culture. For some 10 years the predominant theory suggested the driving factor was growing population numbers.
Why? Logically, the bigger the population, the higher the probability it contains an 'Einstein'; unique, original and epiphanous thoughts and ideas that produce quantifiable and ameliorating results. Hence, bigger populations are more likely to develop complex culture.
Not so, argues the recently published paper. The research team includes technology philosopher Krist Vaesen from Eindhoven University of Technology (working in the Philosopy & Ethics group of the faculty Industrial Engineering and Innovation Sciences), along with archaeologists from Simon Fraser University, La Trobe University and Leiden University. They refute this demography hypothesis with a growing body of ethnographic evidence.
Article continues below
The critical flaws of the model supporting a relationship between population size and cultural complexity? A critical analysis of the available archaeological evidence suggests that there are simply no data to infer that behavioural modernity emerged in a period of population growth or that the size of a population directly influences the rate of innovation in a society's technological repertoire.
Too simplistic? Yes, according to the team - for the evolution of complex culture, no satisfying answer is available yet; the question of the emergence of complex culture remains as elusive as ever.
Journal reference: Proceedings of the National Academy of Sciences
Provided by: Eindhoven University of Technology
View the ORIGINS section:
http://www.bradshawfoundation.com/origins/index.php
Visit the Ice Age Sculpture Gallery:
http://www.bradshawfoundation.com/sculpture/index.php
Sculptures available in the iShop:
COMMENTS