BRADSHAW FOUNDATION - LATEST NEWS
Ancient Humans and Faunal Extinctions
29 Oct 2015
A recent online article on pasthorizons - Linking Australian megafauna extinction to arrival of humans - examines the role of ancient human populations in causing extinctions.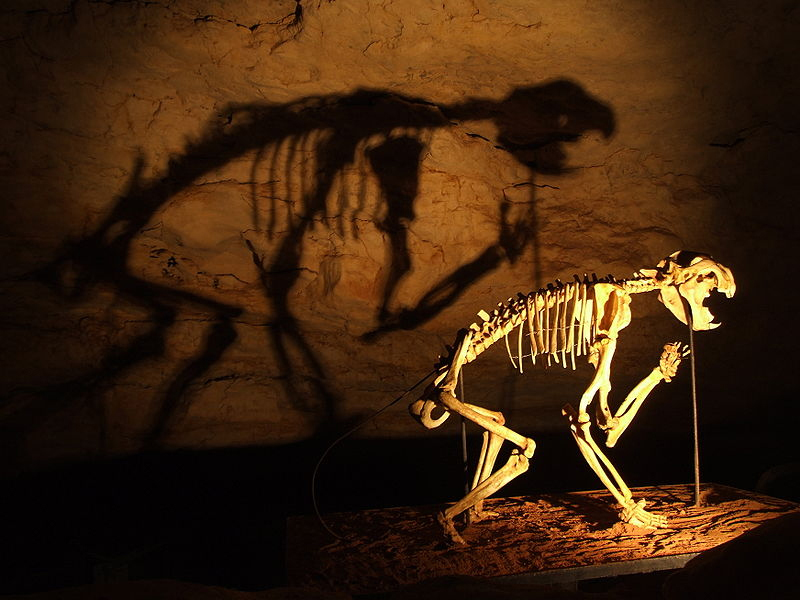 Marsupial lion skeleton in Naracoorte Caves, South Australia.
'While the anthropogenic impact on global species diversity is clear, the role of ancient human populations in causing extinctions is more controversial. New data presented at the Society of Vertebrate Palaeontology meetings in Dallas, Texas, implicates early humans in the extinction of large mammals, birds and lizards in Australia. More precise dating of these extinction events places them 10 thousand years after the first arrival of humans in Australia, suggesting human predation was the most likely cause.'
Australia was once home to a plethora of megafauna - large-bodied animals including a huge monitor lizard, large terrestrial birds, a giant wombat, the marsupial lion, and giant kangaroos. During the last Ice Age the megafauna disappeared. This extinction roughly coincides with the first arrival of humans to Australia, but the causal effect has never been proved.
Palaeontologist John Alroy, of Macquarie University, New South Wales, and colleagues, are seeking a more precise estimate - human hunting or other impacts - by measuring radiocarbon levels in bones. Alroy, based on the age of the most recent fossil, found that the megafauna disappeared between 27 and 40 thousand years ago. Using a similar method, he estimated that the first humans arrived between 50 and 61 thousand years ago.
The ten thousand year lag is explained by the time taken for humans to spread across Australia, or for the technology of early populations to advance enough to hunt large prey. Alroy believes this timing is consistent with evidence that human hunting caused major extinctions later on in North and South America.
Yuval Noah Harari, as stated in his new book 'Sapiens: A Brief History of Humankind', agrees.
Extract:
Up until then humans had displayed some innovative adaptations and behaviours, but their effect on their environment had been negligible. They had demonstrated remarkable success in moving into and adjusting to various habitats, but they did so without drastically changing those habitats. The settlers of Australia, or more accurately, its conquerors, didn't just adapt, they transformed the Australian ecosystem beyond recognition.
The first human footprint on a sandy Australian beach was immediately washed away by the waves. Yet when the invaders advanced inland, they left behind a different footprint, one that would never be expunged. As they pushed on, they encountered a strange universe known creatures that included a 200-kilogram, two-metre kangaroo, and a marsupial lion, as massive as a modern tiger, that was the continent's largest predator. Koalas far too big to be cuddly and cute rustled in the trees and flightless birds twice the size of ostriches sprinted on the plains. Dragon-like lizards and snakes five metres long slithered through the undergrowth. The giant diprotodon, a two-and-a-half-ton wombat, roamed the forests. Except for the birds and reptiles, all these animals were marsupials - like kangaroos, they gave birth to tiny, helpless, fetus-like young which they then nurtured with milk in abdominal pouches. Marsupial mammals were almost unknown in Africa and Asia, but in Australia they reigned supreme.
Within a few thousand years, virtually all of these giants vanished. Of the twenty-four Australian animal species weighing fifty kilograms or more, twenty-three became extinct. A large number of smaller species also disappeared. Food chains throughout the entire Australian ecosystem were broken and rearranged. It was the most important transformation of the Australian ecosystem for millions of years.
Purchase 'Sapiens' through our Book Review section:
http://www.bradshawfoundation.com/books/sapiens_a_brief_history_of_humankind.php
COMMENTS