BRADSHAW FOUNDATION - LATEST NEWS
Songlines of Australia
02 Apr 2015
Songlines of Australia: life in arid landscapes and the means of survival through time.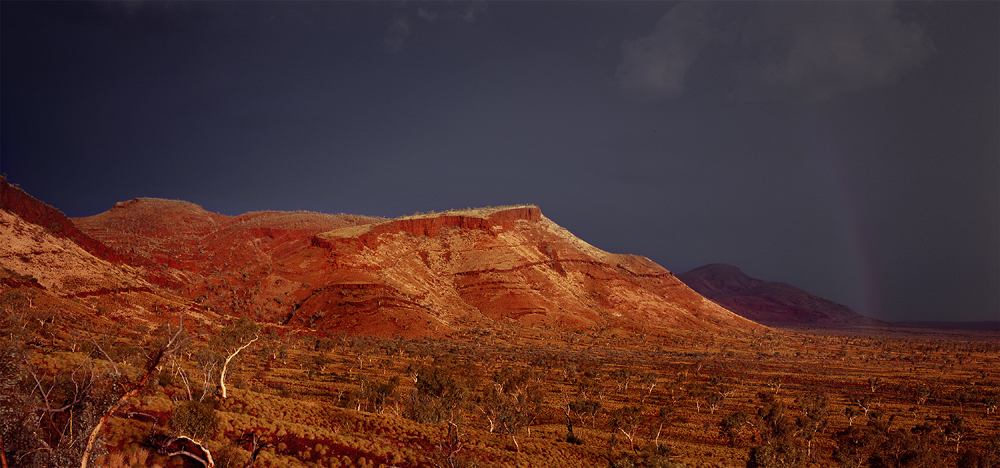 The Songlines by Bruce Chatwin explores the Aboriginal culture within the Australian landscape. The author is told that Aboriginals could not imagine territory as a block of land hemmed in by frontiers: but rather as an interlocking network of 'lines' or 'ways through'. All Aboriginal words for 'country' are the same as the words for 'line.' This is why: most of Outback Australia was arid scrub or desert where rainfall was always patchy and where one year of plenty might be followed by seven years of lean. To move in such landscape was survival: to stay in the same place suicide. The definition of a man's 'own country' was 'the place in which I do not have to ask'. Yet to feel 'at home' in that country depended on being able to leave it. Everyone hoped to have at least four 'ways out', along which he could travel in a crisis. Every tribe - like it or not - had to cultivate relations with its neighbour.
The photography of Hugh Brown (above) seems to capture this landscape of 'lines' and 'ways through'; a landscape both insurmountable and yet entirely accessible.
Our final extract from The Songlines by Bruce Chatwin considers life within the arid environment through deep time:
All the same, the 'graciles' and the 'robusts' had, it seems, the ability to fashion simple tools, of bone and even stone. The wear on these tools, when examined under a microscope, suggests they were used, not for butchery, but for rooting up bulbs and tubers. Australopithecus may have snaffled a young gazelle if one came within his grasp. He may even have hunted, systematically, like a chimpanzee. But he was still more or less vegetarian.
As for the first man, he was an omnivore. His teeth are those of an omnivore. From the stone tools strewn around his campsites, he seems to have dismembered carcasses and eaten them. He was, however, probably more scavenger than hunter. His appearance coincides with the second climatic upheaval.
Climatologists have learnt that, between 3.2 and 2.6 million years ago, there occurred a sharp plunge in world temperature known as the First Northern Glaciation, in that the North Polar Ice Cap for the first time froze. In Africa, the results were catastrophic.
Up and down the Great Rift Valley, the woodlands were swept away and replaced by open steppe: a wilderness of sand and gravel, patchy grass and thorn bushes, with taller trees lingering in the watercourse.
'Man', said Elizabeth Vrba, 'was born in adversity. Adversity, in this case, is aridity.'
'You mean that man was born in the desert?'
'Yes,' she said. 'The desert. Or at least the semi-desert.'
'Where the sources of water were always undependable?'
'Yes.'
'But there were plenty of beasts about?'
'A carnivore doesn't care where he lives so long as he gets his meat. It must have been terrible!'
The evolutionary record is full of 'arms races' between predator and prey, since Natural Selection will favour prey with the best defences and predators with the best killing equipment.
A tortoise retires into its shell. A hedgehog raises its spines. A moth will camouflage itself against the bark of a tree, and a rabbit will bolt down a burrow too small for the fox to follow; but man was defenceless on a treeless plain. The response of robustus was to put on more muscle. We used our brains.
It was nonsense, Dr Vrba continued, to study the emergence of man in a vacuum, without pondering the fate of other species over the same time-scale. The fact was that around 2.5 million, just as man took his spectacular 'jump', there was a 'tremendous churning over of species'.
'All hell', she said, 'broke loose among the antelopes.' Everywhere in eastern Africa, the more sedentary browsers gave way to 'brainier' migratory grazers. The basis for a sedentary existence was simply no longer there.
'And sedentary species,' she said, 'like sedentary genes, are terribly successful for a while, but in the end they are self-destructive.'
In arid country, resources are never stable from one year to the next. A stray thunderstorm may make a temporary oasis of green, while only a few miles off the land remains parched and bare. To survive in drought, therefore, any species must adopt one of two stratagems: to allow for the worst and dig in; to open itself to the world and move.
Some desert seeds lie dormant for decades. Some desert rodents only stir from their burrows at night. The weltwitchia, a spectacular, strap-leaved plant of the Namib Desert, lives for thousands of years on its daily diet of morning mist. But migratory animals must move - or be ready to move.
Elizabeth Vrba said, at some point in the conversation, that antelopes are stimulated to migrate by lightning.
'So', I said, 'are the Kalahari Bushmen. They also "follow" the lightning. For where the lightning has been, there will be water, greenery and game.'
View the photography of Hugh Brown:
http://www.hughbrown.com
Visit the ORIGINS section:
http://www.bradshawfoundation.com/origins/index.php
COMMENTS