BRADSHAW FOUNDATION - LATEST NEWS
Discovery of engravings on Iberian peninsula
17 Oct 2016
An article on the BBC - Cave art: Etchings hailed as Iberia's most spectacular - reports on the discovery of the 15m-long panel of engravings found in the Armintze cave, Lekeitio, in Biscay province of Spain.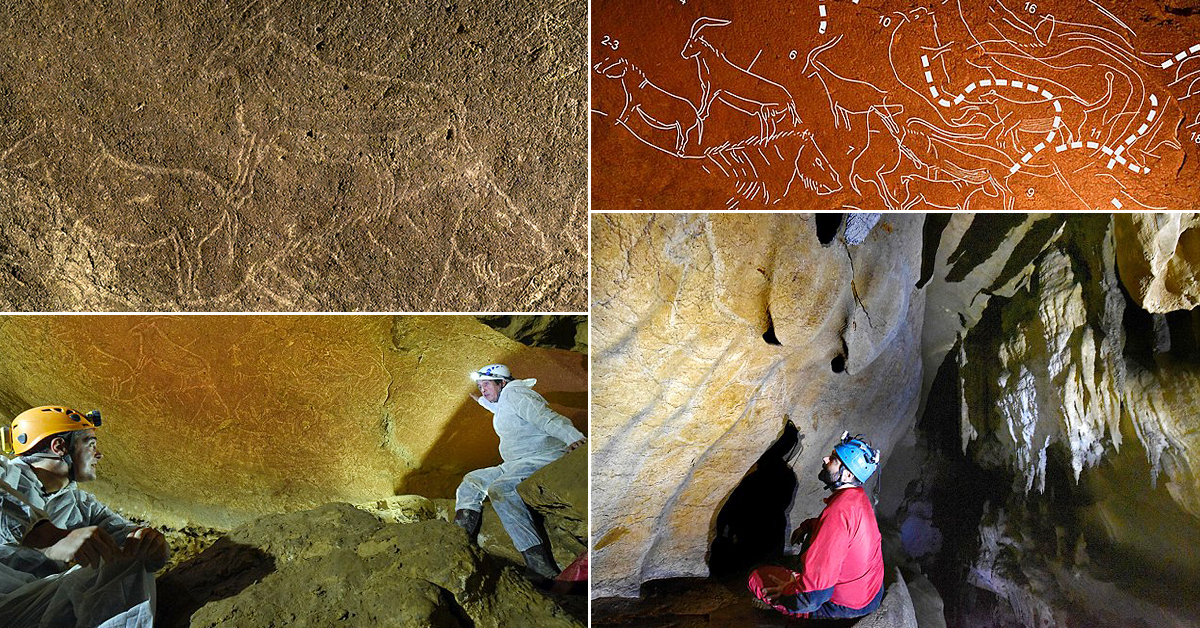 Researchers studying the engravings in the Armintze cave. Image: AFP
Cave art as old as 14,500 years has been described as the most spectacular and impressive ever discovered on the Iberian peninsula. This cave art consists of some 50 engravings, including horses, bison, goats and - exceptionally for Palaeolithic art in the Biscay province - two lions. The size of the engravings is also exceptional; the depiction of a horse is roughly 1.5 m. in length.
Engravings of the Armintze cave in the Biscay province of #Spain https://t.co/B7ALcB7ZuN pic.twitter.com/YkYyZvX0f1

— Bradshaw Foundation (@BradshawFND) October 17, 2016
Engravings in the Armintze cave. Image: AFP
The discovery was announced by senior Biscay official Unai Rementeria. Although the cave was well-known to locals, the engravings had not been noticed.
Article continues below
There are two main panels, with some 30 animals depicted as well as geometric symbols such as semi-circles and lines. The symbols bear a strong similarity to those found in the French Pyrenees.
The similarities also apply to the depictions of the lions - cave lions - as well as to the artistic technique of engraving, suggesting cultural links between these two regions.
The cave will now have restricted access in order to preserve the engravings, dated from between 12,000 and 14,500 years ago, and to facilitate further scientific research.
View more of the rock art of Europe:
COMMENTS