BRADSHAW FOUNDATION - LATEST NEWS
Coso Rock Art radio interview
16 Feb 2015
Coso Rock Art radio interview featuring Dr Alan Garfinkel Gold, executive producer of the film 'TALKING STONE', discussing the rock art of the Cosos in Eastern California on air with Death Valley Jim.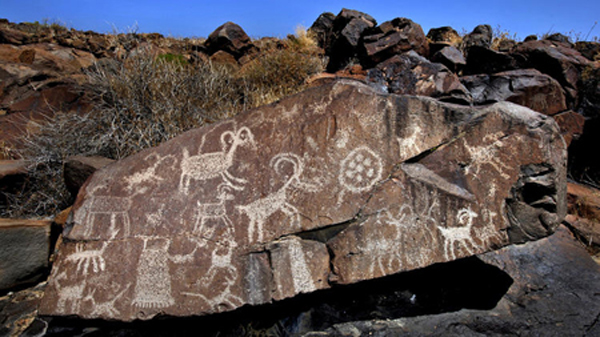 We have featured the work of Dr Alan Garfinkel Gold on the rock art of the Cosos in Eastern California, and of his film 'TALKING STONE', but here is an opportunity to hear a great radio interview recorded last year on the Death Valley Jim Radio Program.

Have a listen to the interview; Alan talks passionately about the extensive rock art in the Coso Range with Death Valley Jim and John Grasson of Desert Magazine.
Then delve in to Death Valley Jim's website and learn more about the author, guide, explorer, photographer and radio personality.
The website researches the rock art of California such as the Greenwater Canyon Petroglyphs, the Malibu Twin Pictographs, the Cave of the Four Horsemen, the Coyote Hole Petroglyphs, as well as the ghost towns of the mining industry and the Joshua Tree National Park.
His publications include 'Hidden Joshua Tree', 'Secret Places in the Mojave Desert' vol. I, II, III & IV, 'Exploring Death Valley', 'Rock Art of the Upper Mojave Desert, and 'Analyzing Rock Art of the Mojave Desert' are all available through his website.
Highly recommended!
To hear the interview:
http://deathvalleyjim.com/2014/07/26/death-valley-jim-radio-program-wspecial-guest-dr-alan-garfinkel-gold-7262014/
To purchase the DVD or download the film:
http://www.bradshawfoundation.com/ishop/dvd.php
Visit the American Rock Art Archive:
COMMENTS