BRADSHAW FOUNDATION - LATEST NEWS
Geoglyphs Discovered in Kazakhstan
05 Nov 2015
An online article by Ben Taub on IFLScience - Mysterious Ancient Geoglyphs Discovered In Kazakhstan Leave Archeologists Perplexed - reports on over 50 ancient earthworks which have been discovered in Kazakhstan.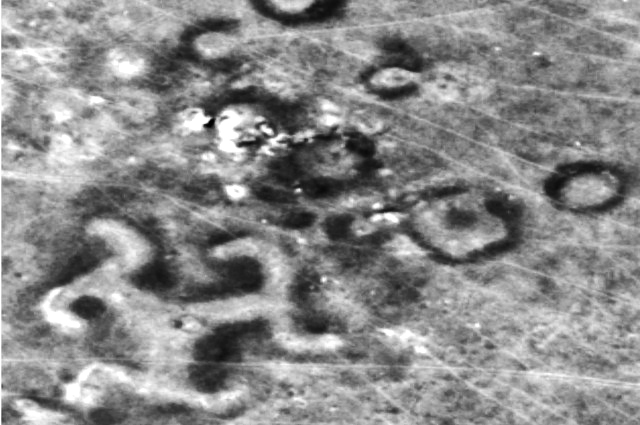 Image: DigitalGlobe via NASA
Archeologists are now pondering their construction and purpose. The geoglyphs, which have been likened to the Nazca Lines of Peru, are scattered across a vast area of the Kazakh steppe, and were first discovered by archaeology enthusiast Dmitriy Dey using Google Earth.

Image: DigitalGlobe via NASA
An international team of researchers from the Lithuanian Institute of History and Kostanay University in Kazakhstan including Irina Shevnina and Andrew Logvin are now attempting to decipher the age, meaning and function of the man-made features.
At this stage, some believe the earthworks could be up to 8,000 years old, based on how much the mounds have eroded and on the age of Neolithic flints found at the sites. The designs may represent a sun-worshipping cult. Others, however, date them at about 2,000 years old, based on luminescence dating - the exposure to sunlight over time - with a more prosaic purpose such as a landmark.
Research continues.
COMMENTS