BRADSHAW FOUNDATION - LATEST NEWS
Award-winning Research at Coso
28 Nov 2011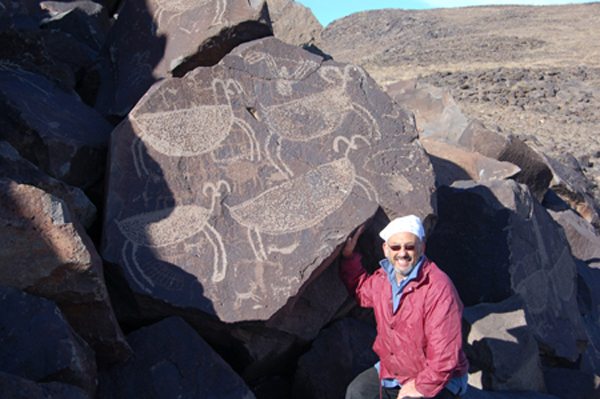 Alan P. (Garfinkel) Gold, Ph.D., R.P.A., announces that the Kawaiisu Project has been recognized at the highest level of the State of California for excellence in Historic Preservation Activities, and has been identified as a recipient of the California State Governor's Award for 2011.
'This award is a testament to all of our collaborative efforts. We were specifically identified for the award because of all of our joint efforts and the attached description was the basis for this award. It recognizes the many people from many organizations that were all part of this collaborative effort. The Kawaiisu Project includes all the integrated elements including: The Kawaiisu Exhibit in the Milano Gallery of the Tehachapi Museum, the DVD developed by the Kawaiisu Language and Cultural Center, and the Handbook of the Kawaiisu. Most importantly it is a joy to see the Kawaiisu people receiving such an important award and this level of recognition.'
Dr. Gold has also recently received a major grant for the History in Stone: The Story of Coso Rock Art documentary.
Dr. Gold has also published 'Reproductive Symbolism in Great Basin Rock Art: Bighorn Sheep Hunting, Fertility and Forager Ideology'. In this new paper the authors Alan P. Garfinkel and Donald R. Austin attempt to mediate the controversy and develop a synthetic treatment of the opposing perspectives. The paper also provides some interesting independent evidence supporting the reproductive symbolism and increase rites model.
COMMENTS