BRADSHAW FOUNDATION - LATEST NEWS
Coso petroglyph inventory
20 Jun 2014
According to the article 'Navy faces daunting task of counting desert petroglyphs' by Louis Sahagun in the Los Angeles Times , the full extent of the Coso rock carvings in eastern California is being carefully considered.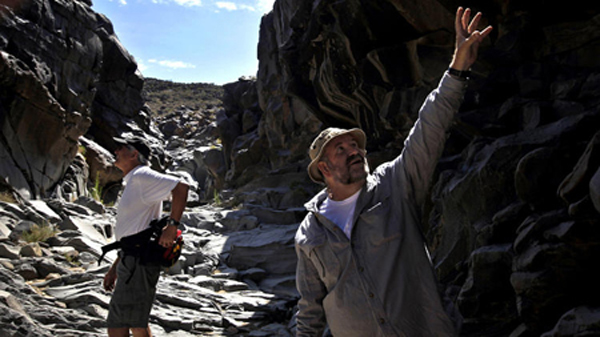 Photography by Ric Loomis
Archaeologists know it as Renegade Canyon, a lava gorge in desert badlands with more than 1 million images of hunters, spirits and bighorn sheep etched in sharp relief on cliff faces and boulders. The Navy and the Marines know it as a highly restricted area for the development and testing of advanced bomb and missile systems. In terms of rock art preservation, this is a pretty good arrangement.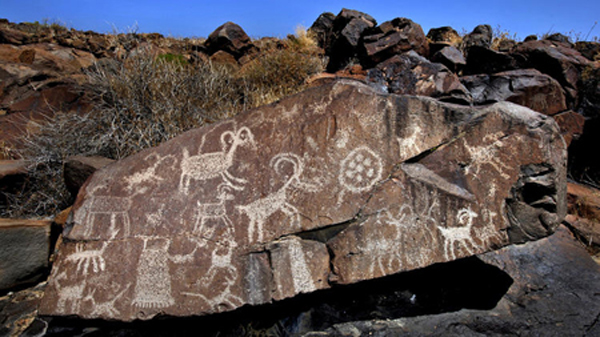 'Safeguarding the canyon and other troves of rock art from stray bombs and vandalism has been a priority since the Mojave Desert base was established in 1943. Now, the Navy is gearing up for a daunting new mission: creation of the first comprehensive inventory of the largest concentration of petroglyphs in the Western Hemisphere.
'The effort comes at a time of renewed interest in the spectacular displays in the Coso Range of southern Inyo County, just east of the Sierra Nevada. This year, the nearby city of Ridgecrest, best known as home of the weapons testing center, is rebranding itself as a mecca of rock art and preparing to hold its first petroglyphs festival. A documentary called "Talking Stone: Rock Art of the Cosos" will premiere July 1 on PBS SoCal.
'The Navy is rounding up funding and equipment to begin its inventory next year in the upper reaches of Renegade Canyon, one of 4,000 significant prehistoric sites on the base.
'Mike Baskerville, chief archaeologist at the 1.1-million-acre base 130 miles northeast of Los Angeles, said the project will take years to complete even with the help of GPS units, high-definition cameras and teams of archaeologists', writes Louis Sahagun.
In 1964, the canyon, which is also known as Little Petroglyph Canyon, and another site known as Big Petroglyph Canyon, were listed as a National Historic District. In 2001, the district was expanded by 36,000 acres and dedicated as the Coso Rock Art National Historic Landmark, the only designation for such a resource on Department of Defense land.
This is indeed auspicious for the Coso petroglyphs, which feature human forms with arrows and spears, human-like spirits with raven and quail heads and myriad lizards, snakes, spirals, radiating circles and arrays of dots, and where the artists - archaeologists believe they were created by the Coso Shoshone peoples some 15,000 years ago - use of the stone panels was unrestricted.
In November, Ridgecrest will hold a 'petroglyph festival' to celebrate the Coso carving. It also plans to build a $6-million Petroglyph Park with replicas of the rock art in areas controlled by the Navy.
COMMENTS