BRADSHAW FOUNDATION - LATEST NEWS
Preservation of India's Edakkal Cave petroglyphs
20 Aug 2015
An online article by E M Manoj on The Hindu - Petroglyphs in a state of neglect - reports on the prehistoric rock art site at the Edakkal Cave on the Ambukuthy Hills in Wayanad district which is facing neglect and ruin.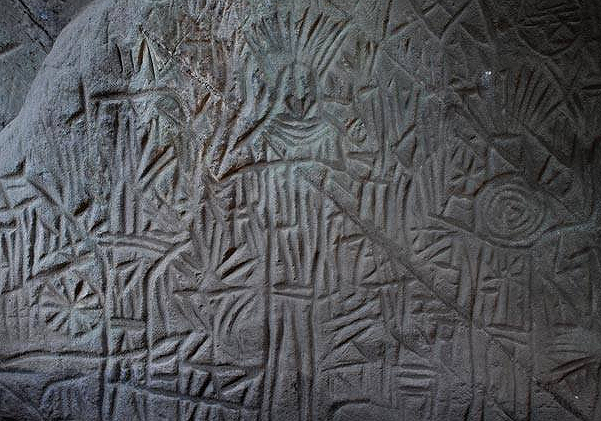 Unrestricted entry of tourists and granite quarrying activities near the monument are the major threats to this Neolithic archaeological site.
A national workshop held at Sulthan Bathery on Conservation of Edakkal Petroglyphs in 2013, as part of securing the UNESCO World Heritage status for the monument, had discussed potential threats to the rock carvings and scientific measures to conserve the monument.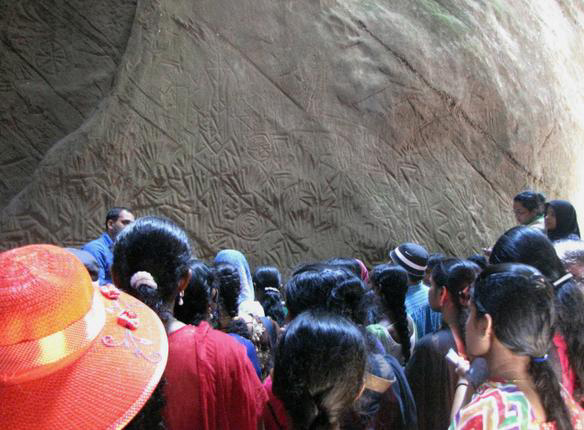 A national workshop held at Sulthan Bathery in 2013
It had identified seepage of rainwater from the Ambukuthy Hills as a threat to the wall engravings and had recommended the formation of a core committee to suggest measures to divert surface run of water. It also said necessary measures should be taken to prevent wedging due to the growth of vegetation along the cracks, another threat to the engravings. Moreover, since huge blocks of rocks near the cave faced the threat of collapse due to the impact of blasts at the nearby granite quarries, experts had recommended that they be bolted and secured instead of removal. Vibrations from the granite quarries should also be analysed.
However, two years after the recommendations, authorities are yet to take any action to address these issues, said Thomas Ambalavayal, Secretary, Wayanad Prakruthi Samrakshana Samithi.
Unrestricted entry of visitors without assessing the carrying capacity of the fragile rock site has raised concern, he said.
The State Archaeology Department had appointed an officer to monitor the day-to-day activities at the monument in 2009, but the post has remained vacant. The heritage monument is under the possession of the State Archaeology Department and the tourism activities are managed by the Edakkal Tourism Destination Management Council under the District Tourism Promotion Council.
Visit the India Rock Art Archive:
COMMENTS