BRADSHAW FOUNDATION - LATEST NEWS
Hobbit ancestors shrank rapidly
09 Jun 2016
An article by Science correspondent Pallab Ghosh on BBC News - Hobbit find shows tiny humans shrank 'rapidly' - reports that scientists have discovered the 700,000-year-old ancestor of the tiny primitive human known as 'the Hobbit'.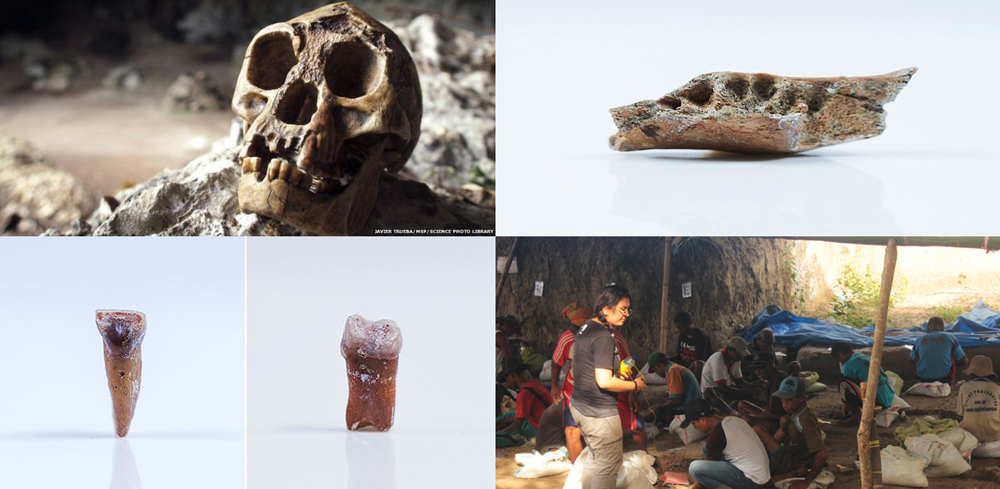 Javier Trueba/MSF/Science Photo Library, Kinez Riza, DR Gerrit van den Bergh/University of Wollongong
Its fossils indicate that the normal-sized primitive humans who first set foot on the Indonesian island of Flores shrank rapidly to become Hobbit-sized. The remains are of at least one adult and two children, who are all just as small as their descendents.
A paper in the journal Nature details the latest findings:
Homo floresiensis-like fossils from the early Middle Pleistocene of Flores
Gerrit D. van den Bergh, Yousuke Kaifu, Iwan Kurniawan, Reiko T. Kono, Adam Brumm, Erick Setiyabudi, Fachroel Aziz & Michael J. Morwood
Nature 534, 245-248 (09 June 2016) doi:10.1038/nature17999
The theory is that erectus shrank to cope with the Island's relatively meagre resources. But the big question is how did it get there. Homo erectus was too primitive to build boats and it was too far for the species to swim from Java to Flores. One possibility, is that individuals were swept across by a giant tidal wave, according to the researchers.
Scientists have discovered the 700,000-year-old ancestor of the #Hobbit #floresiensis https://t.co/CfuDDbJS3N pic.twitter.com/aaDZtJQmin

— Bradshaw Foundation (@BradshawFND) June 9, 2016
Not all agree: Prof Chris Stringer of the Natural History Museum in London believes that the evidence for the rapid shrinking theory is circumstantial: "We do not know how large the tool-makers at one million years actually were, since we do not have their fossils yet; and, secondly, we cannot be sure that the evidence at one million years actually represents the first arrival of humans on Flores. It is just as likely that the ancestors of the Hobbit came from somewhere like Sulawesi, to the North, and we have no evidence so far of who might have been there more than a million years ago."
Article continues below
The researchers acknowledge that their argument is based on scant data: one fragment of a jawbone and a handful of teeth. But Dr Adam Brum of Griffiths University in Australia says the team hopes to gather more fossils to build up a more complete picture.
Most importantly - for Dr van den Bergh - the fact that Hobbit-like humans lived on Flores 700,000 years ago rules out the possibility that the discovery in 2004 was of a group of modern humans who had been stunted by illness. "This find quashes once and for all any doubters that believe Homo floresiensis was merely a sick modern human."
Visit the ORIGINS section:
COMMENTS