BRADSHAW FOUNDATION - LATEST NEWS
Homo erectus - an artist?
04 Dec 2014
This may be the earliest known engraving made by our human ancestor, on a fossilized shell discovered in Indonesia, thought to be between 430,000 and 540,000 years old.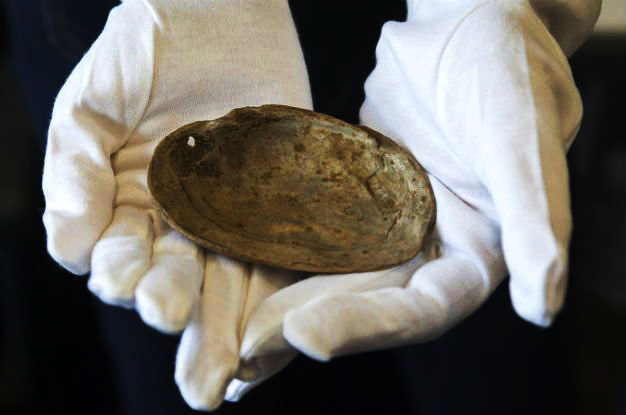 The deliberate patterns are being analysed by an international team of scientists. The shell, found on the Indonesian island of Java, has been carbon-dated to 540,000 years ago, which discounts the possibility that it was made by Neanderthals or modern humans. Until now, scientists saw the Blombos stone of South Africa as the oldest geometric, symbolic and purposeful carving - weighing in at roughly 77,000 years - but this latest proposal takes the event back some 350,000 years and points to Homo erectus as the artist.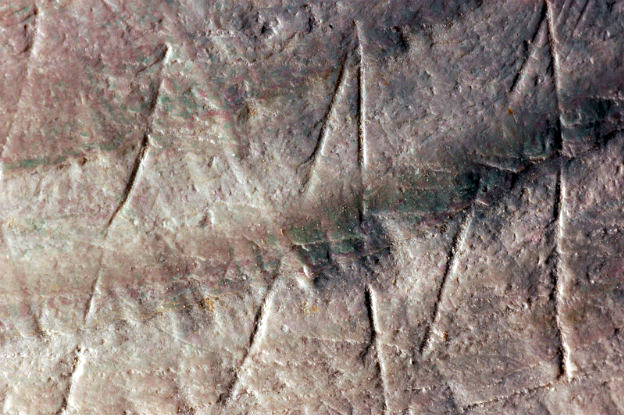 Stephen Munro, from School of Archaeology and Anthropology at the Australian National University in Canberra, believes this rewrites human history and our understanding of early human species.
The etched and fossilised mussel shell itself was discovered in the 19th Century by the Dutch palaeontologist Eugene Dubois, as part of his discovery of and research into Homo erectus. But it was not until now that the patterns have been analyzed, initiated by archaeologist Josephine Joordens of Leiden University in the Netherlands and working with Munro.
Further studies of shells found at the site reveal the use of tools by Homo erectus, such as a shark's tooth to drill into the shell to force it open. Shells themselves may have been worked to use as tools for slicing and scraping.
What does the engraving mean? At this stage the scientists are not specifying the meaning or the purpose of the lines carved into the shell.
Editor's note: Homo erectus - 1.9 million to 200,000 years ago - had little body hair which meant it could shed heat and be active throughout the course of the day. This may have heralded a change from scavenger to hunter. Homo erectus had a smaller gut and smaller teeth than its predecessors, suggesting a better diet. Moreover, there is evidence to suggest the use of fire to cook food. This would produce a higher-energy diet, reallocating calories, and encouraging brain growth.
We also know that Homo erectus used comparatively primitive tools, at a time some 200,000 years before the Acheulean technology. However simple, these tools demonstrated a degree of planning and forethought. Homo erectus lived in a hunter-gatherer society, hunting in co-ordinated groups, and it has been suggested that it may have been the first hominid to use rafts to travel. It is thought to have used a proto-language, as indicated by the Dmanisi [Homo erectus georgicus, a sub-species of Homo erectus] vertebrae fossils.
Therefore, this new discovery and assertion about the engraving is conceivable. Was it purposeful? Probably. Was it art? Possibly. We don't even know with any real certainty what the geometric symbols in the Niaux cave in France represent, painted at the end of the Ice Age in the Magdalenian culture some 14,000 years ago. For Homo erectus, only many more discoveries will clarify the situation.
Follow the story in our Origins section:
http://www.bradshawfoundation.com/origins/index.php
COMMENTS