BRADSHAW FOUNDATION - LATEST NEWS
Weather Shamanism webinar
09 Oct 2018
Celestial Thunder
Weather Shamanism and Ghost Dance Theology in Native California and the Great Basin
with Dr. Alan Garfinkel
Wednesday October 24, 2018
6:00 PM to 8:00 PM
Webinar from Team Black and Dr. Alan Garfinkel
This presentation twins with an hour-long, open-ended question and answer period. The hour long slide show and talk provides an extensive and intensive review of the subject of rain shamanism in the Far West throughout California and the Great Basin. The discussion includes a review of a unique weather shaman's bundle and also first-hand accounts of Native practices and the theology of weather shamanism.

Images: CRAF
Extensive references to archaeological data (rock drawings and paintings, charmstones, crystals, shell ornaments, and other elements of Native material culture) are included and amplify the discussion.
Celestial Thunder - Weather Shamanism and Ghost Dance Theology in Native California and the Great Basin. A webinar with Dr. Alan Garfinkel. Wednesday October 24, 2018 6:00 pm to 8:00 pm https://t.co/PyB8l63Qbt pic.twitter.com/RqeKQ6JRt2

— Bradshaw Foundation (@BradshawFND) October 9, 2018
The prominent revitalistic movements of the 1870 and 1890 Ghost Dance Religion have an important element of rain shamanism integrated into themes of ancestor resurrection and world renewal. Included in the presentation are new discoveries regarding Ghost Dance rock paintings in eastern California and the Great Basin.
The presentation highlights working hypotheses that weather shamans ritually create various elements of weather through homeopathic and sympathetic magic directed at creating sacred wind, clouds, rain, and thunder.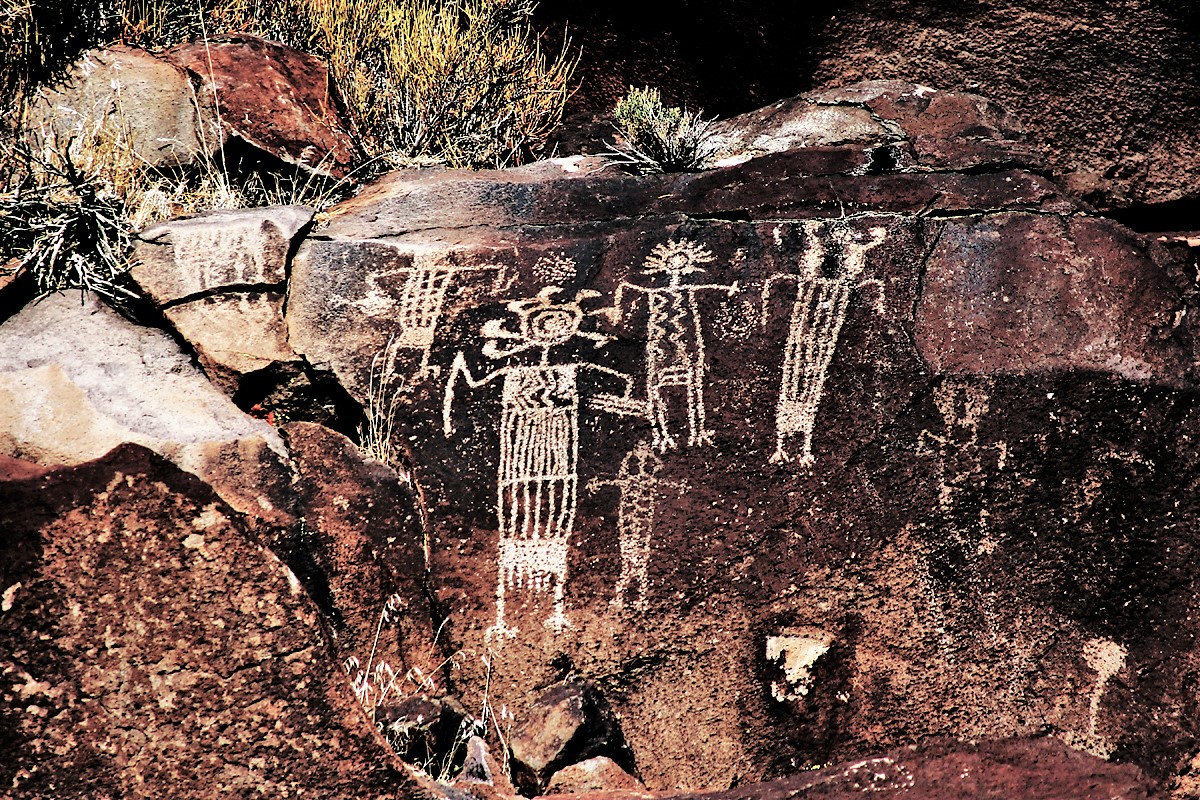 Rock art engravings of the Coso Range in eastern California. Image: Kimberley Robinson.
Outline:
Personal introduction - credentials and background
Weather deities and sacred narrative in world perspective
Thunderbirds among the North American Indians
Lightning and rock art incorporation
California Indian Gods
Magic stones and projectile points (charmstones, chert, and obsidian)
The Sky World - Great Basin Cosmology
Sympathetic Magic - ritual rain, ritual wind, ritual clouds, and ritual thunder
Bull-roarers
Cup marked boulders, rock flour
Rake designs
Shamans, rock art and weather control
Drumming and thunder rocks
Archaeological evidence for the great antiquity of weather shamanism
A weather shaman's bundle
History and genealogy
Unpublished anthropological notes
Contents of UC Berkeley Museum Bundle
Charmstones, obsidian, pebbles, quartz crystals, soapstone, tobacco
Contents of Kernville Museum Bundle
Steatite bowls, abalone shell ornament, sucking tubes, smoking pipes, geode, quartz crystal, medicine bag, charmstones
Kawaiisu, Tubatulabal, Serrano, Yokuts, Southern Paiute, Chemehuevi, Chumash and Mohave Rain Doctors
Controlling weather - the domain of the shaman
Demonstrated rapport with the spirit world
Dance, song, prayers, and magic
Sympathetic magic creates sacred weather
Quartz crystals - triboluminescence and piezoelectricity
Ghost Dance cosmology and rain doctors
Ghost dance rock paintings
Historic paintings with Stetson-hatted figures astride horses
Rain symbolism - thunderbirds, white horse shaman (the rain doctor sacred narrative and oral tradition)
Conclusions:
Weather shamanism - a central practice of Native doctors
Key to influencing the natural world and manifesting power
Song, prayer, dance and magic are crucial elements
Biographical Snapshot of Dr. Alan Garfinkel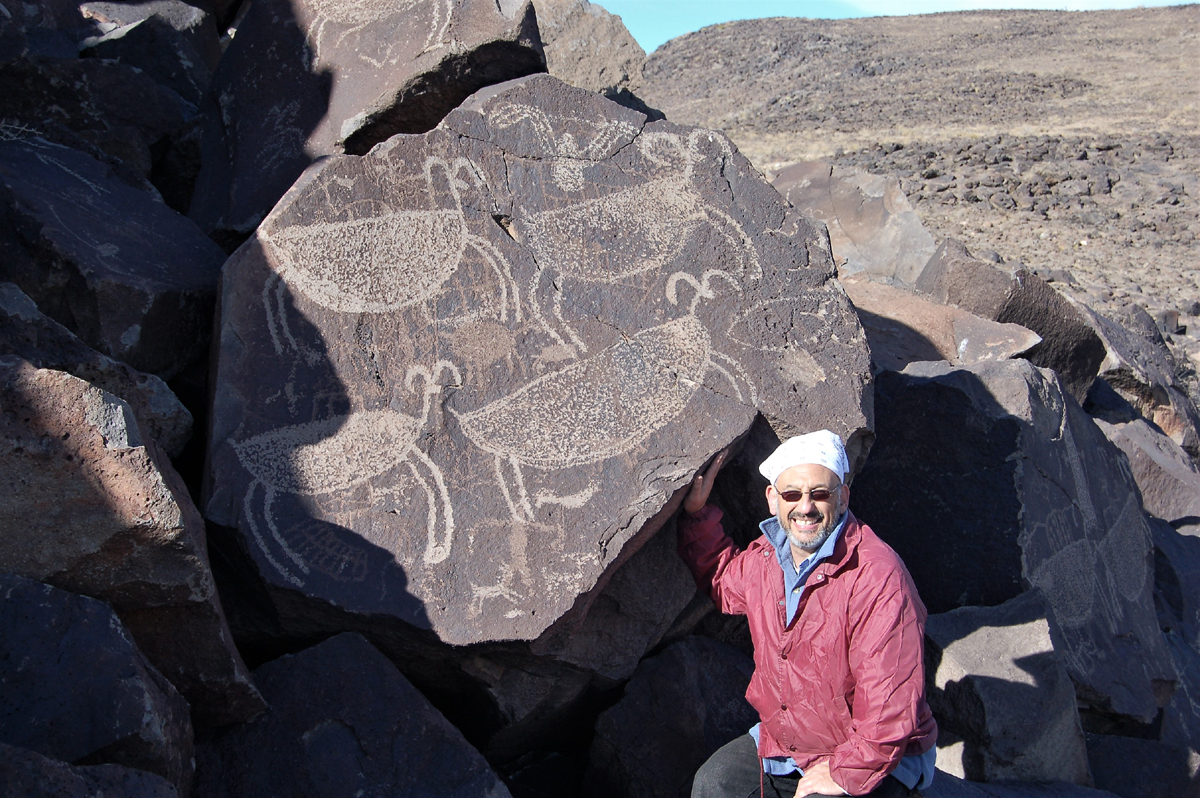 Dr. Alan Garfinkel (above) is a California and Great Basin anthropologist/archaeologist principally known for his work with the Native peoples of California and the Great Basin and for his studies of Native American rock art of the Far West. He has been recognized for his pioneering anthropological studies as the recipient of the 2008 and 2011 California State Governor's Award for Historic Preservation.
He received his Bachelor's degree at California State University, Northridge and his MA and Ph.D. at the University of California, Davis. Dr. Garfinkel is currently a cultural resource management consultant with AGG Associates and serves as President of the California Rock Art Foundation. He has served as Principal Investigator for cultural resource preservation projects totaling $10.5 million dollars.
He is the author of five books including Archaeology and Rock Art and Handbook of the Kawaiisu and has published 50 scientific articles in academic journals in North America, India, the United Kingdom, and Australia. He has been an invited guest scholar to universities in California, a research facility in Colorado, a forum in Mumbai, India and to the University of Guanajuato in Mexico.
Academia.edu, an international scholarly exchange consisting of 29 million users and including 8 million research papers is the largest electronic platform in the world for academic digital sharing. Dr. Garfinkel is ranked among the top 2.0% its contributors worldwide.
Wednesday, October 24, 2018
6:00 PM 8:00 PM
Cost: $50.00
Find out more and purchase tickets here:
https://archcert.black/training-webinars/shamanism-oct18
Visit the Rock Art Engravings of the Coso Range:
http://www.bradshawfoundation.com/coso/index.php
COMMENTS