BRADSHAW FOUNDATION - LATEST NEWS
Ancient Nazca lines in Greenpeace protest
10 Dec 2014
The government of Peru plans to file charges against Greenpeace activists - 'attacking archaeological monuments' - following the recent protest on Monday at the site of the 2,000 year old geoglyphs in the Nazca Desert in southern Peru.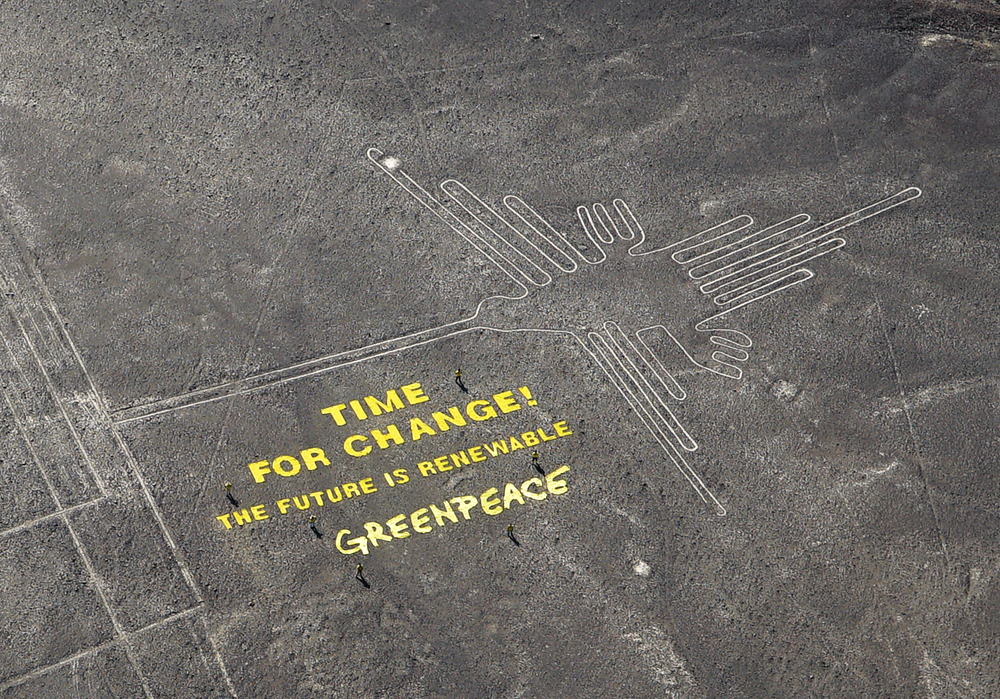 The strictly prohibited UNESCO World Heritage site, it has been claimed, has been damaged by leaving footprints. Apparently, this is a crime punishable by up to six years in prison. Tina Loeffelbein, spokeswoman for Greenpeace, has countered that the activists were absolutely careful to protect the Nazca lines.
The Greenpeace protest, featuring yellow cloth letters reading 'Time for Change! The Future is Renewable. Greenpeace' placed beneath the beak of the hummingbird, was intended as a powerful message to delegates from 190 countries attending UN climate talks being held in Lima.
A week earlier, Greenpeace projected a message promoting solar energy on to Huayna Picchu, the mountain that overlooks the ancient city of Machu Picchu, another protected ancient site in Peru.
For more information about the rock art of Peru:
COMMENTS