BRADSHAW FOUNDATION - LATEST NEWS
Graffiti at Sacred American Indian site
05 Aug 2014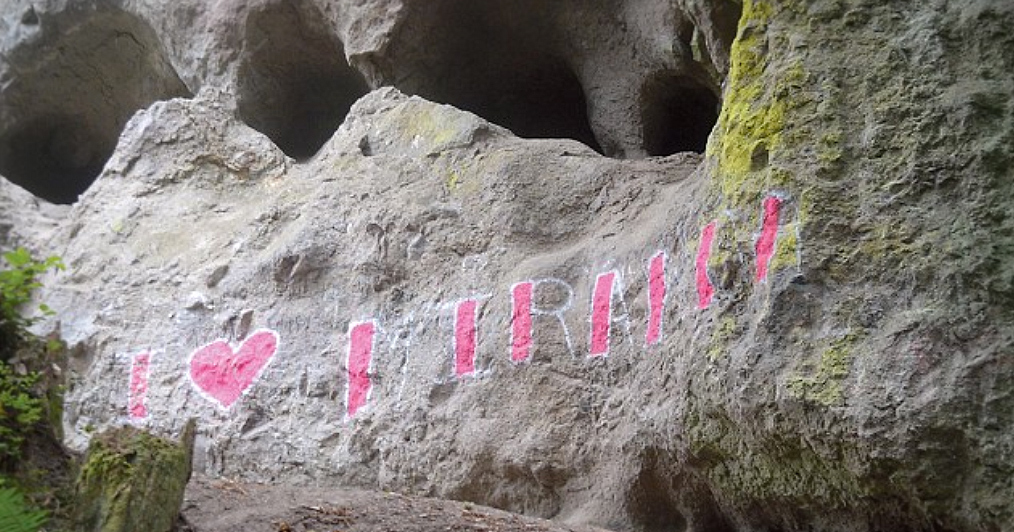 Graffiti expressing affection for someone named Miranda has marred one of the most sacred sites for an American Indian tribe in Washington state.
At the towering Tamanowas Rock northwest of Seattle, officials have learned of the pink and white graffiti with the message 'I (heart) Miranda' on a 43-million-year-old monolith, that has been used for millennia by Native Americans for hunting, refuge and spiritual renewal rituals.
Tamanowas Rock is made up of a pair of basalt masses that shoot up through a dense forest, at more than 150 feet tall they offer sweeping vistas of Admiralty Inlet, Whidbey Island and the Cascades.
In the S'Klallam language, Tamanowas means "spirit power." Known as 'the Strong People' the S'Klallams have lived and prospered in Washington State, creating a rich culture of art, spirituality, traditional knowledge and self-reliance that continues today. The Jamestown S'Klallam Tribe purchased the rock and 62 surrounding acres from the Jefferson Land Trust for $600,000 in December. "It's an incredibly important site for us," said Anette Nesse, chief operating officer for the Jamestown S'Klallam Tribe in Blyn. "That's why we worked so hard to acquire it."
Nesse and Bill Laubner, facilities manager for the Jamestown S'Klallam Tribe, are now working to determine the best way to remove the graffiti without damaging the rock. "I don't know who Miranda is," Nesse said. "She must mean a lot to somebody, but painting it on the rock is definitely not the best way to express it."
"Not that I think it was anything malicious," Nesse said. "I just think whoever painted that didn't realize how important the rock is to us."
The Tamanowas rock is believed to have formed from molten lava 43 million years ago and was used as a lookout for mastodon hunters, according to Jamestown S'Klallam Tribe spokeswoman Betty Oppenheimer. Mastodons were a group of mammal species related to elephants, that inhabited North and Central America during the late Miocene or late Pliocene up to their extinction at the end of the Pleistocene 10,000 to 11,000 years ago.
COMMENTS