BRADSHAW FOUNDATION - LATEST NEWS
Swabian Jura on UNESCO World Heritage List
10 Jul 2017
Eight new sites inscribed on UNESCO's World Heritage List
Caves and Ice Age Art in the Swabian Jura, Germany
The World Heritage Committee meeting in Krakow since 2 July recently inscribed cultural sites in Denmark, France, Germany, Iran, Poland, and the Russian Federation, along with one that spans Croatia, Italy and Montenegro.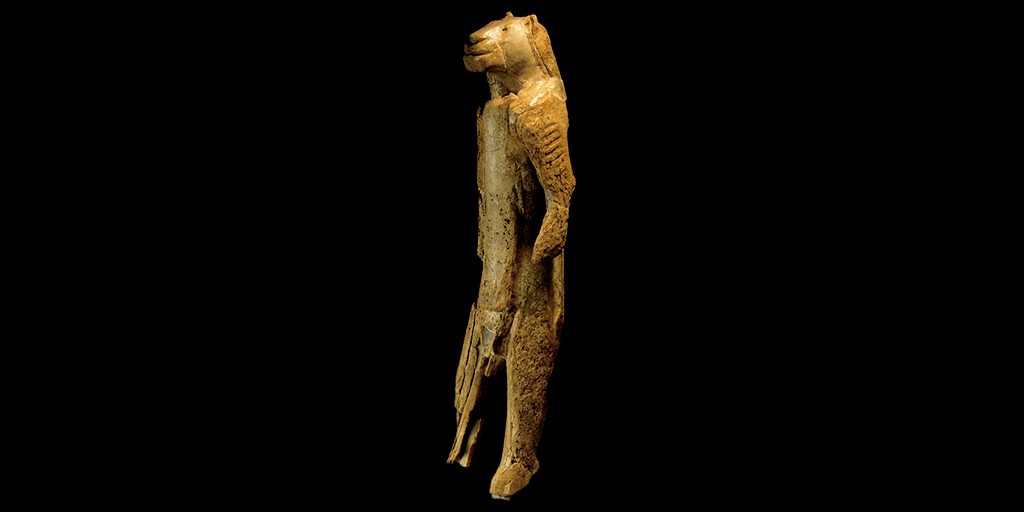 The Löwenmensch figurine or Lion-man of the Hohlenstein-Stadel.
Modern humans first arrived in Europe 43,000 years ago during the last ice age. One of the areas where they took up residence was the Swabian Jura in southern Germany. Excavated from the 1860s, six caves have revealed items dating from 43,000 to 33,000 years ago. Among them are carved figurines of animals (including cave lions, mammoths, horses and cattle), musical instruments and items of personal adornment. Other figurines depict creatures that are half animal, half human (above) and there is one statuette of a female form. These archaeological sites feature some of the oldest figurative art worldwide and help shed light on the origins of human artistic development.

Inside view (left to right) of Bockstein Cave, front view of Hohlenstein Stadel & front view of Sirgenstein Cave. Images: Landesamt für Denkmalpflege (LAD) im Regierungspräsidien Stuttgart.
In January 2016, the federal government of Germany applied for the status of World Heritage Site for two valleys with six caves named Höhlen der ältesten Eiszeitkunst ("Caves with the oldest Ice Age art"). The site would encompass areas in the Lonetal (valley of the Lone) and the Achtal (valley of the Ach) both in the southern Swabian Jura. The former includes the caves Hohlenstein-Stadel, Vogelherd and Bocksteinhöhle, the latter Geisenklösterle, Hohle Fels and Sirgensteinhöhle. Each valley would contain a core area of around 3 to 4 km length, surrounded by a buffer zone of a least 100 m width.
Swabian Jura on #UNESCO World Heritage Listhttps://t.co/Z4NSKyIcng #Vogelherd #sculpture #IceAge #Germany pic.twitter.com/MLsscsAVPI

— Bradshaw Foundation (@BradshawFND) July 10, 2017
Oldest known sculpture of a horse from the Vogelherd Cave.
In the argument why these sites deserve recognition as a part of the universal human heritage, the area is described as the source of the currently oldest (non-stationary) works of human art in the form of carved animal and humanoid figurines as well as the oldest musical instruments.
Article continues below
Their creators lived, were inspired and worked in and around these caves. The caves also served as the repositories of the figurines which may have been used in a religious context. In addition, they were the venue where performers used the excavated musical instruments and where the social groups lived from which the artists sprang.
View the sculptures in The Art of the Ice Age:
COMMENTS