HUMAN SETTLEMENT IN THE MIDDLE OGOOUE VALLEY

Page 8/10
TRANSITION TO THE NEOLITHIC
For the long Stone Age era, which ended around 5,000-4,500 B.P., there is nothing to suggest anything more than a gradual evolution of technologies among a sedentary population. In contrast, the variety of cultures that appeared in the Neolithic and Iron Ages probably reflects a series of waves of migration. The upper Holocene (5,000 B.P. to the present) saw a series of migrations of Bantu peoples from the grassy highlands of the Nigeria-Cameroon border into central Africa following two major routes (Phillipson 1985). The first, which appears to have been the most important, followed the area of forest-savanna contact to the north of the main forest block, leading first to the Great Lakes region of east Africa and then toward southern Africa. The second route was to the southeast, penetrating the equatorial forest in two very different directions. One wave, probably the older, followed the coast, making use of a band of small savannas that run down from Equatorial Guinea through Gabon to Pointe Noire in Congo. Analyses of archaeological remains suggest that the first Neolithic groups traveled this way around 5,000-4,500 B.P. The second wave followed the many major ridge lines running north-south into the interior (Oslisly 1995).
NEOLITHIC GROUPS
It is possible that the Neolithic traits of polishing stone tools and making pottery evolved in situ, but their sudden, widespread appearance in the region about 4,500 B.P. suggests that the first Neolithic peoples arrived at that time from elsewhere. The earliest known sites are in the Okanda area located on ridges in the Massossou mountains, notably Okanda 5, dated to 4,500 B.P. (A. Assoko, pers. comm.) and Okanda 1, dated to 3,560 BP. Excavations of refuse pits at Okanda 1 revealed a blackish substrate rich in charcoal and ashes from cooking fires, in which there were large pieces of pottery, a small pestle, the nucleus of a stone tool, and two flakes. The pottery remains are from spheroid receptacles characterized by uneven curvatures, some with annular bases and outward-bevelled, thicker top lips. The decorative, grooved patterns, made using a comb, distinguish this pottery style from that of later Neolithic cultures.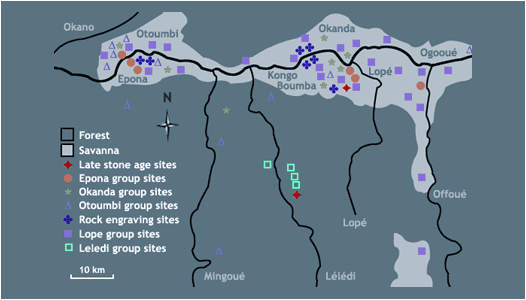 The pottery of this recent Neolithic stage is stereotyped, with extreme constancy of form and decorative motifs over a long time period. This provides the first direct evidence of migration, since pottery of the same style in different places can be dated. Three types of vase can be defined: (1) keel pots, of which one fragment possesses decorated handles on its side; (2) bilobed pots, some of which have holes in their sides to enable them to be suspended; and (3) simple pots with out-curving lips. Bilobed vases with suspension holes and pots with out-curving lips similar in style to the pattern of the Epona group have been found on the coast at Lalala (Farine 1963) and at Okala, close to Libreville (Clist 1988), dated to a more recent period between 2,400 and 2,100 B.P. This suggests that there was cultural movement to the west of the middle Ogooue valley (Oslisly and Peyrot 1992b).
This hypothesis is further supported by the presence in the Lalala and Okala sites of polished stone axes made of amphibolite, a raw material available only in the middle valley of the Ogooue. In fact, tools made from this material are found throughout Gabon, demonstrating the extent to which these Neolithic groups traveled from their epicenter in the middle Ogooue valley.
Once again, these Neolithic groups inhabited hilltop sites, establishing a central platform around which one or two rubbish pits were dug. The settlements were invariably small, indicating low population density. Although rubbish pits were small in number, they have proved to be rich in information and archaeological remains. For example, one remarkable pit at the Otoumbi 13 site contained 13 kg of pottery, three grooved stones, one small pestle, two pitted stones (used to crack nuts), eleven polished stone axes, and numerous chisels and polished stone flakes. Refuse pits typically contain large quantities of charcoal from household fires, as well as fragments of the nuts of Elaeis guineensis (oil palm), Coula edulis, and Antrocaryon klaineanum. These small groups of people probably lived off forest resources, and to date there is no evidence of their practicing agriculture. Bone fragments in a pit at Otoumbi 13 (Oslisly 1993a) demonstrate that they hunted bushbuck (Tragelaphus scriptus) as well as some smaller mammals, but such remains are rarely preserved because of the acidic soils of the region.
THE EARLY IRON AGE
Ironworkers of the Okanda Tradition
Ironworking in west central Africa began in the Mandara mountains in northern Cameroon (MacEachern 1996) and in the area around Yaounde in the south (Essomba 1989) around 2,600 B.P. The first evidence from the middle valley of the Ogooue is around 2,600-2,500 B.P. at Otoumbi 2 and Lope 5, but it was not until around 2,300-2,100 B.P. that the Okanda tradition expanded, to the Otoumbi 4, Okanda 2 and 5, and Lindili 1 sites. The arrival of the new Okanda pottery style coincides with the abrupt disappearance of the Neolithic peoples. From a strictly chronological viewpoint, radiocarbon dates suggest that the first ironworkers may have coexisted with the last Neolithic peoples, but the range of dates for each group suggests that if they did cohabit, it was not for long (Oslisly and Fontugne 1993). There is no evidence of coexistence from cultural remains, suggesting that the superior weapons of the ironworkers enabled them to supplant the previous inhabitants.
These ironworking peoples invariably lived on hilltops, but their villages were much larger than those of the Neolithic culture; the flat hillcrest was surrounded by belts of refuse pits, with furnaces nearby on the first slopes. These furnaces were built from clay to an average height of about 1 m above the ground and were ventilated through pipes entering the base at ground level. The ironworkers seem to have been more numerous than the Neolithic peoples; almost twenty known sites date between 2,300 B.P. and 1,800 B.P.
Pottery styles can be used to map the expansion of the Okanda group. Their pottery was particularly distinctive and completely different from that of the Neolithic Epona group. The closed and bilobed shapes disappeared, to be replaced by larger, taller, bell-shaped pots with handles (including one that was 50 cm high, with a capacity of 30 liters), decorated with characteristic patterns. The most typical feature of the pattern is the presence of concentric circles on or at the base of the handles.
Similar concentric circles appear among the iconography of rock engravings at the Doda, Ibombi, Kongo Boumba, and Lindili sites (Kongo Boumba area) and at the Epona and Elarmekora sites (Epona area). These engravings were made by hammering pointed iron tools to form cuplike depressions in the rock. They cannot be dated directly, but the patterns correspond to those found on Okanda pottery dated between 2,300 and 1,700 B.P. (Oslisly and Peyrot 1993; Oslisly 1996). Of just over 1,600 engravings found to date, 67% are simple or concentric circles similar to those found on the handles of pottery (Oslisly 1993a, 1993b). In all, geometric shapes account for 75% of engravings, emphasizing the importance of abstract, symbolic characters. More realistic and vivid are animal representations, which account for a further 8%, portraying small quadrupeds or reptiles; but there are no depictions of such large mammals as elephants, buffalo, or antelopes, as are found in engravings in the Sahara and southern Africa.
A third, poorly represented group includes such weapons and tools as throwing knives (the classic weapon of central Africa), spears, axes, and hunting nets.
Looking at the types of images portrayed, one can identify two styles, one abstract and symbolic, the other figurative. The dominance of symbolic figures suggests that the engravings served a magic or mystic purpose, illustrating events in an abstract form. Circular forms perhaps depict a culture inhabiting small open savannas enclosed by the forest.
→
Africa Rock Art Archive
→
Bradshaw Foundation
Like us on Facebook & Follow us on Twitter to receive news & updates
: