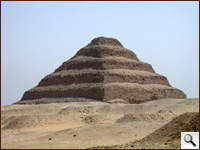 The Step Pyramid of Horus Netjerykhet at Saqqara. His position is in the mid 3rd dynasty 2800 BC. We are looking along the N-E diagonal. It has gone through 9 stages of development: from a flat topped stone mastaba to a pyramid of 6 steps composed of accretion layers sloping at 73 degrees. The base is rectangular 140m E-W X 118m N-S, and the height is 60 m. Nabil Swelim 2003.

For the last 40 years I have discovered, excavated and published research material on pyramids. By doing that I was involved in both branches; some of the articles I wrote are the source of the information and the ideas in this note; they are listed here.

In Egypt, pyramid studies have been conducted since antiquity. The remarkable works of Perring, Lepsius, Petrie, Borchardt, Fakhry and Lauer in the last 2 centuries and the present work of a very very few, has added to our present knowledge. Yet we have not acquired enough information to answer all our questions. Consequently, our knowledge about pyramids remains relatively short. Meanwhile, pyramids are in a state of deterioration.