CARAVANS OF SALT - TUAREG TRADE ROUTES IN NIGER

Page 2/5
Situated on the Kaouar's escarpments southernmost edge, Bilma is the regional administrative centre. The inhabitants, like Fachi, are Kanouri. The salt pits of Kalala - the salt producing district - date back at least a millenium, and are still vitally imortant. In fact, Bilma's salt output has actually increased, though the bulk is now transported by trucks. A heavy brine is found here by digging pits six to eight metres deep. These oblong pits are arranged in groups with a low stone wall marking each holding's boundary. The rains of summer 2006 inundated and temporarily destroyed many pits.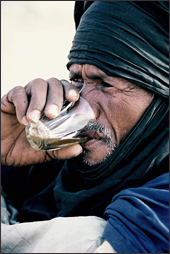 Salt extraction is basically a simple though tedious procedure. High summer temperatures and evaporation cause a salty crust to crystalize over the brine surface. The crust is continuously broken down,causing fragments to sink and compose a sediment. The sediment's upper layer yields the purest salt, known respectively as 'egil' or 'beza' by the Tuareg and Hausa, and destined for human consumption. The pillars are called 'takiss' or kantou' and weigh 21 kilos. Small cake shaped moulds - 'fochi' weigh 2 kilos, and are of the same mix as pillars. Both these forms are from impure salt and for livestock. Kanouri women visit the caravan camps to barter and gossip. Bartering ratios remain fairly constant at three volumes of dates for two of millet. Only drought and conflict drastically alters this balance. Trucks also enter Kalala to load the smaller and less fragile 'fochi' mould. There has been a tendency by journalists, and some ethnologists, to romantacize and portray caravans as " doomed by the combustion engine". This is misleading. True, the Tuareg no longer hold a monopoly on salt distribution and transport, and caravan numbers are falling, but their economy has survived remarkably well, and profit margins on salt sales compared to millet prices broadly in line with thirty years ago - even taking into account the CFA devaluation in 1994.
Buyers in the salt markets of southern Niger and Nigeria are well aware of this. Whenever I ask a Tuareg what he thinks about trucks, the answer invariably is "Bilma has a lot of salt." Bonds of mutual help and benefit between Tuareg and Kanouri go back a long way. Often I have seen Kanouri women passing up a chance to trade, waiting patiently instead for their usual caravneer to arrive.
In the photographs above a caravan crossing the Tenere's dunes towards the oases of Fachi & Bilma. Each camel bears two fodder bales and two goatskins of millet for bartering against dates. A goat - for bartering against salt - is perched on a camel. The 'madagu's experience here is invaluable - he will guide the caravan safetly through the dunes. Sheep and goats are often carried across the Tenere atop camels. Both Fachi & Bilma lack fresh meat. If a cash sale is not possible, they are bartered for salt & goods.
Above caravans camped outside Fachi oasis. Fachi provides a welcome respite, and most caravans spend a day here before pressing on to Bilma - another four days. Fachi's salt is deemed inferior to that of Bilma. Bilma. Salt deposits crystalize on the surface - the water table is only a few feet deep. A 'marabout' or holyman of Fachi. Fachi has many marabouts, who make a living by offering prayers for the safety of caravans. The Tuareg, as tradition demands, must obtain their blessing before departure, for which they pay a token amount - either cash or goods. Kanouri woman of Fachi barters dates for millet. Strong bonds of mutual help and benefit have long existed between both parties. Bartering ratios are affected by famine or conflict, but generally, two volumes of millet are exchanged for three of dates.
→
Tuareg of the African Sahara
→
Africa Rock Art Archive
Like us on Facebook & Follow us on Twitter to receive news & updates
: