CARAVANS OF SALT - TUAREG TRADE ROUTES IN NIGER

Page 3/5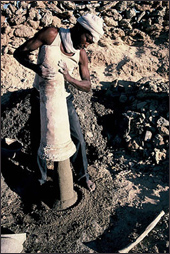 With camel fodder at a premium, business is concluded with a week. Most camels manage six pillars, six salt cakes, plus two goatskins - now filled with dates instead of millet. Recrossing the Tenere, weakened animals suffer terribly. The bleached skeletons of those that perish litter the trail.
After resting briefly at home, the Tuareg continue south into southern Niger and Nigeria. The tempo now eases and the caravan south is more relaxed. Frequently older men or children - who may not have been strong enough for the Tenere - take part. Salt and dates are now sold in favour of millet. Millet provides the caravaneer's family with a staple diet, and surplus stock is bartered in Bilma the following season.
Most villages in the Damergou region of southern Niger come to life once a week with a market. Here, the Tuareg display their salt and dates. Herders - Hausa and Fulani - haggle humorously over prices. The Hausa ,in particular have a sweet tooth for dates. The Tuareg are obviously reluctant to sell below a certain price, but remain keenly aware that salt must be turned into hard cash to buy millet - and millet prices rise sharply following the harvest.
Above photographs. Kalala' - Bilma's salt pits. By digging pits six to eight metres deep, a heavy brine is found. In summer time, temperature and evaporation causes a thin crust to crystalize on the surface. The crust is continuously broken down, causing fragments to sink and compose a sediment. The finest salt - 'beza' comes from the sediment's top layer. Impure salt is made into pillars and cakes, and destined for livestock. Gathering in 'beza' from the brine pan's surface. Women visit caravan camps gathering camel dung for their fires. Firewood and other combustibles are rare and expensive in Bilma.
Above photographs. Salt pillars are carefully examined before purchase. Salt pillars or 'kantus' stacked ready for buyers. They weigh approx. 21 kilos and are made from a mixture of impure salt - destined for livestock. The various salt moulds. Darker moulds are the 'kantou' and 'fochi' - for livestock use. The smaller pillar of 'beza' called 'choucoli' has become less popular. The small cakes of 'beza' are called 'doubour doubour' or 'tisingar'. Kanouri women fill plastic containers with water from a source near Kalala.
Above photographs. Firewood, cut and brought across the Tenere, often runs low. Here, a caravaneer blows on embers to reheat some tea. Watering camels after the Tenere. On leaving Bilma, camels will not be watered for some twelve to fourteen days. Kanouri woman with salt cakes - 'fochi'. Fochi, approx two kilos, are from the same mixture as the pillars or 'kantus'. Tradition dictates that pillars are solely a male concern and 'fochi' the reserve of women. The strongest camels carry some 300 kilos plus a rider.
Above photographs. The bulk of Bilma's salt is now transported by trucks. Caravans survive thanks to the resilience and adaptability of their economy. The impact of trucks has been somewhat exaggerated by journalists and some ethnologists. A 'marabout' - holyman prays for the safety of a caravan before leaving Fachi on the return journey across the Tener. A 'madagu' leads camels across the dunes. Most camels manage six pillars. To avoid chafing sores and protect salt from breaking, pillars are wrapped in straw mats.
→
Tuareg of the African Sahara
→
Africa Rock Art Archive
Like us on Facebook & Follow us on Twitter to receive news & updates
: