BRADSHAW FOUNDATION - LATEST NEWS
Hand prints discovered in India
09 Feb 2016
An online article by T. Karnakar Reddy on the Hindu - Neolithic rock paintings found in Mahabubnagar - reports on the discovery by officials of the Archaeology Department of red ochre hand print rock paintings, believed to be from the Neolithic period. The rock shelter is near Dharmapur village in Mahabubnagar district.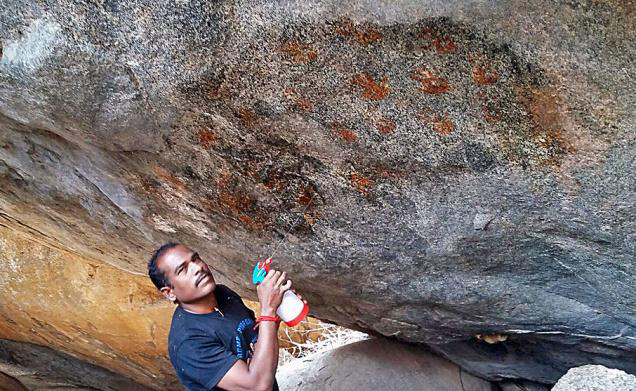 Archaeologist P. Balaraju at the rock art site near Dharmapur.
Similar hand print rock paintings were found by the department on Pandavulagutta in the Warangal district of Telangana State earlier.
Assistant Director, Archaeology, P. Nagaraju stated that the tools excavated in the same areas were from the Neolithic period - 3000-1500BC - thus supporting the age of the paintings. There are also stone circles in this area, dated between 1000 BC and 2nd Century AD. Reports of other rock art paintings have since come to light, including as depictions of tigers and deers, and further investigations are now underway.
Visit the India Rock Art Archive:
http://www.bradshawfoundation.com/india/index.php
COMMENTS