BRADSHAW FOUNDATION - LATEST NEWS
Jane Goodall wins Premi Internacional Catalunya 2015
28 Jul 2015
Jane Goodall wins Premi Internacional Catalunya 2015: Jane Goodall, the expert in primate research, received the award at the Palau de la Generalitat.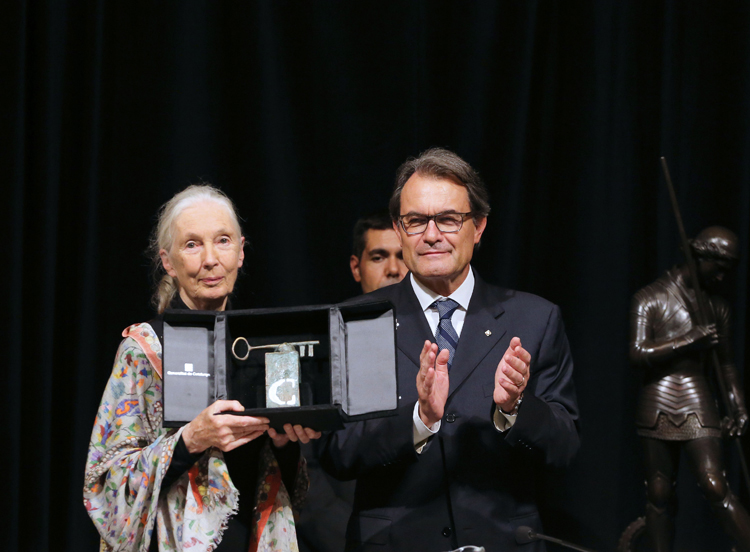 Jane Goodall with the President during the ceremony
The President of the Generalitat of Catalonia, Artur Mas, presented the the 27th Premi Internacional Catalunya award to the Doctor Jane Goodall. With this award, the Government of Catalonia is acknowledging 'the career and the scientific contribution' of the British anthropologist and primatologist.
Jane Goodall was unanimously elected by the jury 'for her analytical, empirical and committed research'. The jury highlighted 'her significant scientific contribution, which has given us a better understanding of human nature, culture and behaviour, (demonstrating that these are not independent phenomena), and also the acknowledgement that this fact encourages solidarity among living beings, the sustainability of our environment and peace among human kind.'
The Premi Internacional Catalunya is awarded annually by the Generalitat to distinguish people who have made a significant contribution, thanks to their creative work, to the development of cultural, scientific or human values around the world. In this year's call, a total of 152 candidatures were received from 52 countries, presented by 180 institutions, including the jury. Last year, the award was presented to Desmond Tutu, Archbishop of South Africa.
Visit the ORIGINS section:
COMMENTS