BRADSHAW FOUNDATION - LATEST NEWS
Ancient figurine discovered in France
28 Nov 2014
A new Ice Age figurine has been discovered in France. The sculpture is thought to be 23,000 years old - from Carbon-14 dating - and attributed to the Gravettian culture. It has been carved in limestone, measuring roughly 12 cms. in height, with the characteristic accentuation of breasts and buttocks, and little detail on the head.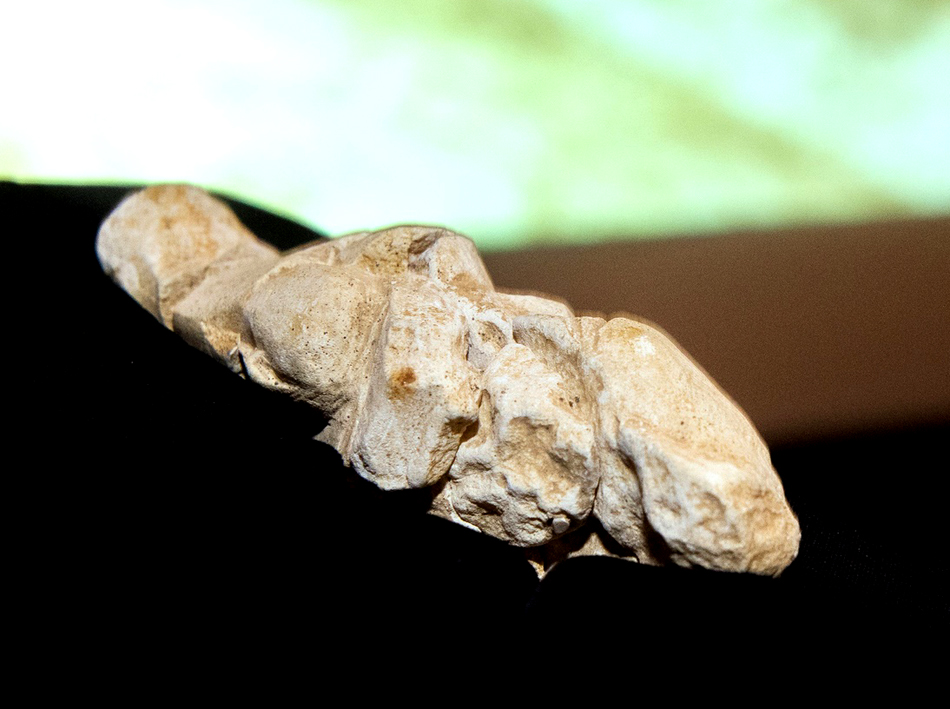 Image: AFP
Archaeologists discovered the Palaeolithic figurine whilst excavating for flints and bone artefacts at the Renancourt dig near Amiens, in the Picardy region of northern France. The sculpture itself was found in fragments, but archaeologist Clement Paris explained that the team were able to reconstruct the piece. She has been named the 'Venus of Renancourt'.
The Palaeolithic sculptures, models and ornaments of portable art from Europe represent the oft-forgotten twin of prehistoric art; the world famous Palaeolithic cave paintings of Chauvet, Lascaux and Altamira, for example, are not the only artworks of this period. The portable works of art include female figurines, animals, composite figures (combining both human and animal forms), tools (decorated with figures, animals and patterns), plaques and pendants. These exquisite pieces should be viewed not just as ethnographic objects but as art itself. Skilful, practised artists were experimenting with perspective, scale, light and movement, as well as expression through imagination, abstraction and illusion. These are clearly characteristics of the pre-frontal cortex in action, and of the 'modern mind' flourishing.
Visit the Art of the Ice Age section and explore the 'portable' works of Ice Age art which occur throughout Europe during the Upper Palaeolithic era:
http://www.bradshawfoundation.com/sculpture/ice_age_art.php
Visit the Book Review - 'Ice Age Art - Arrival of the modern mind' by Jill Cook:
http://www.bradshawfoundation.com/books/ice_age_art.php
COMMENTS