BRADSHAW FOUNDATION - LATEST NEWS
Petroglyph National Monument of New Mexico
30 Jun 2015
Petroglyph National Monument of New Mexico: protected area with an estimated 24,000 rock art images, or petroglyphs, carved by ancestral Pueblo peoples.
An article by Ric Nathanson on www.abqjournal.com - Petroglyph National Monument turns 25 - celebrates the success of this protected area, comprised of a variety of cultural and natural resources including five volcanic cones, hundreds of archeological sites and an estimated 24,000 rock art images - petroglyphs - carved by ancestral Pueblo peoples.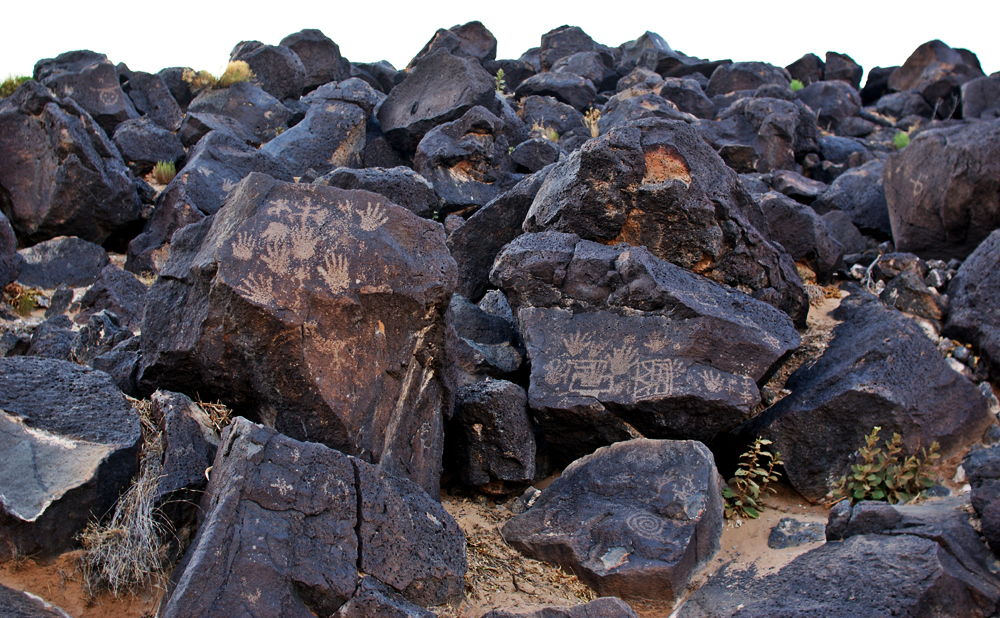 'Petroglyph National Monument on Albuquerque's West Side observed its 25th anniversary this weekend, but the circumstances of its creation can be traced to events that occurred about 150,000 years ago.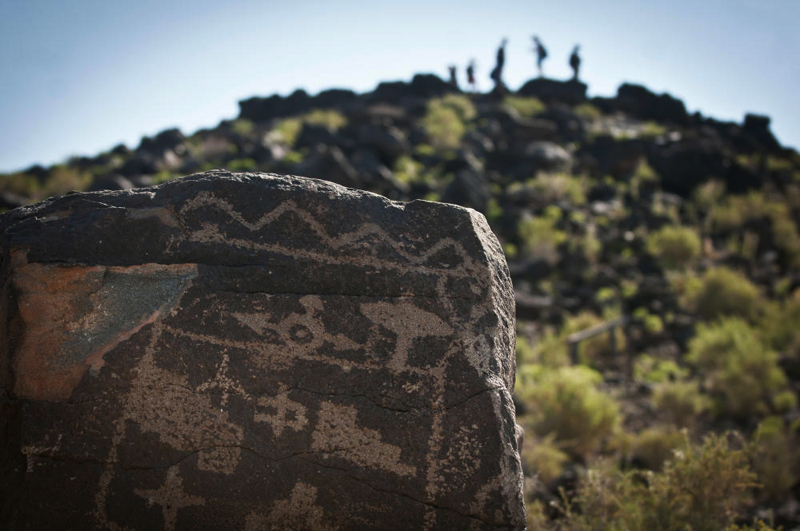 Petroglyphs in Boca Negra Canyon on the Mesa Point Trail. Image: Marla Brose/Albuquerque Journal
'The present-day monument is located along the Rio Grande Rift, a line running the north-south length of the state in which the earth's surface thinned, resulting in essentially a giant crack. Over time, deeper fissures developed along the crack, and the area became unstable and subject to earthquakes.
'During six separate events occurring about 150,000 years ago, magma rose from deep within the earth and oozed out through the fissures. As the molten rock cooled, it hardened into thick layers of basalt, explained Diane Souder, chief of interpretation and outreach at Petroglyph National Monument, and the longest-serving National Park Service employee at the monument.
'Over thousands of years, the sandy soil beneath the basalt eroded away. With no subsurface support, the layers of basalt collapsed under their own weight, tumbling down to form the escarpment of boulders that we see today, she said.'
And the carvings? The ancestors of modern pueblo Indians frequented the area, creating a very significant number of petroglyphs. This represents the largest concentration of indigenous rock art in an urban area in North America, according to the National Park Service. Most of the petroglyphs were made in the 350 years between 1300 and 1650.
The petroglyph motifs include birds, lizards, snakes, turtles, insects, four-legged mammals, people, hands and geometric patterns.
The area has been surveyed extensively since 1990, but further carvings are continually discovered.
Petroglyph National Monument is the only one of 407 units in the national park system to be jointly owned and managed by the National Park Service and a municipality. Its USP is that the area remains protected whilst the city of Albuquerque around it continues to grow.
Friends of the Albuquerque Petroglyphs works with all 19 pueblo Indian tribes. The park has developed a defined program of preservation, including signage, a visitor use plan and a well-defined trail system. There are currently 40 access points into Petroglyph National Monument.
Visit the American Rock Art Archive:
http://www.bradshawfoundation.com/america/index.php
COMMENTS