BRADSHAW FOUNDATION - LATEST NEWS
Discovery of Palaeolithic sculpture in France
11 Aug 2016
An article by Marie-Amélie Blin (below) on Le Figaro - Une statuette découverte dans la grotte de Foissac - reports on the Palaeolithic sculpture which has been discovered in the French cave of Foissac. The sculpture, depicting a human figure, has been carved from a bovine bone. There are designs engraved on the piece. The well preserved sculpture is thought to be between 15,000 and 20,000 years old.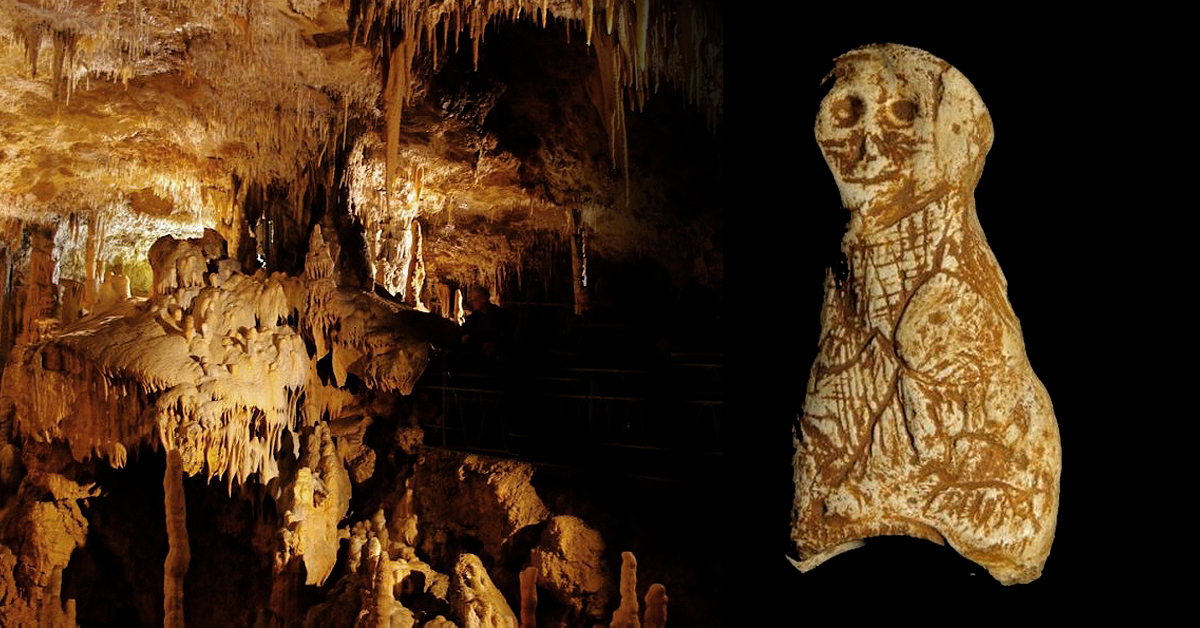 The discovery was made by Sébastien du Fayet de La Tour, part of a team working with La Direction régionale des affaires culturelles (Drac). The cave itself has remained sealed for millennia following a landslide. It was reopened in 1959. Many Palaeolithic artefacts have been found in the cave, the sculpture being the most recent.
Palaeolithic #sculpture discovered in cave of Foissac #France #archaeology https://t.co/ZKxgyfoD5v pic.twitter.com/fXb53n1uKm

— Bradshaw Foundation (@BradshawFND) August 11, 2016
The sculpture appears to be female, carrying something in her arms, possibly a child, possibly an animal. There may be tattoos or scarification on the cheeks of the face. Part of the sculpture has been polished with a tool.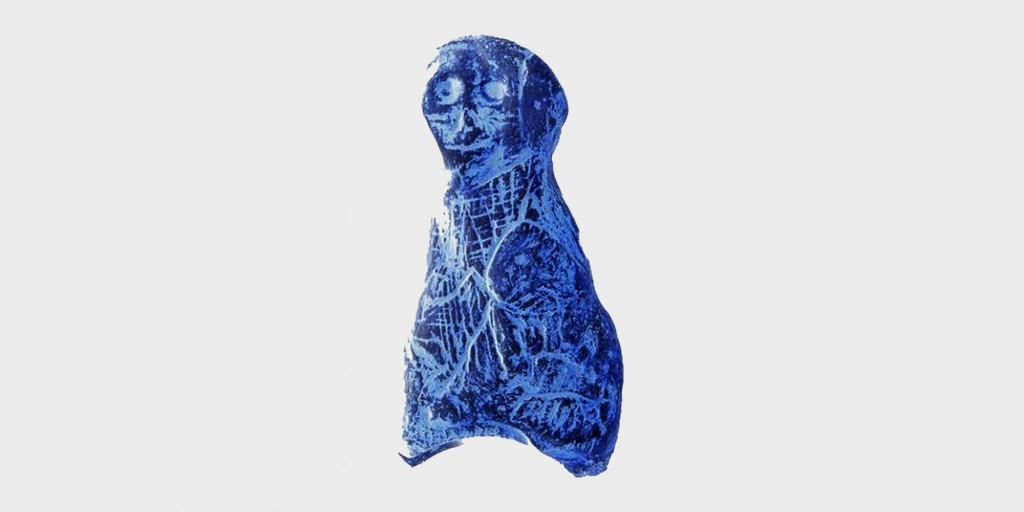 Inverted image of the sculpture, revealing engraved designs.
For preservation reasons, the sculpture is currently being kept in the cave. Further analysis is underway.
Visit the Art of the Ice Age Sculpture Gallery
http://www.bradshawfoundation.com/sculpture/index.php
Watch the film 'Sculpting the Palaeolithic'
http://www.bradshawfoundation.com/ishop/sculpture.php
'Une statuette découverte dans la grotte de Foissac'
Marie-Amélie Blin
Le Figaro
Article continues below
INTERVIEW - Durant les travaux d'hivernage du site préhistorique, le gestionnaire Sébastien du Fayet de la Tour a trouvé une statuette gravée il y a sans doute 20.000 ans dans un os de grand bovidé. Il raconte au Figaro l'intérêt de sa trouvaille.
Les eaux souterraines de la grotte de Foissac (Aveyron) viennent de faire remonter à la surface un nouveau trésor préhistorique: une statuette gravée avec un silex dans un os de bison ou d'auroch. Trouvée le mois dernier lors des travaux d'hivernage et authentifiée par un expert de la Direction régionale des affaires culturelles (Drac), elle aurait été réalisée il y a 20.000 ans.
La porte de la grotte de Foissac était restée scellée pendant cinq millénaires, à la suite d'un éboulement. Elle a été rouverte en 1959, après qu'une équipe de scouts l'a découverte par hasard. Depuis, le site ne cesse de révéler au compte-gouttes ses trésors préhistoriques enfouis dans ses eaux et cavités souterraines.
La statuette qui vient d'être découverte est particulièrement étonnante. Elle représente un être humain, alors que les artistes du Paléolithique préféraient sculpter ou dessiner des animaux. C'est une pièce d'arts mobiliers, comme on en trouve dans très peu de grottes. Et elle est parvenue jusqu'à nous dans un parfait état de conservation, malgré le contact de l'eau et les dizaines de milliers d'années écoulées. Sébastien du Fayet de la Tour, gestionnaire du site, explique au Figarol'intérêt scientifique de sa découverte.
LE FIGARO - Comment avez-vous découvert ce trésor archéologique?
Sébastien DU FAYET DE LA TOUR - C'est une surprise que nous ont réservée les travaux d'hivernage. Comme chaque année, la grotte de Foissac était fermée au public d'octobre à juin. Pendant cette période, la rivière en crue lessive le sol, dépose de l'argile et il n'est pas rare qu'elle fasse remonter des vestiges et des os enfouis dans les cavités, que nous découvrons quand revient l'été. Je n'ai donc pas du tout été surpris de trouver cette année ce qui ressemblait à une phalange de grand bovidé, couverte de boue. Jusqu'à ce qu'en la nettoyant machinalement avec l'eau de la rivière pour l'identifier, comme je le fais habituellement, je me suis aperçu que cet os était incisé. Pas seulement d'une ou deux incisions grossières, mais de centaines qui forment des yeux, une bouche, un nez, des cheveux... J'ai alors réalisé que je tenais entre mes mains une véritable statuette.
À quoi ressemble cette statuette?
Ceux qui l'ont sculptée se sont servi de la forme initiale de cette phalange, d'une dizaine de centimètres, pour représenter un petit personnage: l'articulation fait la tête, et l'os, le corps. Sans doute gravées avec un silex, les nombreuses incisions forment les traits du visage, les cheveux, des traits qu'on peut assimiler à des tatouages ou scarifications sur les joues, et ses bras portent un enfant, un fœtus ou un animal, à la manière de La Vierge à l'enfant. Une partie a été polie, émoussée avec un outil inconnu. La statuette est dans un parfait état de conservation. Mais les incisions sont si nombreuses et entremêlées qu'il serait intéressant de réaliser un relevé 3D pour lire les traits avec plus de précision et comprendre la volonté de l'artiste.
De quand daterait-elle?
A priori du paléolithique supérieur. Elle a probablement entre 15.000 et 20.000 ans. Plusieurs éléments nous permettent de l'affirmer. À commencer par la taille de la phalange: beaucoup trop grande pour appartenir à un bœuf ou un taureau du néolithique, elle ressemble plus à celle d'un bison ou d'un auroch, deux espèces qui étaient présentes dans cette partie de l'Europe il y a 5000 ans. Un autre indice nous porte à le croire: le type de gravure, qui s'apparente à l'art paléolithique. En 2006, avec mon père, nous avons découvert une salle recouverte de peintures et de gravures, où des os similaires ont été fichés dans les fissures de la roche. Une datation au carbone 14 a permis de déterminer que cette salle avait 20.000 ans. Il est probable que la statuette en provienne.
La représentation d'êtres humains est rare à cette époque…
Oui, assez rare. Les artistes du Paléolithique préféraient représenter les animaux, qui leur posaient moins de difficulté. Il y a La femme à la tête de lion, en Allemagne, La Vénus de Willendorf en Autriche, La Dame à la Capuche, un fragment de statuette en ivoire où l'on voit un très beau visage de femme… Notre découverte enrichit l'inventaire des représentations humaines du Paléolithique et confirme au passage que les artistes avaient plus tendance à peindre, graver ou sculpter les femmes que les hommes. Car les sujets masculins sont rares.
Comment expliquer un si bon état de conservation, après toutes ces années?
La statuette a vraisemblablement été protégée du risque d'oxydation par l'argile et la boue de la rivière. Privée d'oxygène, à température et hygrométrie constantes, elle est restée presque intacte, malgré le contact avec l'eau et les dizaines de milliers d'années écoulées. Pour que cela continue, nous la gardons avec soin dans les conditions physico-chimiques qu'elle a connues depuis toujours. Elle reste à l'intérieur de la grotte, où elle sera sans doute exposée dans une vitrine si les visiteurs en manifestent le souhait.
COMMENTS