BRADSHAW FOUNDATION - LATEST NEWS
Excavation of Prehistoric Elephant Skull
15 Jun 2014
Excavations are underway in New Mexico as paleontologists and scientists uncover a prehistoric elephant skull that experts believe to be one of the most intact skulls ever discovered. The stegomastodon skull, which experts say went extinct about 1.3 million years ago, was found at Elephant Butte beach and is being excavated by paleontologists from the New Mexico Museum of History and Science, working alongside the park and U.S. Bureau of Reclamation.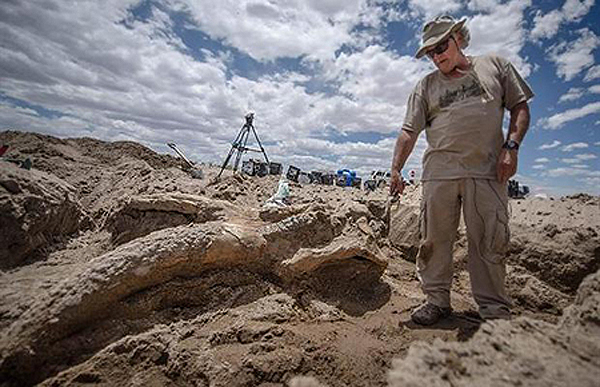 Photo By Roberto Rosales/AP Paleontologist Gary Morgan stands Thursday, June 12, 2014, over a the fossil of a stegomastodon skull discovered in a remote area of Elephant Butte State Park, N.M., this week. Once the fossil is completely unearthed, it will be transported to Albuquerque, N.M.
New Mexico Museum of History and Science's curator of paleontology Gary Morgan (pictured above), says it's the "most complete elephant skull of any kind" that he's seen in his 20 years of experience in the field.
COMMENTS