BRADSHAW FOUNDATION - LATEST NEWS
New Photography Exhibition Claire Artemyz
10 Sep 2013
'D'os et de pierre' - 'Exploring tools and human remains'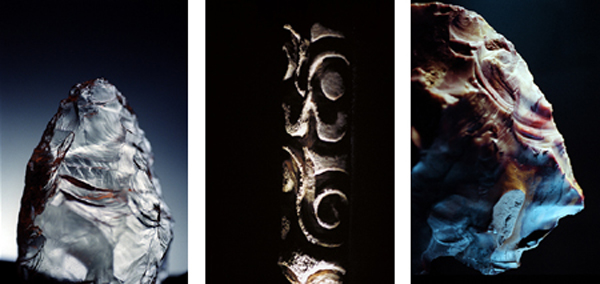 l'exposition photographique de Claire Artemyz dans la galerie du Paleolithique du Musee d'Archeologie nationale Chateau de Saint-Germain-en-Laye - du 28 septembre au 27 octobre 2014.
Cette exposition est proposee dans le cadre du 10e Mois de la Prehistoire.
'Un autre regard sur les fossiles et les outils au Paleolithique'.
A photography exhibition by Claire Artemyz at Musee d'Archeologie Nationale de Saint-Germain-en-Laye (MAN) - from September 25th, 2013 to January 13th, 2014.
The exhibition is set during the 10th Month of Prehistoric Times.
'An artistic interpretation of human remains and the first tools of Palaeolithic times'.
Pursuing her exploration of the prehistoric Palaeolithic period through photography, Claire Artemyz gives us a completely new understanding of our first tools, our earliest art and the skulls of our ancestors.
Exhibition - every day except Tuesday, from 10h to 17h - Musee d'Archeologie nationale et Domaine national de Saint-Germain-en-Laye. Chateau - Place Charles de Gaulle 78105 Saint-Germain-en-Laye cedex
Communication contact: Ali Kedjam 01 39 10 13 24
ali.kedjam@culture.gouv.fr
Claire Artemyz, Photographer
http://www.artemyz.com
claire@artemyz.com
COMMENTS