BRADSHAW FOUNDATION - LATEST NEWS
Cumberland Plateau rock art provides insights into Native American societies
14 Jun 2013
A new paper in the journal Antiquity provides fascinating insights into what life was like for Native American societies over 6,000 years ago. The widespread collection of prehistoric rock art and cave paintings were discovered in the Cumberland Plateau, a division of the Appalachian Mountains in the United States.
The papers lead author Jan Simek professor of science at the University of Tennessee's Department of Anthropology, said "Yes, we have cave art that is 6,000 years old," Simek said. "But we don't want to say it is the oldest rock art (in the United States)."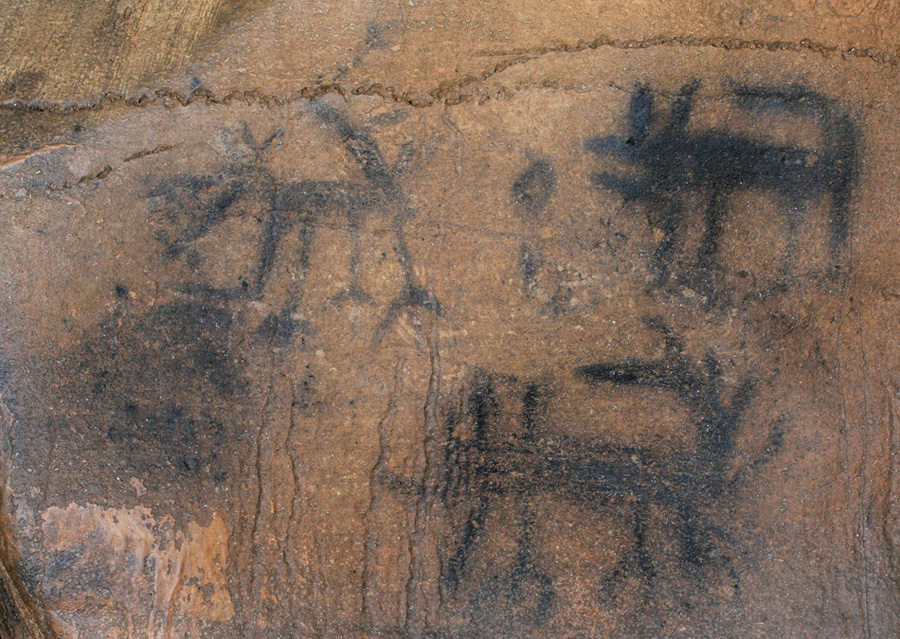 Prehistoric painting of dog figures - Photo by Alan Cressler
Comparing it to dates for paleolithic cave art in Europe and other petroglyphs found around the world, the 6,000 year old date is still comparatively young, when contrasted to over 30,000 years ago for the cave paintings of Chauvet in France. However, the date and discoveries at the Cumberland Plateau are significant, and the important work being carried out by Jan Simek and his team, provide an engaging window into the practices of societies 6,000 years ago, with rock paintings appearing to depict hunting scenes and others of a more mythological/spiritual nature.
Other sites in the United States have significant concentrations of rock art, such as the petroglyphs of the Coso Range in eastern California and the Great Mural Rock Art located on the walls and ceilings of rock shelters in the mountains of northern Baja California.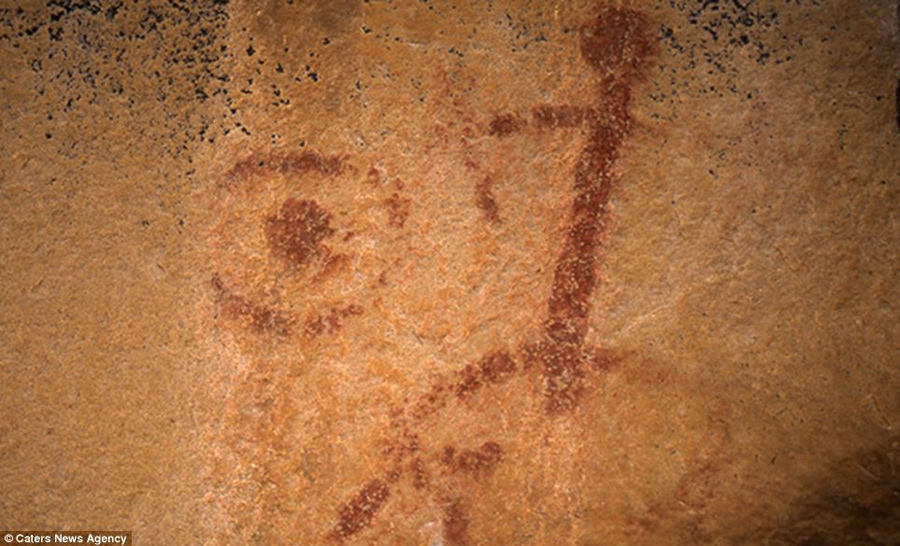 Pictograph of a concentric circle
The research in Tennessee is still in its early stages with around 1,000 of the 9,000 caves looked at so far, Simek stated "The discoveries tell us that prehistoric peoples in the Cumberland Plateau used this rather distinctive upland environment for a variety of purposes and that religion was part of that broader sense of place."
Jan Simek's team includes Alan Cressler of the U.S. Geological Survey; Nicholas P. Hermann of Mississippi State University and Sarah C. Sherwood of the University of the South in Sewanee, Tennessee.
For more on the rock art of America visit the American Rock Art Archive
COMMENTS