BRADSHAW FOUNDATION - LATEST NEWS
Artists of all Ages?
11 Oct 2011
Tiny imprints in ancient rocks deep underground have revealed an extraordinary unknown story of prehistoric children's art.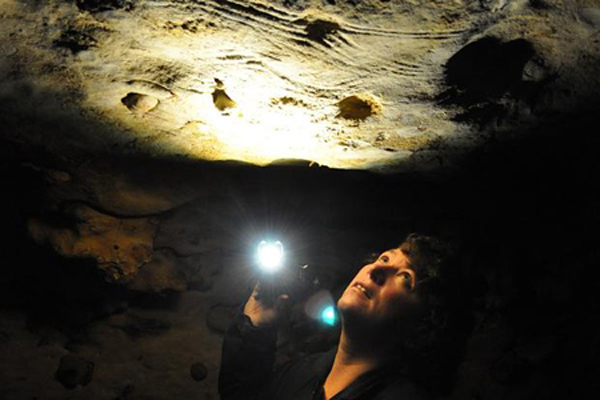 Based on the article by Ben Hoyle, Arts Correspondent, The Times, September 30 2011
Typically, children are a footnote at best in studies of early mankind, but research that will be presented this weekend pushes the study of young people's creativity into new territory.
Working in the enormous cave complex at Rouffignac, in the Dordogne region of France, Jessica Cooney, an archaeologist at the University of Cambridge, and Leslie Van Gelder of Walden University, Minnesota, have been able to show that girls and boys as young as two were involved in decorating caves at least 13,000 years ago.
Their methodology tells them not only how old the child artists were but in some cases what sex they were and whether they were working alone or with help. They have deduced that some of the art could only have been made by a child of two or three sitting on an adult's shoulders and making marks guided by an adult's hand, information that adds a new dimension to our knowledge of prehistoric man.
The caves have been known about since the 16th century but it was not until 1956 that experts realised that some of the art on the walls was prehistoric and not until 2006 that children were shown to have been involved. Now new fieldwork has established how old they were.
Although Rouffignac is celebrated for its rock paintings of mammoths, rhinoceroses and horses, Ms Cooney and Dr Van Gelder's work has focused on less spectacular markings known as finger flutings, which make up about 80 per cent of all prehistoric art and which are found in caves in France, Spain, Australia and Papua New Guinea.
'It's like finger painting in clay,' Ms Cooney said yesterday. 'A lot of the walls in caves are malleable, covered in layers of clay or something called moon milk, which is a precipitate of limestone. People would put their fingers into this and move either their fingers or their whole bodies.'
The impressions they left behind take the form of lines, circles and in some cases rudimentary animals. The flutings are sometimes only millimetres deep but are loaded with information about the individual who left them. Dr Van Gelder and her late husband, Dr Kevin Sharpe, developed a methodology based on the analysis of thousands of living people that enabled them to determine the age of a child aged seven or younger based on the width of the middle three fingers.
'Where there is a clear finger imprint on the rock the shape of the top edges of the fingers can tell, to 80 per cent accuracy, the sex of the artist. We have found marks by children aged between three and seven years old and we have been able to identify four individual children by matching up their marks,' Ms Cooney said.
They include a girl who is 'like a typical five-year-old who just wants to get her hands dirty. She flutes everywhere and does a whole variety of different lines.'
One chamber has so many child flutings that Ms Cooney thinks it may have been 'a playpen of sorts'. Why the children made the marks is less clear: was it a form of play or a did it have a ritual significance? Ms Cooney suspects it was both, with different meanings attached to the marks in different caves.
She is presenting her findings on Sunday at the Society for the Study of Childhood in the Past conference in Cambridge.
Bradshaw Foundation comments:
Scientists know that the caves were not inhabited by our Palaeolithic ancestors, but they were frequented by them for a number of reasons. It is logical to assume that children would have been included in many, perhaps all, of the visits.
In Chauvet there are footprints of a child in the Gallery of the Crosshatching leading to the Skull Chamber. The prints are those of a pre-adolescent about 1.3m tall. The low length/width ratio suggests it is a boy. The child regularly wiped his torch - to maximise the burning efficiency and brightness - on the walls and ground, and the charcoal marks have been dated to 26,000 years ago. A cast was made of one of the footprints, revealing that the child's foot was completely imprinted as it moved, which shows he was walking slowly and carefully on a homogenous and soft floor. Was the child on his own?
Niaux Cave also has evidence of children. In 1949 a series of footprints left by two children of about 9 to 12 years old was discovered in a rock cavity. In 1970, a number of footprints were discovered in the section of the cave since named Reseau Clastres. Studied by Dr Jean Clottes and Robert Simonnet, they calculated that the prints belonged to three children between the ages of 8 and 12; the children were holding hands, and that the central figure - older than the outer two - was leading them.
In Cosquer, handprints of children have been observed in the mondmilch - the white altered soft surface of the limestone wall - of relatively high walls, at more than eight feet from the ground. This means that children not only had access to the deepest parts of the cave, but also that they were held up at arm's length or on the shoulders of adults so that they could imprint their hands high up on the surface of the walls. This cannot be construed as a random gesture but as a very deliberate action.
Given that Palaeolithic art represented an overall belief system which persisted with little change for over twenty millenia, ending only when the Ice Age finally drew to a close, the passing on of artistic knowledge and skill - to accurately and appropriately convey this belief system - would have been taken very seriously. Apprenticeship would have involved a 'hands on' approach.
COMMENTS