BRADSHAW FOUNDATION - LATEST NEWS
True age for Utah rock art?
26 Aug 2014
An online article by John Hollenhorst in the Deseret News - Utah's Great Gallery rock art younger than previously thought - reveals a possible new dating for the rock paintings.

Horseshoe Canyon, formerly known as Barrier Canyon, is in a remote area west of the Green River and north of the Canyonlands National Park Maze District in Utah, USA. It is known for its collection of Barrier Canyon Style (BCS) rock art, including both paintings (or pictographs) and petroglyphs, which were recognized as a unique style. Human presence in Horseshoe Canyon has been dated as far back as 7000 to 9000 B.C., when hunter-gatherer Paleo-Indians hunted large mammals such as mastodons and mammoths across the southwest. The Great Gallery rock art paintings are some of the most impressive in North America.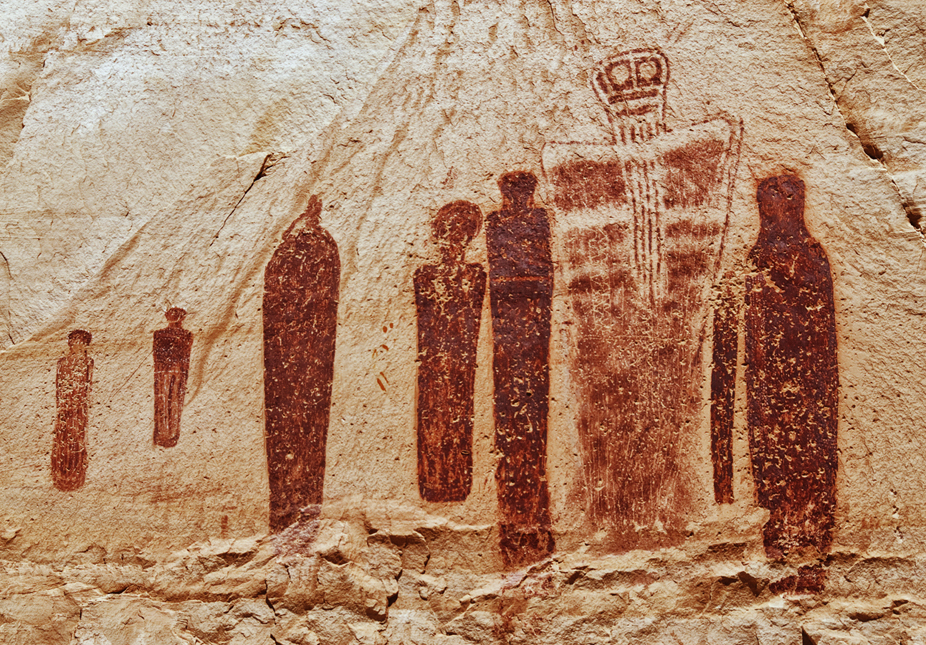 A portion of Horseshoe Canyon containing The Great Gallery is part of a detached unit of Canyonlands National Park. The panel itself measures over 60m. in width and almost 5m. in height. It contains 20 life-sized anthropomorphic images, the largest of which is over 2m. tall. The Horseshoe Canyon Unit was added to the park in 1971 in an attempt to preserve and protect the rock art found along much of its length.
Research carried out by Professor Joel Pederson, Steven Simms and team at Utah State University reveals that the paintings known as The Great Gallery are significantly younger than most experts believed. The team used luminescence dating - the luminescent side-effect of natural radioactivity - to determine the age of The Great Gallery.
They examined quartz crystals collected from The Great Gallery. When the crystals are exposed to blue light, quartz emits ultraviolet light - luminescence - caused by natural radiation. But that luminosity fades away when quartz crystals are exposed to the sun. This represents a 'stored signal' from radioactivity. By measuring the luminosity of quartz crystals, the laboratory procedures can determine when sand eroded away from the cliff face, when the cliff was exposed to the sun and when part of it flaked off.
Using those techniques, the researchers came up with a 1,100-year span when the painting must have been done, suggesting an age of 1 A.D. to 1,100 A.D. This time frame would put the paintings closer to the subsequent Fremont culture and the beginning of horticulture.
Clearly further research will be carried out in Barrier Canyon, using as many dating techniques as possible, to verify the age of these spectacular rock art paintings.
To visit the American Rock Art Archive:
http://www.bradshawfoundation.com/america/index.php
COMMENTS