BRADSHAW FOUNDATION - LATEST NEWS
Human ancestor DNA on cave floor
06 Jan 2017
An article by Joe Palca on npr.org - Dust to Dust: Scientists Find DNA of Human Ancestors in Cave Floor Dirt - reports on scientists in Germany collecting the DNA of a human ancestor from the floor of a cave, helping to further understand extinct human relatives.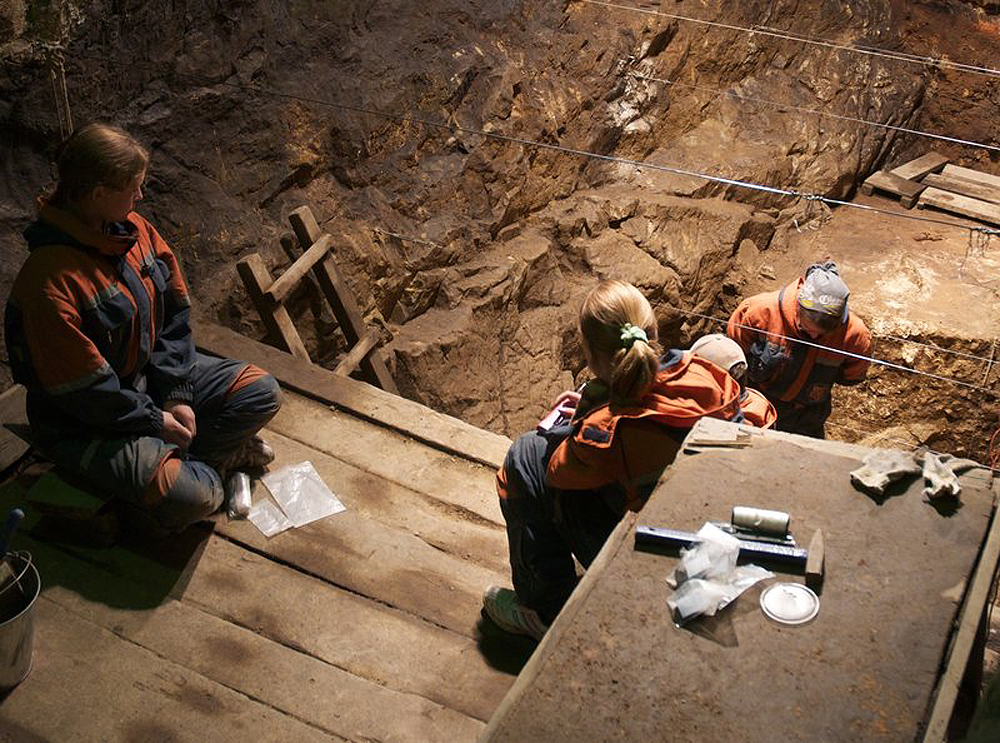 Researchers from the Max Planck Institute excavate the East Gallery of Denisova Cave in Siberia in August 2010, hoping to successfully filter dirt for the DNA of extinct human ancestors. Image: Bence Viola/Max Planck Institute for Evolutionary Anthropology.
Most ancient DNA is extracted from bones or teeth. Matthias Meyer of the Max Planck Institute for Evolutionary Anthropology in Leipzig explains that although only a small sample is needed, bones are not always available. New sources of ancient human DNA are being explored.
Article continues below
The idea is that perhaps over the millennia, some of the bones had just degraded into a kind of dust, and fallen to the floor of the cave. And now Meyer has some of this ancient human DNA from cave floors, and he's been able to begin analyzing it.
Next step? Determine if the DNA came from an ancient human bone, and not a more recent human cave explorer or some contaminating bacteria. Plus, ensure that the small amount of DNA will point to a larger picture.
Human ancestor #DNA on cave floor https://t.co/ws8BL72ITJ #archaeology #MaxPlanckInstitute #Neanderthal #Denisova pic.twitter.com/EMwjLLJvbV

— Bradshaw Foundation (@BradshawFND) January 6, 2017
Janet Kelso, a colleague of Meyer's at the Max Planck Institute, states that a project has been initiated this year to try and generate sequences from a large number of Neanderthals, to try to understand something about the Neanderthal population histories.
If archaeologists can get DNA samples from Neanderthals at various time points in their history, it will help explain how they were adapting to the environment, how they differed over time, how often Neanderthals and modern humans had sex with one another, and what happened to them in the end.
All of these questions, as well as where Neanderthals made their contributions to the modern human gene pool, may come from dirt on the floor of caves.
Visit ORIGINS - Exploring the Fossil Record:
http://www.bradshawfoundation.com/origins/index.php
COMMENTS