BRADSHAW FOUNDATION - LATEST NEWS
UNESCO's 4 new sites on World Heritage list
18 Jul 2016
The UN's cultural agency on Friday added four new sites, including China's Zuojiang Huashan rock art cultural landscape. Other sites named by UNESCO include the qanat water systems in Iran, the archaeological site of Nalanda Mahavihara in India and the Armenian ruined Medieval city of Ani, in the Turkish province of Kars.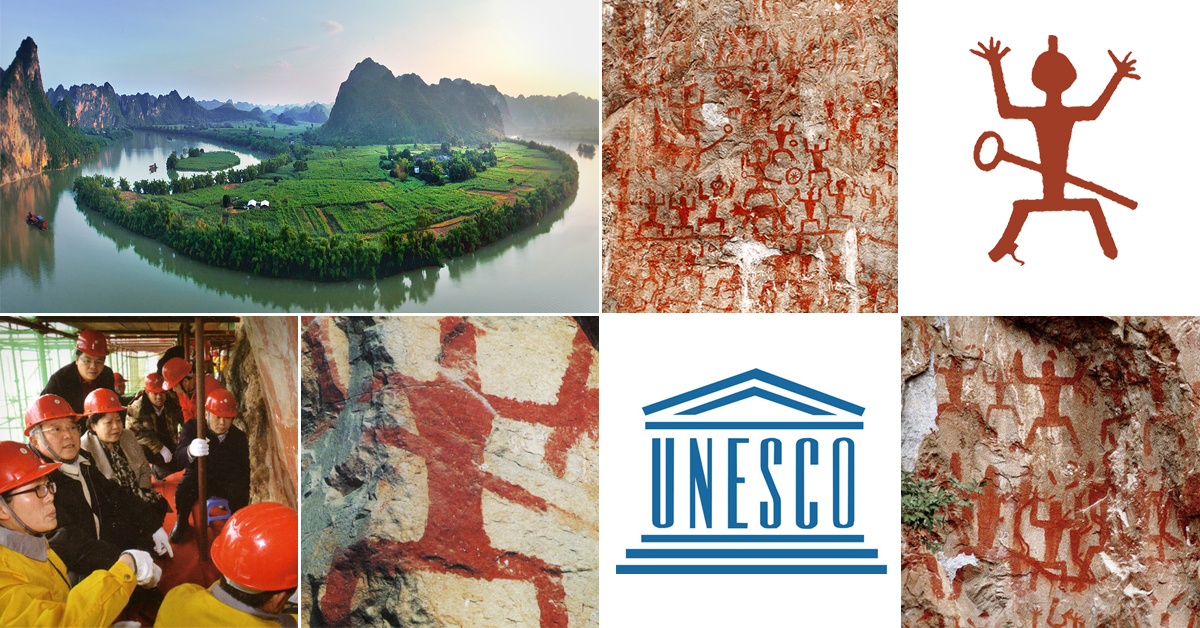 'Zuojiang Huashan Rock Art Cultural Landscape Located on the steep cliffs in the border regions of southwest China, these 38 sites of rock art illustrate the life and rituals of the Luoyue people. They date from the period around the 5th century BCE to the 2nd century CE. In a surrounding landscape of karst, rivers and plateaux, they depict ceremonies which have been interpreted as portraying the bronze drum culture once prevalent across southern China. This cultural landscape is the only remains of this culture today'.
China's Zuojiang Huashan rock art cultural landscape added to the #UNESCO WHLhttps://t.co/cecqLXAJse pic.twitter.com/m8qQj4Sfkt

— Bradshaw Foundation (@BradshawFND) July 18, 2016
The Huashan rock art site may be considered to be one of the most impressive pre-Historic painted panels of the world. The site is located in the Zuojiang River valley of the Guangxi Zhuang Autonomous Region, a border area of south-west China, neighbouring Vietnam.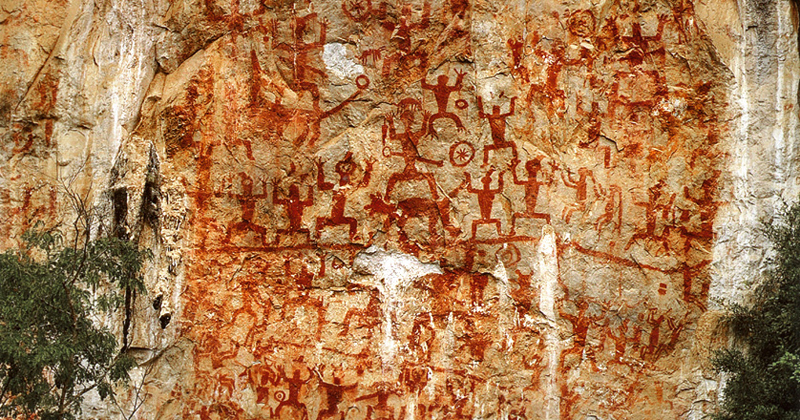 Huashan is called Pay Laiz in the local Zhuang language, which literally means 'a mountain with colourful paintings'. On the precipitous western cliff of the Huashan mountain, which overhangs the river, more than 1800 rock art motifs are painted, covering an area of more than 4000 square metres. It is thought to be the largest rock art panel in the world.
The paintings of the Huashan rock art site are highly standardised. All the images are monochrome, painted in a brownish-red colour, and represented in two dimensions without a sense of perspective or depth of field.
Article continues below
Only a few motif types are depicted; these are mainly anthropomorphs, zoomorphs and figures supposedly depicting implements, such as swords, daggers, drums and bells. More than 85% of the motifs are anthropomorphous. These figures are represented either in frontal view or in profile, all with the same posture: arms stretched up at the elbow and legs semi-squatting. With a strong sense of uniformity, the typical composition of the images is one of a large frontal view of a distinctly human figure that dominates the centre, mostly with a sword hanging at the waist or held in hand, a dog under the feet, and a bronze drum-like object nearby, surrounded by lines of smaller profile human figures without weapons.
Members of the Bradshaw Foundation - Damon de Laszlo, Dr. Jean Clottes, Dr. Meenakshi Dubey-Pathak, Li Hui and Peter Robinson - were invited to the site in 2014 in conjunction with with the Committee of Peoples' Congress and the Chinese Academy of Cultural Heritage in Guangxi Zhuang Autonomous Region to help launch the UNESCO World Heritage declaration campaign for the Zuojiang Huashan Rock Art Cultural Landscape. This was subsequently presented in a report authored by Gao Qian :
COMMENTS