BRADSHAW FOUNDATION - LATEST NEWS
Facts About Homo erectus
23 Jun 2015
Facts About Homo erectus: salient facts about the ancient ancestor of modern humans which lived from 2 million years ago till about 100,000 years ago. An online article by Joseph Castro, Live Science - Homo Erectus: Facts About the 'Upright Man' - reports on the salient facts about the ancient ancestor of modern humans which lived from 2 million years ago till about 100,000 years ago, possibly even 50,000 years ago. Compared with modern Homo sapiens, from the last 200,000 years, Homo erectus, or 'upright man,' had a long reign.

Fossil specimens dating from 1.75 milion years ago discovered at Dmanisi, Republic of Georgia.
Fossils of H. erectus also show that the species lived in a large geographic range with numerous locales across the globe, including South Africa, Kenya, Spain, China, and Java.
H. erectus had a similar range of body sizes to modern humans, and it is the first human ancestor to have similar limb and torso proportions to those seen in modern humans. This suggests it had adapted to walking on two feet in a more open, grassland environment, unlike Australopithecus fossils with features related to climbing.
Similar to modern humans, H. erectus used tools, technology and culture to hunt for and gather food.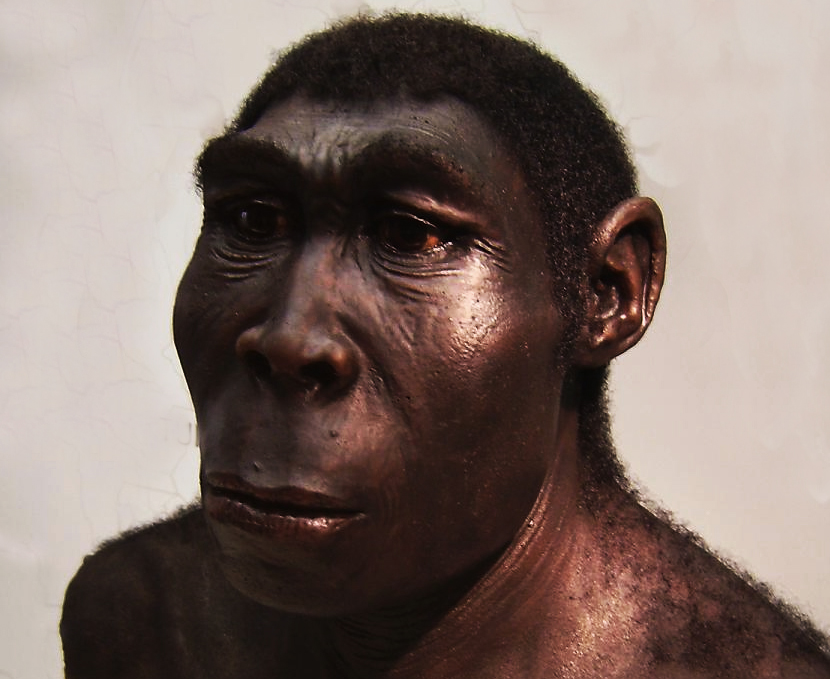 Reconstruction of a Homo erectus female. Image: Smithsonian National Museum of Natural History
Homo erectus was taller than earlier human ancestors. One of the most complete fossil skeletons ever found, a 1.5-million-year-old specimen of an adolescent male known as Turkana Boy (now known as Nariokotome Boy), may have grown up to 6 feet 1 inches (1.85 meters) tall as an adult. By comparison, the iconic 3.2-million-year-old Australopithecus skeleton dubbed Lucy was just 3 feet 7 inches (1.1 meters) tall at death.
Homo erectus also had more variation in height - with more tall and short individuals - than more primitive humans.
Some H. erectus individuals also had much larger brains than older hominins. Specifically, small-bodied, early H. erectus fossils have brain sizes not much bigger than Australopithecus (an ancestor of the Homo genus), but the Nariokotome Boy and other early large-bodied specimens have a brain volume more than 50 percent larger than Australopithecus and about 60 percent the volume of people living today.
Those bigger brains and bodies required more food and energy to survive. Analyses on the dental micro-wear and stable isotope chemistry of H. erectus fossils (molecules from foodstuff naturally become incorporated into growing teeth and bones) suggest the ancient man ate a fairly flexible and diverse diet, which likely included a lot of animal protein. Homo erectus' larger brain may explain why its apparent intelligence and why it displays so many distinctly human behaviours.
H. erectus (and potentially other, earlier Homo species) may have harnessed fire to cook food as early as 1.9 million years ago. A 2013 analysis of ancient tools (stone hand axes), reveal the human ancestor was butchering animals by at least 1.75 million years ago.
In 2014, researchers discovered 540,000-year-old shell carvings - the oldest engravings ever found - belonging to H. erectus, as well as shells that were apparently used as tools. Many of the shells discovered at the Java site contained unnatural holes near the shells' hinges, exactly at the point where muscle keeps the shell closed. This suggests H. erectus may have purposely drilled these holes to easily open the shells and eat the mollusks, before using the shells as tools and canvasses.
Homo erectus' ability to make complex tools was possible because of the strength and dexterity in its hands, which it owes to a certain hand-bone projection called a 'styloid process' that was previously thought to only exist in Neanderthals and modern humans.
The lineage and evolutionary history of H. erectus and other Homo species is unclear.
Homo erectus was once thought to have first evolved from an earlier human ancestor, known as Homo habilis, somewhere in East Africa. It was thought that H. erectus then spread out to inhabit South Africa, parts of Europe (Spain and Italy), the Caucasus, India, China, and Indonesia.
However, some experts argue H. erectus is restricted largely to Eastern and Southeast Asia, some fossils from Western Asia and Africa should be considered Homo ergaster and European remains are best described as Homo heidelbergensis.
Moreover, after the recent Skull 5 discovery some researchers claim that various contemporary Homo species, including Homo rudolfensis, Homo habilis and possibly Homo ergaster, were actually Homo erectus.
And scientists do not agree on whether H. erectus is a direct human ancestor to Homo sapiens.
Read more in our ORIGINS section:
COMMENTS