BRADSHAW FOUNDATION - LATEST NEWS
Neanderthal faces appear from the darkness
29 Jun 2014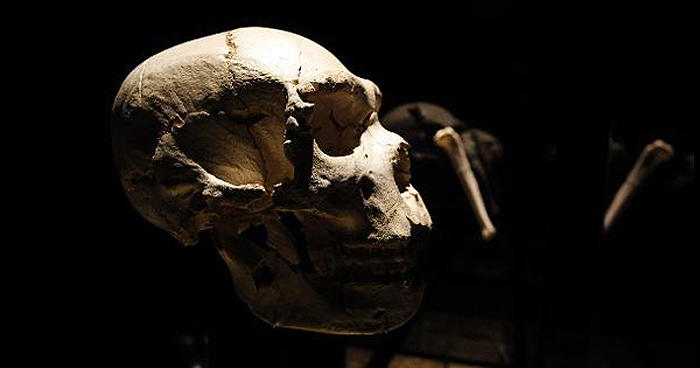 Researchers at Sima de los Huesos the "Pit of Bones", in the Atapuerca mountains of northern Spain, claim recovered skulls at the site, are the oldest known remains to show signs of facial features associated with Neanderthals. The 17 skulls have been reassembled from fragments of bone and have some features of Homo neanderthalensis, but their aspect is otherwise far more primitive. The skulls come from a collection of bones belonging to at least 28 individuals, found in the depths of a 14-metre-deep cave shaft. It is thought they came to their place of rest after being washed into the pit after meeting their demise in another location of the cave.
The "missing link" term is not widely used among scientific researchers, mainly due to the connotation of a straightforward development from species to species, however at times it is still used when describing a species that bridge a gap between progeny. Professor of palaeontology at the Complutense University of Madrid, Juan Luis Arsuaga, described the finds as belonging to a "missing link" population that fell somewhere between the Neanderthals and a more archaic group of human forerunners.
Studying the Sima de los Huesos bones suggest that hallmark characteristic features of Homo neanderthalensis did not manifest at the same rate, but rather that some evolved much earlier than others. While the Pit of Bones skulls have Neanderthal-like jaws and teeth, as well as similar nasal apertures and distinctive Neanderthal brow ridges, they also have small braincases which differentiate them with the big-brained and lengthened crania of Homo neanderthalensis.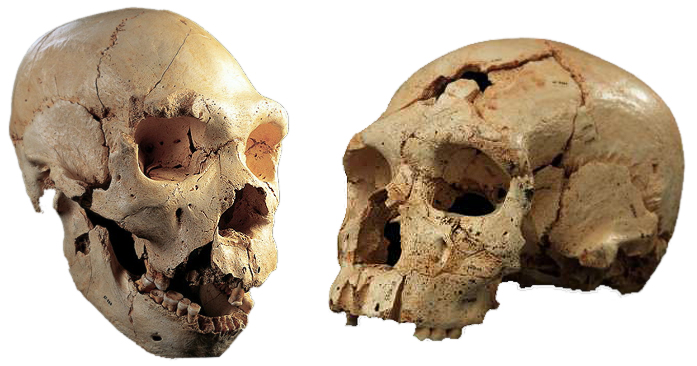 While it can't be said for sure they are direct ancestors of Homo neanderthalensis, it is believed the group are members of the Neanderthal lineage, possibly a 'missing link' between the Neanderthals and a more primitive population. The Spanish researchers surmise the primitive population could be that of Homo antecessor, the human species that lived in Europe around one million years ago. The skulls likely indicate they developed Neanderthal-like teeth and jaws from chewing and heavy use of their incisors, or from the behaviour of grasping things with their front teeth.
Homo neanderthalensis is now an extinct species or subspecies within the genus Homo and closely related to modern humans. They are known from fossil specimens dating to the Pleistocene period and found in Europe and parts of western and central Asia. The term 'Neanderthal' comes from the modern spelling of the Neander Valley in Germany where the species was first discovered, in the Feldhofer Cave. The Spanish researchers had believed the Sima de los Huesos bones belonged to Homo heidelbergensis, but this latest study changes that supposition and it is now agreed they belong to a Neanderthal lineage.
The well preserved skeletons discovered at Sima de los Huesos continue to provide valuable insights into our origins and impart another piece in understanding human evolution.
To find out more about human evolution visit the Origins archive.
COMMENTS