BRADSHAW FOUNDATION - LATEST NEWS
Indigenous Australia at the British Museum
22 Jul 2015
Indigenous Australia: enduring civilisation: exhibition at the British Museum, London.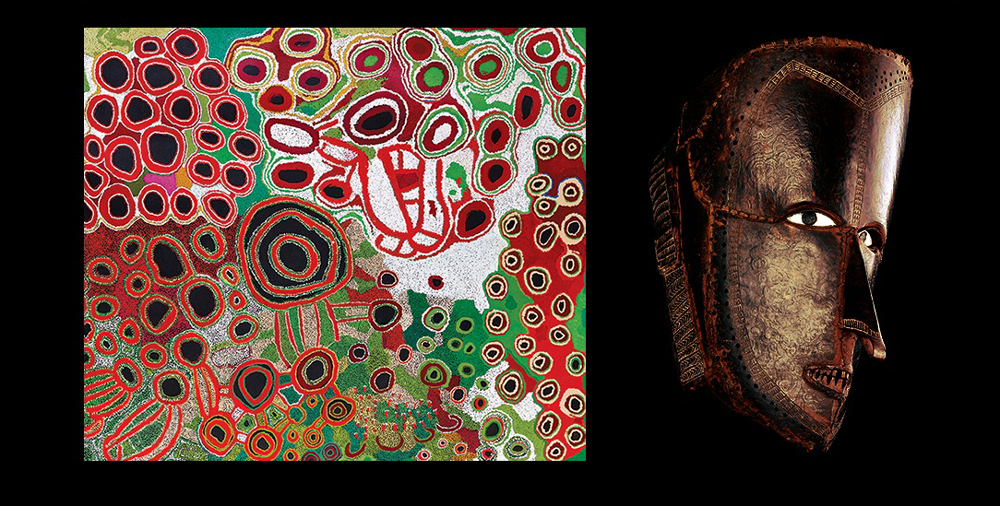 By visiting this exhibition at the British Museum in London, I was able to gain a greater understanding of the history of Indigenous Australia through objects which celebrate the cultural strength and resilience of both Aboriginal peoples and Torres Strait Islanders. This culture has continued for some 60,000 years in diverse environments which range from lush rainforest and arid landscapes to inland rivers, islands, seas and urban areas today. Hundreds of different Indigenous groups live across this vast continent, each with their own defined areas, languages and traditions.
Australia, when it was first visited by Captain Cook in 1770, was certainly not 'terra nullius' - nobody's land; aboriginal culture was an evolving, sophisticated and highly adaptable way of life, a culture intricately linked to the the land and intricately linked to its myths.
The exhibition displays the artefacts and the art impressively. Personally I would like to have seen more examples of the rock art such as the Gwion Gwion or Bradshaw paintings, simply because it is so spectacular, but as a taster 'Indigenous Australia' succeeds in telling a remarkable story of an 'enduring civilisation'.
There is still time to visit - the exhibition is open until 2 August:
http://www.britishmuseum.org/whats_on/exhibitions/indigenous_australia.aspx
Visit the Australia Rock Art Archive:
COMMENTS