TANUM ROCK ART OF SWEDEN
The high concentration of petroglyphs at Tanum - near Tanumshede, Bohuslan - has been declared a World Heritage Site by UNESCO. The site includes one of the largest carved rocks of the Nordic Bronze Age - the 'Vitlyckehal' - in Scandinavia. The 'Tanum petroglyphs' represent 1000's of images on over 600 panels, concentrated in distinct areas along a 25 km stretch which was originally the coastline of a fjord during the Bronze Age. The site covers an area of about 51 hectares (126 acres). The petroglyphs depict boats (the Hjortspring boat), wagons (or carts), animals, and humans with bows, spears and axes. As well as hunting scenes, human rituals are depicted.
The Tanum Museum of Rock Carvings - UNDERSLOS HallristningsMuseum – curates the research and heritage management for the Tanum rock art. The Tanum Museum of Rock Carvings is a non-commercial institution managed by the Scandinavian Society for Prehistoric Art.
Scandinavian Society for Prehistoric Art
| | |
| --- | --- |
| | ROCK ART IN DANGER |
Rock art in danger sounds dramatic, nevertheless it is not an overstatement. During the last hundred years different kinds of destructions have never been so rapid and extensive. It is urgent to record as much as possible, because in the next 50-100 years a large part of the cultural heritage all over the world will have disappeared.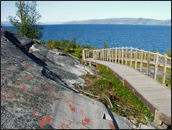 Through the effect of various natural phenomena, such as freeze/thaw which fragment the surfaces, exposure to sun and wind and the effect of lichens and moss. Changes of the environment created by man (environmental pollution) also have a detrimental impact. Major factors accelerating the weathering are acid rain, humic acid created in newly planted commercially managed forests and environmentally caused changes of the vegetation on the surface of the rocks.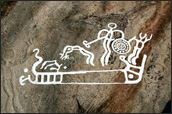 The environmental debate of the late 1980s influenced rock art research decisively. The attention was focused on the already established problem of weathering, and Tanums Hällristningsmuseum Underslös decided to change its course and to employ the experience from many years of documentation work on a systematic re-documentation of entire areas of rock carvings.
The Museum publishes a series called
Documentation and Registration of Rock Art in Tanum
. These publications will describe the work on geographically demarcated fields of carvings as the work on each of these is completed.
Dr. Gerhard Milstreu
Tanum Rock Art Museum
Centre for Documentation and Research
| | |
| --- | --- |
| | EXAMPLES OF ROCK ART IN DANGER |
| | | | | |
| --- | --- | --- | --- | --- |
| | | | | |
| Artificial Light Documentation | | Namforsen Sweden | | Tanum Sweden |
| | | | | |

| | | | | |
| --- | --- | --- | --- | --- |
| | | | | |
| Rubbing Valcamonica Italy | | Rubbing Documentation | | Artificial Light Documentation |
| | | | | |
Like us on Facebook & Follow us on Twitter to receive news & updates
:
→
Scandinavian Rock Art Archive
→
Bradshaw Foundation