Introduction

Page 1/13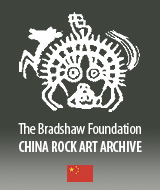 A Research Paper by Paola Demattè
Chinese Art and Archaeology, Rhode Island School of Design, Providence, RI 02903, USA.
Email: pdematte@risd.edu
The research paper on Inner Mongolia and Ningxia is a slightly modified version of "Beyond Shamanism: Landscape and Self-Expression in the Petroglyphs of Inner Mongolia and Ningxia (China)" published by the Cambridge Archaeological Journal (2004). Any citation reference should be made to the original article which can be found here.
Petroglyph sites in the Yinshan and Helanshan ranges were documented during a recent survey. Archaeological remains indicate that these areas have for millennia been both militarized borders and osmotic trading zones connecting the pastoral people of Northern Asia and the Chinese world. Petroglyphs form a significant part of the material and symbolic culture of this transitional zone from the Neolithic down to the later dynastic phases (nineteenth century).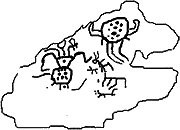 By using newly-gathered data, this article moves away from interpretations which see rock art as a wholly shamanistic phenomenon, introducing territory and iconography as key elements for the understanding of local geographies, cultural interactions, and the agencies of identity. The location of the sites indicates that petroglyphs were next to travel routes and may have served as territory markers and meeting places. In addition, the scattering of marked rocks in key locations suggests that petroglyphs were markers of identity essential for a people who were engaged in a dialectic contention with the expanding agricultural world. The sense of identity can be perceived also in the subject matter (wild and domesticated animals, hunting and herding scenes, faces) which seems to emphasize respect for, or even enjoyment of, pastoral and nomadic life.
| | |
| --- | --- |
| | The Rock Art of Inner Mongolia & Ningxia |
Among the numerous rock-art concentrations of China (Chen Zhaofu 1990; 1991), those found along the northern and western frontier (Xinjiang, Gansu, Ningxia, Inner Mongolia) are especially important for understanding the prehistoric and historic interactions between the Chinese world and its nomadic and pastoral neighbours.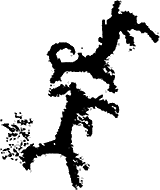 The rock-art sites of south-central
Inner Mongolia and nearby Ningxia Province
, which share a cultural unity, are the richest and best-documented of the Chinese northern frontier (Gai Shanlin 1985; 1986; 1989; Xu Cheng & Wei Zhong 1993) (
Fig.1
&
Fig.2
). In Inner Mongolia, rock-art sites concentrate in the west-central area (the Alashan desert and the Yinshan, or Yin Mountains, and to a lesser degree in the Wulanchabu grassland to the north of the Yinshan). In Ningxia, a smaller province south of central Inner Mongolia, rock art is centred in the Helanshan (Helan Mountains). In both provinces, the majority of rock art consists of petroglyphs, even though a few painted images are documented. My own reconnaissance in June 2000, which covered ten sites in three locations in the Yinshan and the Helanshan, forms the basis of this study (
Fig.1
&
Fig.2
).
Like us on Facebook & Follow us on Twitter to receive news & updates
:
→
The China Rock Art Archive
→
Bradshaw Foundation