The Tiger in Chinese Culture and Rock Art
In 2010 the Bradshaw Foundation participated in the
Third Annual Rock Art Festival & Seminar
, held at the Yinchuan Museum and the Northern Nationalities University in Yinchuan, China. As part of this Field Trip the Bradshaw Foundation viewed the
rock art carvings of the remote Helan Mountains
of Inner Mongolia. In the Chinese Zodiac, 2010 is the year of the Tiger, an animal that occupies special significance in both Chinese culture and rock art.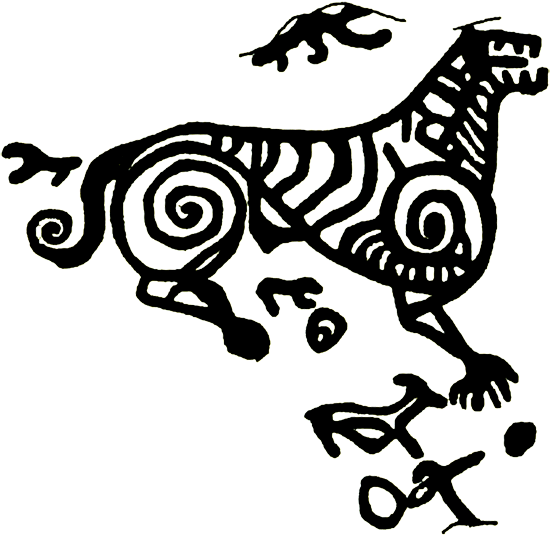 'Tiger' ('Hu') represents 'the king of the mountains'. It is seen as powerfull and full of courage and dignity. Since ancient times, Chinese people have worshiped and honoured the tiger. In China today, there are many folk-customs and festival days involved with the tiger: people paste pictures of tigers onto doors or windows of their houses in order to be protected; the new-born infants are often named as "Tiger Boy" (Hu Wa) or "Tiger Girl" (Hu Niu) with the hope of their parents that they will grow up as vigorously as a tiger; soldiers are also called "the Tiger military officer" for their bravery.
As early as the Neolithic Age, the ancient people living in China's Helan Mountains have taken advantage of a special technique of art known as 'Rock Art' ('Yan Hua'), creating images of the tiger to show their worship. The ancient people regarded tigers as a kind of totem, and hoped that they could derive strength from them so as to become immune to all kinds of disasters. They also hope that their tribes became prosperous and everlasting with the blessing endowed by the tiger.
| | |
| --- | --- |
| | The Chinese Tiger Rock Art Gallery |
Photographs of the Tiger in Chinese Rock Art, presented here as part of the Bradshaw Foundation's
China Rock Art Archive
.
| | | | | |
| --- | --- | --- | --- | --- |
| | | | | |
| Mountain King Tiger | | Hunting For A Tiger | | The Tiger |

| | | | | |
| --- | --- | --- | --- | --- |
| | | | | |
| The Tiger | | The Tiger | | The Tiger |

| | | | | |
| --- | --- | --- | --- | --- |
| | | | | |
| Tiger Eats People | | The Tiger | | Tigers |

| | | | | |
| --- | --- | --- | --- | --- |
| | | | | |
| The Tiger | | Tiger and Animals | | White Tiger Constellation |
Like us on Facebook & Follow us on Twitter to receive news & updates
:
→
The China Rock Art Archive
→
Bradshaw Foundation