CARAVANS OF SALT - TUAREG TRADE ROUTES IN NIGER

Page 1/5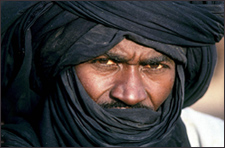 Salt may well have been man's earliest addiction. Salt drove economies, opened trade routes and settlements, even sparked bitter wars. Today we take it for granted - something to flavour our fries. But in Africa's sahel, salt remains a valuable commodity - indispensable for animals and men. In Niger, Tuareg caravans continue across the Tenere Desert to fetch salt from the Bilma oasis and barter millet for dates. Five milleniums since the story of Lot's wife was first told, salt is still made in pillars and transported by camels to distant markets. This site celebrates the survival of one of the world's most ancient and fascinating cultures - The Caravans of Salt.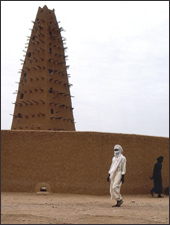 Each winter Tuareg caravans cross Niger's Tenere desert to fetch salt from the Bilma oasis and barter millet for dates. Salt is indispensable for Sahelian livestock and scarce local deposits combined with heavy consumption ensure profitable markets. In the past, for protection, caravans assembled and travelled en masse. They were accompanied by a representative of the Agadez Sultanate, who negotiated safe passage and determined salt prices. Frequently over 20,000 camels took part. This system has long disentegrated and nowadays, participants consist of families and friends who club together under the guidance of a 'madagu' - chief or headman.
Caravans are on their way by autumn. Since the Tenere is completely barren, camel fodder is cut beforehand and compressed into compact bales. Only certain varieties of grass are suitable, principally 'grifis' and in the Air massif 'amassa'. Following droughts, the absence of this grass will prevent caravans from departing.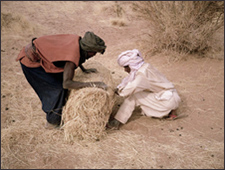 Each camel bears two fodder bales and two goatskins of produce for bartering in Bilma - millet, beans, maize, cheese and dried vegetables. To take advantage of grazing, the inintial pace is leisurely. On reaching the Tenere's dunes, however, caravans march from morning till night. These dunes are longitudinal in type, running in great parallel ridges from north-east to south-west. The grain of the land roughly corresponds to the caravans bearing. This partly explains the salt trade's success over centuries, and greatly facilitates navigation, particularily since the Bilma and Fachi escarpments cut across the trail. Here in this awesome wilderness the madagu's experience proves invaluable. Locating appropriate dune troughs through which to travel is important, for some are dead ends, others contain soft and loose sand. Nightly halts are a tremendous relief after covering some fifty kilometres per day. Camels are hastily unloaded and fodder bales arranged into windbreaks. Tea is immediately brewed followed by a hot supper of boiled millet flavoured with a herbal sauce.
The isolated Fachi oasis provides a welcome respite. Nestling beneath an escarpment and encircled by palm groves, the approach to Fachi is extraordinarily beautiful. The more northerly Tuareg - Kel Air - by pass Fachi, taking a direct route via Achegour well. Every few weeks a lorry ploughs beween Bilma and Fachi, transport from Agadez is rare. The oasis is therefore more dependant on caravans than Bilma, but Fachi's salt is deemed second grade and most caravans press on to Bilma - another four days.
→
Tuareg of the African Sahara
→
Africa Rock Art Archive
Like us on Facebook & Follow us on Twitter to receive news & updates
: