BOLIVIAN ROCK ART RESEARCH SOCIETY
The Rock Art of Bolivia - South America

Page 1/8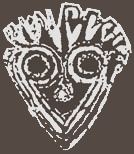 The extent of rock art in Bolivia is slowly unfolding; the ongoing research by
Bolivia's Rock Art Research Society
(SIARB - Sociedad de Investigación del Arte Rupestre de Bolivia), founded in 1987 has produced surveys of over a thousand rock art sites. Bolivian rock art comprises a wealth of petroglyphs and rock art paintings in small caves and rock shelters, on vertical cliffs and on large boulders. The rock art is concentrated mainly in the Andean region and in the eastern lowlands, whilst in the northern lowlands (the departments of Pando and Beni ) a few sites are known that consist of engravings, mostly on rocks alongside or near rivers.
According to preliminary investigations carried out by
SIARB
, the rock art spans at least several millenia. The earliest rock art, which seems to date back to the Paleo-Indian period, may consist of painted hunting scenes with groups of camelids in lively movement [possibly guanacos] and diminutive human figures, similar to representations found in Peru and Chile . In various sites ancient hand imprints occur, but it is not known whether they belong to the same age as those of the caves of Patagonia [7,000 B.C.]. In many parts of Bolivia, cupules or cup-marks occur, some of which may belong to the earliest rock carvings.
This gallery in the
South American Rock Art Archive
features some of the best examples of Bolivian rock art and some of the latest discoveries made.
Vallegrande
Santa Cruz
Vallegrande
Santa Cruz
Mataral
Santa Cruz
El Buey
Cochabamba
Vallegrande
Santa Cruz
El Buey
Cochabamba
Tecle
Chuquisaca
Camargo
Chuquisaca
San Juan del Oro
Chuquisaca
Palacios
Omereque, Cochabamba
Palacios
Omereque, Cochabamba
Poopó
Oruro
Poopó
Oruro
Poopó
Oruro
Pultuma
Oruro
Pultuma
Oruro
Orozas
Tarija
Rincón de la Victoria
Tarija
San Juan del Oro
Tarija
Orozas
Tarija
San Juan del Oro
Chuquisaca
Orozas
Tarija
Huanuyoj
Chuquisaca
Sisque Huayko
Chuquisaca
San Juan del Oro
Chuquisaca
San Juan del Oro
Potosí
Like us on Facebook & Follow us on Twitter to receive news & updates
:
→
South American Rock Art Archive
→
Bradshaw Foundation