AMERICA'S OLDEST ART?

Page 1/2
by Dr. George Nash - Department of Archaeology and Anthropology, University of Bristol
High within the secluded rock shelters of northeastern Brazil exists some of the world's most intriguing ancient rock art. It has the potential to redraft the very story of modern humans, as rock art specialist
George Nash
explains.
| | |
| --- | --- |
| | SERRA DA CAPIVARA |
Set within treacherously steep cliffs, and hidden away in the secluded valleys of northeast Brazil, is some of
South America's
most significant and spectacular rock art. Most known art comes from the archaeologically-important National Park of the Serra da Capivara in the state of Piauí, and it is causing quite a controversy. The reason for the uproar? The rock art is being dated to around 25,000 years ago, while a small number of eminent rock art specialists are proposing an even earlier date - perhaps as far back as 36,000 years ago. If correct, this is set to challenge the widely held view that the Americas were first colonised from the north, via the Bering Straits at around 10,000 BC, only moving down into Central and South America in the millennia thereafter (a model known as the
Clovis First Theory
, after the '
Clovis-tradition
' stone tools used by these settlers). So what is this contentious art and why is it being given such an ancient date?
| | |
| --- | --- |
| | A REMARKABLE ASSEMBLAGE |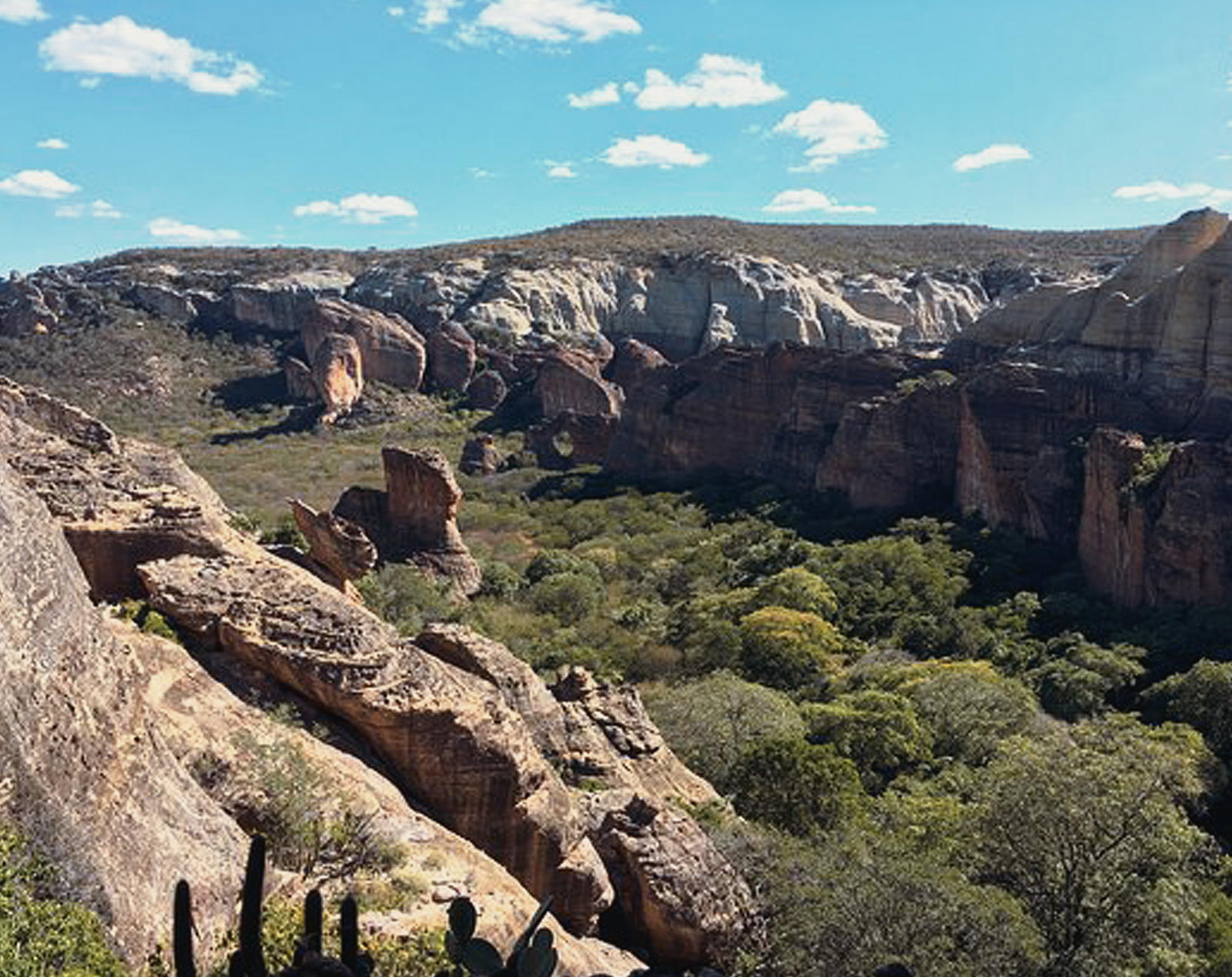 Prior to the area's designation as a National Park, the rock art sites were difficult, and often dangerous to enter. In ancient times, this inaccessibility must have heightened the importance of the sites, and indeed those who painted on the rocks. This 'perilous' rock art tends to be painted in various shades of red using ochre (haematite), which naturally bleeds from the surrounding exposed rock outcropping;though occasionally yellow (limonite) and grey pigments were also used. Each panel (or canvas) usually takes the form of a long linear block of images, arranged about 0.5m to 2m above the original floor, and extending some tens of metres long. Occasionally, the panel fills the whole length of the naturally formed rock-shelter or overhang. Most images appear to be strategically placed, usually within natural depressions, either cutting into the rock surface or in eroded hollows.
Wild animals and human figures dominate the rock art, and are incorporated into often-complex scenes involving hunting, supernatural beings, sexual activity (including bestial scenes), skirmishing and dancing. The artists depicted the animals that roamed the local ancient brushwood forest: red deer, armadillo, capivara (a large rodent), jaguar, lizard, tapir, and the giant rhea (a type of ostrich, now extinct), among others. Of these, red deer is the most common. Sometimes the animal is simply painted in outline, other times it is totally infilled, or internally decorated with geometric patterns or rows of dots. The large mammals are usually painted in groups and tend to be shown in a running stance, as though trying to escape from hunting parties.
Processions - lines of human and animal figures - also appear of great importance to these ancient artists. Might such lines represent family units or groups of warriors? On a number of panels, rows of stylistic figures, some numbering up to 30 individual figures, were painted using the natural undulating contours of the rock surface, so evoking the contours of the surrounding landscape. In many examples, the now extinct giant rhea appears in groups of three and four, again suggesting some form of procession. Other interesting, but very rare, occurrences are scenes that show small human figures holding on to and dancing around a tree, possibly involved in some form of a ritual dance - rather similar to the way children traditionally dance around a maypole.
Due to the favourable climatic conditions, the imagery on many panels is in a remarkable state of preservation. Despite this, however, there are serious conservation issues that affect their long-term survival. The chemical and mineral qualities of the rock on which the imagery is painted is fragile and on several panels it is unstable. As well as the secretion of sodium carbonate on the rock surface, complete panel sections have, over the ancient and recent past, broken away from the main rock surface. These have then become buried and sealed into sometimes-ancient floor deposits.
Like us on Facebook & Follow us on Twitter to receive news & updates
:
→
Rock Art of Serra da Capivara
|
Page
|
1
|
2
|
→
The Rock Art of Pedra Furada by Niède Guidon
→
South American Rock Art Archive
→
Bradshaw Foundation Homepage